Google Side Ads Are Gone: How This Impacts Your Business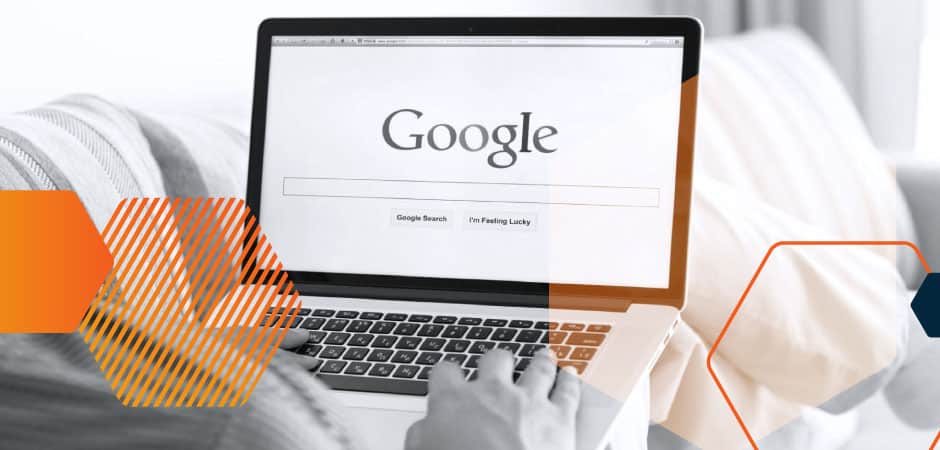 March 14, 2016
Just as winter is fading and spring is here, Google's right-hand side ads are gone! This is a big deal because AdWords is now serving up just 7 ads per SERP instead of 10—so three advertisers are getting pushed off the first page of every search. (One exception: shopping campaign ads are still displayed on the right-hand rail.)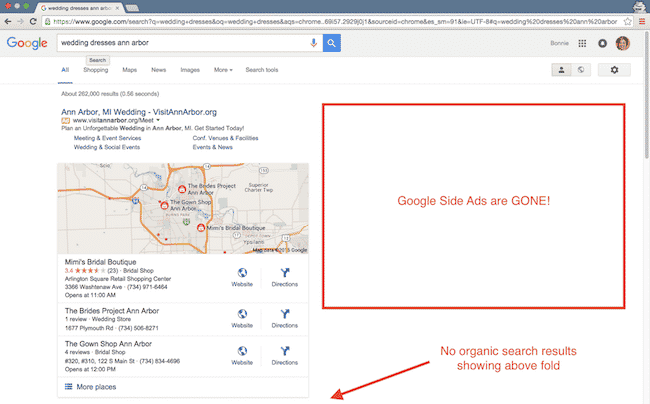 There are also implications for organic search results, because the fourth ad space will now take ownership of the previous #1 organic search position—pushing the top organic search result for highly commercial queries below the fold on many desktop devices.
SEO Implications for Businesses and Advertisers
For businesses, this will make organic space even more precious, leading to a bigger focus on SEO. For paid search advertisers, this will drive up average CPCs as the competition for the top ad positions increases.
Thomas Heed at EverEffect, our PPC partner, has provided a forecast on this impact to our businesses. Here are his insights.
Bidding Just for the First Page No Longer Makes Sense
The stakes have been raised, and it's not good enough to aim for getting on the first page anymore. A full 65% of users don't look below the fold, where the bottom three ads are now located.
Roughly 80% of all clicks have historically come from the top four ad positions, so Google isn't really losing much by making this move. Think of it in terms of the 80/20 Rule—80% of business comes from 20% of customers. In fact, higher bids by those anxious to remain top-of-page, and among the six advertisers jockeying to remain in the bottom three positions on the first page, will actually increase Google's desktop revenue. This is good news for Google—their recent quarterly earnings reports have shown declines in desktop revenue while mobile continues to grow.
Google Is Changing Mobile Paid Ads Too
Google is shifting to three paid ads for mobile, instead of two. This will mean a revenue increase of at least 50% for Google on mobile devices (extra ad + increased bids).
For the last 18-24 months, EverEffect has adopted a very aggressive approach to bidding in an effort to be Top 2, in order to capitalize on mobile's growth, which increased 72%+ in 2015 vs. 2014. So, while the company has been paying more, they've experienced excellent year-over-year growth because the top ad positions tend to convert at higher rates and generate more clicks. In essence, they've already baked in higher CPCs in order to remain competitive.
New Changes Will Push Directory Sites Out of PPC
EverEffect believes that many directory sites won't be able to afford higher CPCs, unless they pass the higher costs along to their clients.
What they're now seeing from directory sites is a more aggressive approach towards bidding on brand terms, which typically cost much less. For example, EverEffect has a number of law firm clients, and directories are now attempting to out-bid those clients for their own terms. They resort to this tactic because brand terms cost far less than highly valued long-tail keywords.
While the practice is a nuisance short-term, EverEffect chooses to be more aggressive in order to retain their positions for brand terms. In the end, they expect to push the directories out of the picture by making the cost of competing too steep.
EverEffect advises businesses to expect a very rough 3-6 months until marginal competitors realize that the cost of competing is simply too high. At this point, expect to see costs start to normalize a bit.
Most of their clients haven't seen costs double, but some have experienced jumps of 50%. The word on the street by all PPC experts is, Don't Panic.
A large number of advertisers still don't have mobile-friendly websites, and this will have a profound impact on "survival of the user-friendliest."
Still Looking For Answers? We Can Help!