Website Redesign For Integrated Design Inc. Highlights Time Bank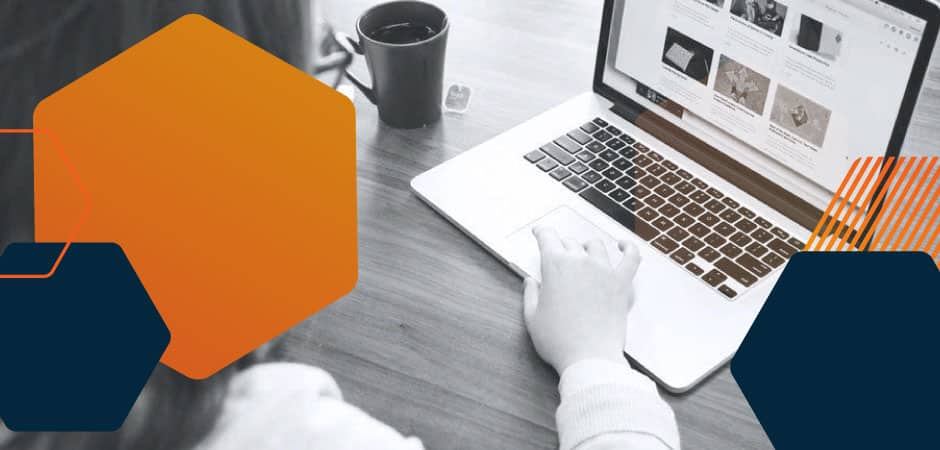 October 3, 2013
Content note: While this blog post is outdated, it still offers valuable insights into past sales and marketing trends. For the latest strategies and up-to-date information, we encourage you to explore our newer posts on the ever-evolving landscape of sales and marketing.
Client Overview:
Integrated Design, Inc. (IDI) is an industry leader in employee data integration. Located in Ann Arbor, Michigan, they've been developing and perfecting integration solutions since 1985. Over 25,000 companies in North America have used IDI to integrate a wide range of employee data across hundreds of applications. Their software (Time Bank™) enables a company to leverage existing IT investments and reliably transfer data between their disparate systems.  When IDI puts it all together, their partners can extend their offerings and achieve integrated solutions that save time, automate manual tasks, and allow them to focus more on their company.
Client Goals:
Integrated Design, Inc. recently decided that it was time to streamline their pages into a functional, easy to read website. Additional goals for their new site:
Increase the number of graphics to help explain processes and products to clients
Maintain an accessible partner log-in portal that offers easy access to IDI's partners
Showcase their 200+ supported systems
Help website visitors understand the importance of Time Bank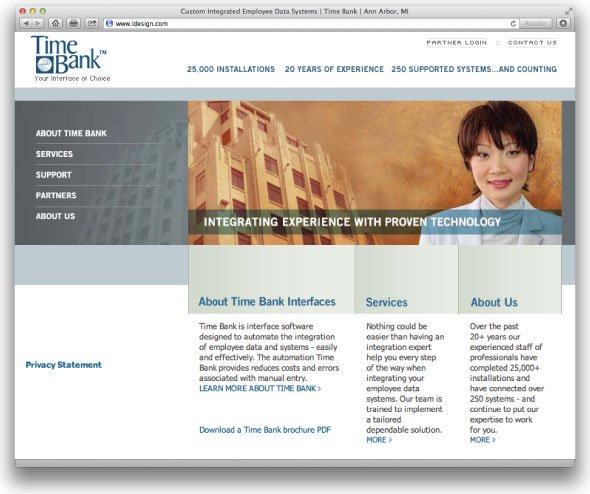 Smart Marketing Solution:
Hivehouse Digital re-designed IDI's website with a large emphasis on visual graphics that showcased the streamlined process of their product. The featured images convey how their product "Time Bank" works and focus on specific applications and popular supported systems. It's important that the design continuously navigates users throughout the site. We emphasize this with calls to action on multiple pages, leading visitors to learn more, explore, or get started with Time Bank's software. The new design is clean, and tasteful and shows users Integrated Design, Inc. are experts in their industry.
The Result:
Visit http://idesign.com/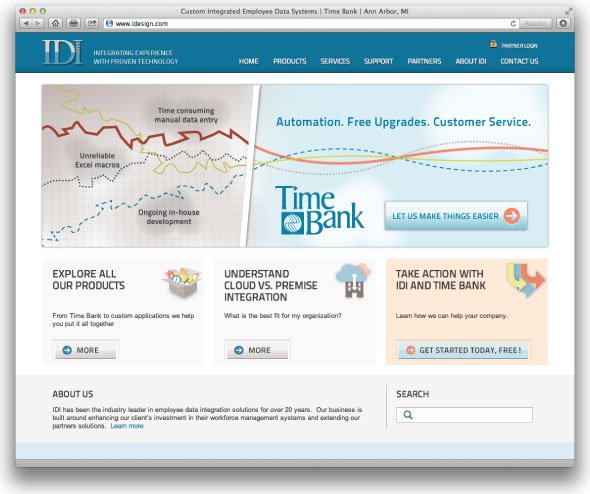 Time Bank's Redesign