---
The Ultimate Guide to Digital Marketing For Manufacturers
Introduction
Many manufacturers still rely on old school methods to promote their brands. Trade shows, word-of-mouth referrals and networking events are staples of most industrial marketing programs for good reason - they work!
However, today's industrial buyers are more educated and more determined than ever to avoid your salespeople. Most of the industrial buyer's journey is done prior to talking to sales (nearly 70%), and most prospective buyers are looking at your website as a part of their research process.
Manufacturers must have a strong digital presence to attract ideal buyers (and ideal job candidates!) and increase their chances of being shortlisted.
In this Ultimate Guide to Digital Marketing for Manufacturers, you'll learn the basics and get a better idea of whether or not digital marketing would be a good investment for your company.
"Most of the industrial buyer's journey is done prior to talking to sales (nearly 70%), and most prospective buyers are looking at your website as a part of their research process."
Table of Contents
Click on any chapter below to scroll directly to it
01
What are the Different Types of Marketing?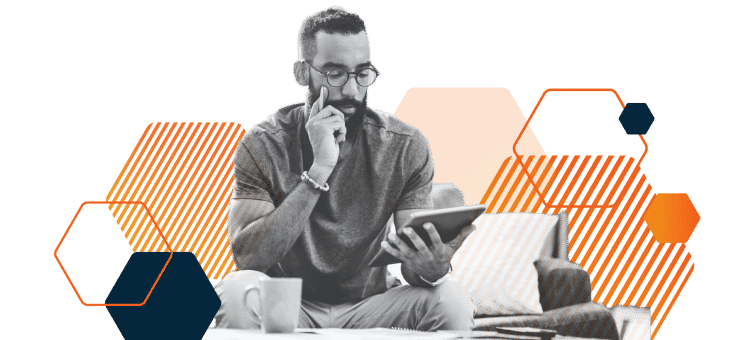 Marketing can be broken down into two basic types:
Outbound
Inbound
Outbound Marketing Tactics
Outbound marketing is a self-focused, one-way communication. The goal is to blast your message out far and wide to as large an audience as possible.
Emailing without permission
Broadcast (radio, tv)
Print ads
Direct Mail
Telemarketing
Outdoor Boards
Events
Inbound Tactics
Inbound marketing is a customer-focused, two-way communication. It is permission-based, with a goal of providing personalized, helpful, relevant content and meeting customers where they are.
Email with permission (to contacts who have opted-in)
Content marketing
Websites
Video
Webinars
Social Media
PPC Ads
We recommend a blend of inbound and outbound tactics, using each to amplify the effectiveness of the other. For instance, you'll get more ROI out of your trade show appearance by emailing your contacts and asking them to stop by your booth. If you collected business cards at your booth, you can add them to an email nurturing campaign to follow up from the trade show. Or, you can advertise your upcoming events on your website homepage with a link to register for the event.
02
Why Should Manufacturers Use Digital Marketing?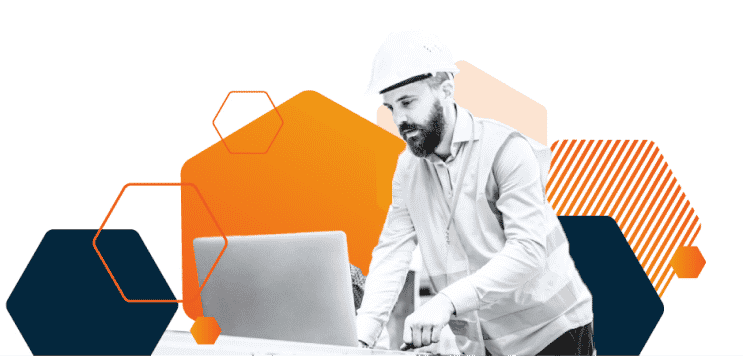 The short answer: Your buyers have changed.
The longer answer: Traditional methods are no longer the best or only way to reach new customers.
The advent of inbound marketing marks a shift of power— now, the power resides with the buyer rather than the seller. The buyer isn't dependent on the sales team to inform them about the product anymore. The internet brings them all the information they need, and they can get answers to their specific pain points without having to sift through tons of non-relevant information (or a sales pitch). If you're not out there providing thoughtful answers to prospects' questions - your competition will.
Digital marketing can solve many pain points for manufacturers, engineering firms and construction companies, such as:
Educating buyers on complex products
Improving brand perception and industry perception
Generating qualified leads
Increasing sales velocity
Recruiting skilled workers
We believe that more manufacturers would embrace a digital marketing transformation if they knew how to get started.
"Our most successful clients are the ones who fully embrace these tactics. Initially, some of our clients feel as though these systems aren't for them or that they're not suitable for their industry. However, we can assure you, there is a niche market for everything."Elizabeth Raetz
Account Manager
Manufacturers have told us that they are unsure of:
What to spend on marketing (for a company of our size?)
Who to hire (internal team vs. agency?)
Where to start (Tactics or strategies first?)
Marketing trends/best practices (are they right for us?)
As a result, some of them focus on quick fixes instead of ways to get sustainable, long-term results.
The best digital marketing humanizes your brand, and brings it to life through:
Video
Podcasts
Social media
Blogging
Your website
Having a variety of digital content allows your buyers to consume information based on their personal preferences, which builds trust.
03
Who Should Do My Marketing?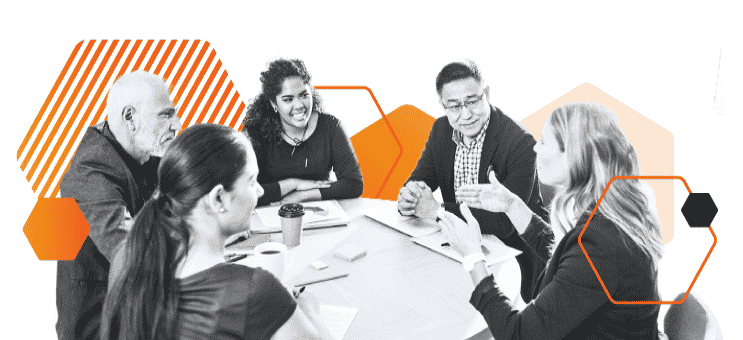 First, the good news: there are many ways to get marketing done! You can:
Hire an internal team of marketing specialists
Hire a digital marketing agency
Hire an internal point person and an outside marketing firm
All of the above
Let's look at some pros and cons.
Internal marketing team
Small and Mid-Tier manufacturers with internal marketing teams are less common, but it can be a great investment.
Pros:
More control over and greater access to the people doing your marketing
Knows the 'inside scoop' on your company/closer to your day-to-day
Cons:
Cost. Employee salaries and benefits for a team comparable to what you'd get with an agency is not cost-effective.
Limited skill set based on who you hired
Fewer hands to get the work done
Outside Agency
This can be a great option for manufacturers, but it's very important to choose the right agency.
Cons:
Learning curve for outside agency to understand your business (especially if they do not specialize in industrial marketing)
Less control over the people doing your marketing
You are one of several clients on their roster
"With access to a team of marketers who partner on the strategy conversation and also execute, an in-house marketer can have a heck of a lot of influence and speed."
Megan Sherwood
Vice President
Combination of the Two
We think this one is the winner. We recommend hiring a qualified person to be your internal marketing generalist and empowering them to serve as a the main point of contact to a fully-vetted and qualified marketing agency.
Pros:
Gets you out of the middle/keeps you from being a bottleneck
Internal person who you can tap at any time for status updates
If the internal person stays for a while, you'll have a person who knows your brand standards, processes and company better than anyone else

Note: There are different types of agencies. Some focus on either inbound or outbound. Some do both. Some are creatively-driven, and others are more data-driven. Again, some are both. You should align your choice with your company's goals, budget, proximity to the agency (face time is important) and both companies' cultures.
If you choose to hire a digital marketing agency on retainer, they should be able to do these things in the first 18 months:
Set up a marketing tech stack
Develop a customized digital marketing strategy
Plan, execute and measure several campaigns
Meet regularly to discuss goals, metrics & tactics
Show ROI
No matter who you choose (internal or external, or both) make sure they are measuring your marketing efforts and providing regular reporting to show results.
5 questions to ask an agency before starting a project:
Do you have experience within my industry? If you're working on a project by project basis, you won't have time to fully indoctrinate the agency about your industry.
Who will I be working with? Will you be working with a single project manager? Will you have access to the whole team if need be?
Is your team in-house, or do you use freelancers? Again, it's nice to know who will be doing the work.
How many revisions and edits do you allow? You don't want to assume how many rounds you get. Clients often underestimate how many rounds they'll really want or need to make changes.
How long will it take to complete the project? You should know if your expectations are in line with what they can reasonably deliver.
04
How Much Should I Spend on My Digital Marketing Program?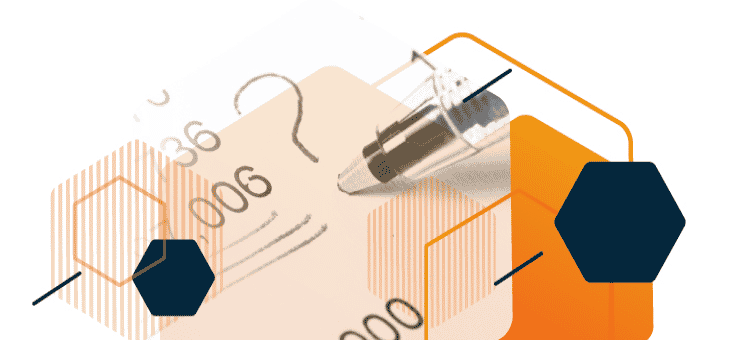 Set Your Marketing Budget
Once you've aligned your company goals with your marketing goals, you'll need to identify your marketing budget so you can develop a detailed marketing plan that supports your strategy. Basically, you'll choose from three options:
Lean Plan: 1 - 2% of your top-line revenue. In essence, you're committing to engaging and retaining current customers with simple tools and strategies. This is ideal for companies that are looking to maintain their market position and don't have ambitious growth goals.
The answer can vary based on your company size, current level of marketing experience and marketing infrastructure, and of course your business goals. But we can tell you a couple of things from experience:
The faster you want to see results, the more you'll have to spend
Most small-to-mid-sized manufacturers do not apply the 'percentage method' (spending 5-10% of your revenue on marketing) in real life.
So let's talk about real life, real examples, and real dollar amounts. The average inbound marketing retainers we support range between $5,000-$15,000 a month. This includes:
project management
regular meetings
data reporting and analysis
strategy support
tactical execution of the program elements
Obviously you can spend less or more based on your budget. There may also be times of the year when you'll have to add budget (to support a big launch or event) or reduce spend based on your seasonal cash flow. An agency that is used to supporting seasonally-impacted industries (such as construction) will be understanding about flexing the retainer budget accordingly.
Target Plan: 3 - 4% of your top-line revenue. The goal here is to attract new prospects and retain current customers with advanced tools and strategies. This is ideal for companies that are looking to increase their market share and have moderate growth goals (10 - 15% annual growth).
Stretch Plan: 5% or more of your top-line revenue. Your target is to accelerate your results by applying more resources that are focused on driving leads, conversions, and sales. To do this, you'll use complex marketing strategies and cutting-edge tools. This option is ideal for companies who have ambitious plans to grow and increase their market share (20% or more annual growth).

Agency Pricing Models
Model 1: Marketing Retainer
An agency retainer model refers to an agreement between a business and an agency to work together for a period of time (typically 18 months) on more than one project. You're paying a set monthly rate to reserve the agency's time.
What do you get with a marketing agency retainer?
The scope of work done under a marketing retainer varies, but most inbound marketing agencies will deliver:
A digital marketing strategy
Planning and execution of inbound marketing campaigns
Benchmarks

 

and regular reporting to determine success
Regular meetings to check in and ensure that everything is on track
Continuous improvement of campaign performance and A/B testing
Clear ROI
Should we use a marketing agency retainer?
Companies that meet the following criteria are the best candidates for working with an agency on a retainer basis:
There's budget set aside and they can afford the retainer
There's clarity and alignment on the long-term marketing goals
They've got the discipline to stick to a consistent marketing plan
They want to be one of the agency's top priority accounts
They require a high degree of accountability/performance metrics & reporting
When to not work on a retainer
While marketing agency retainers offer consistency and forward momentum, they're not necessarily ideal for every business. Companies that should skip the retainer model:
Haven't budgeted for it/can't afford it
Only require marketing support when launching a product or during certain seasons
Don't have a clear understanding of long-term goals
Not interested in measuring performance/reporting/improvements
5 questions to ask the agency before signing a retainer agreement:
What separates you from your competitors? You could research this yourself, but it's good to find out what they believe sets them apart.
How do you define success? Understanding their key performance indicators will ensure that you're all on the same page.
Do you have case studies to share? If you can get a good feel for what the agency did for another client, you'll have a better idea of what you can expect from them.
What's your employee retention rate? The last thing you want is to work with an agency that's constantly undergoing upheaval behind the scenes.
What do you require from me to ensure that the marketing strategy will succeed? It's good to understand what they expect from you before you sign.

"Doing a one-off project is a great way to vet the agency and see if they're a good fit for you before you sign on for a full retainer."
Chris Beecher
President
Model 2: Project-Based
When you use this model you pay the agency per project. If you want an agency to set up a Facebook ad campaign or write a content offer, they'll quote you a price and give you a timeline for how long you can expect the work to take.
Every piece of work completed by the agency comes with its own price tag. If you decide that you'd like a series of blog posts to support the content offer they're writing, you'll be charged separately for that work.
What should you get from a project-based model?
Clear expectations from the agency on project costs
Commitment from the agency to a timeline that suits your needs
Capabilities and skills that you don't have in-house
A opportunity to 'test drive' the agency, and see if they're a good fit before you commit to working with them for an extended period of time.
What do marketing projects cost?
Project costs will vary greatly based on your scope of work. But for conversation's sake, the project type we do the most, is a full website implementation which includes site architecture, design, content, SEO optimization, development and launch.
The cost of redoing a website can start around $6,800 and run up to $26,000 or more, depending on the number of pages, the types of pages (simple contact us type pages, team pages, pathway pages, gateway pages, pillar pages), who writes the content, and any specialized functionality. If you're looking for a specific project cost, there isn't one! It begins with a conversation of what your company goals are, how you want your website to support those goals, and your budget/timeline. This is true of any type of marketing project, really.
Should we use a project-based model?
A project-based model is a pretty straight forward way to work with an agency. It's great for companies that have a one-off need to get something done. This could be for a website launch, or a big email marketing campaign. You can use the agency when you like, and otherwise handle your marketing yourself. It's a low-cost, low-commitment way to get some marketing projects completed.
Another consideration is whether you have your long-term plan put together. If you're still in a trial-and-error phase, determining what platforms and channels are most appealing to your audience, you're probably better off paying per project.
When not to use a project-based model
The project-based model isn't for everyone, including businesses that:
Have clearly-defined long-term goals
Want to build upon a long-term strategy
Want their marketing agency to prioritize their projects
Need or want continuous improvements and A/B testing
Want regular reporting on the performance of their marketing
Ask About Flexible Payments
As an agency that focuses on serving the construction and manufacturing communities and their suppliers and subcontractors, we know that certain types of businesses can have seasonal issues cash flow issues. Look for an agency that can be flexible about how your payments can be structured.
05
What Kind of Digital Marketing Program Do I Need?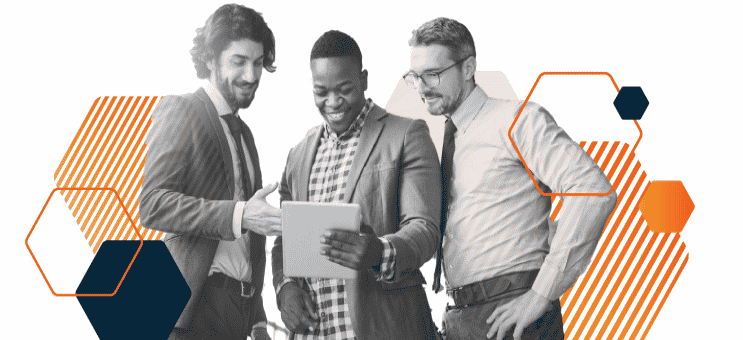 We recommend reverse-engineering your program to support your business goals. If your goal is to close more business, you'll need to generate more marketing-qualified leads for your sales team to nurture. In order to get more of those MQLs, you'll need a lead generation strategy and tactics to support it.
Depending on your budget and your goals, your marketing program will likely include multiple disciplines like traditional advertising, digital marketing, public relations, and event attendance.
Once your goals are set, you can create a digital marketing strategy that might include specific marketing tactics like blogging or social media advertising.
Make sure to choose marketing tactics that directly support your business goals. Don't do something because it's cool; invest in tactics that will get you what you want.
Back to our example about getting more sales leads. First, decide on an exact number of leads (your goal). Then, figure out how much traffic you'd need to drive to your website or social media in order to capture that many leads. In order to increase your traffic, you'll need to get more visitors. Attracting visitors typically means you'll need SEO-related tactics like PPC ads, and a keyword strategy. Then, you'll want to create very specific content that attracts the right leads, not just a bunch of junk traffic. 
Bottom line, your marketing program should be built following this process:
Goal setting
Tactics to support strategy
Persona-specific content to attract the right people
Measure results
Refine your content
Repeat
Best Digital Marketing Tactics For Manufacturers
Industrial buyers are changing. Most manufacturers recognize that Baby Boomer and Generation X buyers are being replaced in many companies by Millennials. While you should not ignore the Boomers and Xers (they're likely still the Decision Makers), Millennials are coming into their own as Influencers (or possibly even Decision Makers) and they buy very differently from their older counterparts.

Speaking to 3 (possibly 4) different age groups of customers will require a mix of marketing tactics. Again, the tactics you choose should directly support your business goals. Here are the most common digital marketing tactics for manufacturers:
Content Marketing:  As we mentioned in the beginning, seventy percent of industrial buyers do online research before reaching out to your sales team. This is especially true if you sell complex products or services. Meet your customers in the research phase with helpful, relevant content that helps them move into the evaluation and shortlisting phase of their industrial buying process. Examples of content marketing include the creation of downloadable resources (for lead capture) such as checklists, eBooks, case studies, white papers, on-demand webinars, CAD and BIM files (a must!) --even Excel spreadsheet templates, that can help buyers do their research.
Email Marketing Campaigns: Email marketing is still one of the best bangs-for-your-buck. It's cheap, automated, measurable, and highly personalized for your buyers. Before you dismiss email marketing as 'annoying' or 'something I regularly delete from my own inbox', consider this: If a customer opts-in to hear from you, they're raising their hand to give you permission to enter their inbox. They can set preferences for delivery frequency that work for them, and can opt out at anytime. We've seen incredible success for a client of ours who executed highly-personalized, thoughtful email campaigns such as quarterly newsletters or weekly tips. When done right, email is a powerful marketing tool.
"It can be hard to get your team excited about video - being camera shy is a real thing and it can happen to the best of us. Ease your team into it by casually using video in the workplace. No video has to be perfect; authentic footage makes the best videos. Don't be afraid to use those bloopers and B-roll."Megan Sherwood
Vice President
Blogging/Vlogging: Like email, blogging (and its video equivalent - vlogging) is a low effort, high-return tactic. Writing regular articles that have been optimized for search is a great way to bring in organic traffic to your website, position your company as a thought leader, and provide your sales team with a reason to reach out and share helpful information with their leads. There is no magic formula for the frequency of blogging, but we do recommend at least twice a month, and between 600-1,000 words. Note: your blog is not a place to sell. It's a place to help. Your first few blogs posts should be answers to frequently asked questions that your sales team gets early in their discussions.
Social Media: Most of the manufacturing companies we work with use social media in two ways: To amplify and promote their blogs posts and other content, and to showcase their company culture for recruiting purposes. Social media is a great mechanism to promote your employer brand. If you don't have time to properly monitor and post on multiple channels we recommend that you focus LinkedIn. Join LinkedIn groups from your industry, share your company blog posts, and comment on posts to show leadership.
Video: Data shows that the play button is the most powerful call-to-action around. As a matter of fact, video content is 50 times more likely to drive organic search results than plain text. Using video at every stage of the buyer's journey is a great way to nurture your leads. Use a mix of formal and informal videos. You can DIY your own 'talking head' videos of your engineers answering tough questions about problems your customers face. You can also hire a professional to do a 'brand anthem' video which is more of a marketing piece to show your company capabilities and culture. Either way, you need video! It can be repurposed so many ways: on social media, in emails, as part of your sales deck, on your homepage, etc.
Website: Your website is your workhorse. It must be found in search, showcase your products, educate your customers, convince visitors to trust you, convert those visitors into customers, and attract top talent. If your website is not SEO-optimized, well designed for good user experience, written professionally, mobile-friendly and full of conversion points-- it's letting you down. Your website is not an electronic brochure --it's a marketing machine that should be attracting and converting leads for you, all while representing your brand and making your company look good.
Online educational events like demos, trials, and webinars: Use educational opportunities to promote your team as experts in the field. Bonus if you can offer continuing education credits to your attendees. Webinars are great because you can recycle them and use them as 'on-demand' content to capture leads on your website long after the live event is over. Webinars are great middle-of-the-funnel offers for buyers who are already aware of your service offerings and are comparing vendors. They're also a helpful tool for client delight (helping your existing customers stay on top of trends and continuing ed credits).

06
Best Digital Marketing Automation Tools For Manufacturers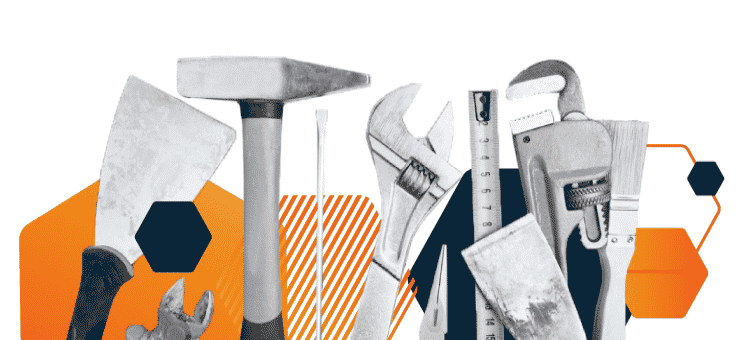 A marketing technology stack or 'tech-stack' is the name for the technologies, platforms and tools that are used to automate, manage, and measure your digital marketing efforts across multiple channels. And if you haven't heard, Industry 4.0 is upon us, and marketing is a big part of that. Launching your tech stack is a great way to get your marketing department connected, optimized, and ready for Industry 4.0.
Marketing tech stacks often have these components:
Email management
SEO
Automation software
Analytics
Advertising & Conversion technology
If you suffer from any of the following 'pains' you should consider setting up an inbound marketing tech-stack:
Need better lead nurturing
Have a small team and need to move more quickly
Putting the right technologies in place will help your team move faster, close more business and have better customer retention.
So what does a basic inbound marketing tech-stack look like?
Best Marketing Technology For Manufacturing Companies
As an industrial marketing agency, we work with manufacturers who are new to setting up their Martech or techstack to support their inbound marketing programs. Because they're learning and their budgets are tight, we tend to keep it simple. For beginners, we recommend this basic inbound marketing technology stack: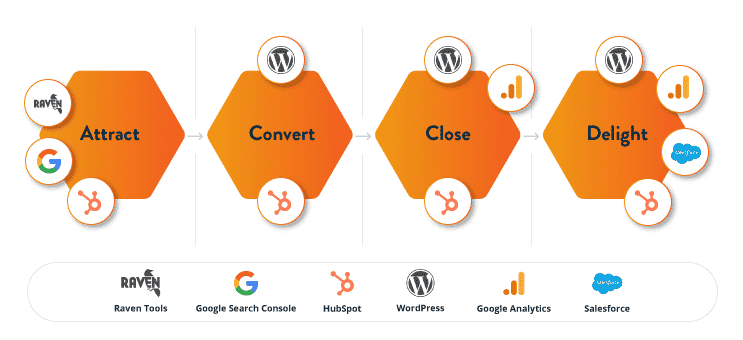 The #1 thing you can do right now for your company's marketing program is to set up Google Analytics on your site, including tracking goals. It's FREE, and when you are ready to get started with marketing, GA will offer a wealth of information and guide you or your agency with next steps.Megan Sherwood
Vice President
This model is robust enough to support your digital marketing program and it's a scalable technology stack - as your team and marketing program grows, these technologies can grow with it. Especially HubSpot!
If you haven't heard of these digital marketing tools, here's a quick run down:
Semrush and Ahrefs are Search Engine Optimization tools for link building, research and reporting.
Google Search Console is a free tool that helps you monitor and maintain your site's presence in Google Search results.
WordPress is the most popular, easy-to-use, open source CMS on the planet for building websites.
Google Analytics is a free web analytics tool used to track and report your website traffic data.
SalesForce is a CRM platform that helps you connect with your customers and manage the sales process.
HubSpot is inbound marketing and sales software that helps companies attract visitors, convert leads, and close customers.
Speaking of HubSpot - they have a FREE CRM that comes with the basic package. If you've already got a CRM, HubSpot integrates with many of them. If you're still shopping CRMs, you should know that Salesforce is a better fit for enterprise businesses, or organizations with large sales teams, and HubSpot is the tool of choice for small-to-medium-sized businesses.
07
Where Should I Start My Digital Marketing Program?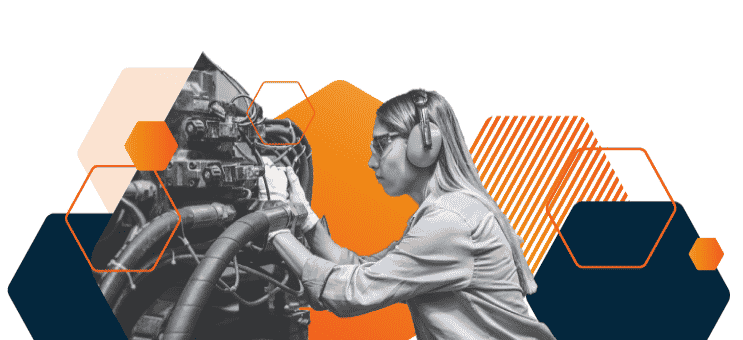 The first step in building a marketing program is to understand your sales funnel. Not sure what your sales funnel looks like?
Ask these questions:
How many site visitors do you have each month?
How many leads do you get during that time?
Do you already have a database of contacts?
How many sales opportunities come through in a month?
How many closed sales do you earn in that period?
Understanding sales funnel details will give you all the information you need to know the shape of your company's funnel so you can uncover problem spots and discover opportunities for where you need to invest your marketing team's time and effort. Here are some common sales funnel shapes...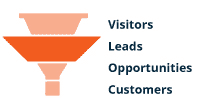 If you're like most B2B companies, you're marketing and sales funnel looks something like this. This is because:
You don't have a lot of website visitors.
You do have a giant database of leads and contacts, but most are old and un-engaged.
You are starving for more closed sales.
You are paying close attention to the few leads that come in.
It's not the time to be focusing too much on attracting visitors. Instead, Take a look at how you can improve this funnel shape.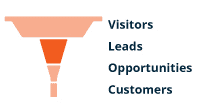 You've got a strange lookin' funnel here. It is because:
You have a TON of visitors coming to your website
You've got hardly any leads
You're doing a phenomenal job attracting people to your site, but you're not converting them
Learn how to correct this funnel shape with our Understand Your Sales Funnel Guide.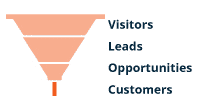 This one is pretty simple - you have a low close rate. Here is what you are doing right:
Your visits are good
You are converting your visitors to leads
The opportunities from your leads are solid
So for one reason or another, your leads are pulling back at the last minute and you can't close your opportunities. Take a look at your short and long term fixes for this.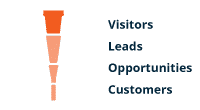 This funnel looks more like a tube because there's almost no difference in the number of visitors and sales. In this case:
All of your visitors immediately want to buy
You have ridiculously high conversion rates all the way down the funnel.
As great as this might seem at first, it's a malnourished funnel. This funnel is a sign that you have very little brand exposure and all of your visitors already know who you are—probably due to referrals. Learn how to fix it.
For each misshapen funnel, there's a marketing solution. Once you've diagnosed your funnel shape, it time to build a marketing program to get it closer to the shape of your ideal funnel.
For instance, if your funnel looks like the #2 (not enough leads) you will need a lead generation strategy supported by digital marketing tactics that help drive the right kind of traffic, convert those visitors into Marketing Qualified Leads (MQLs) for your sales team.
Pro Tip: If you're going to get serious about a strategy for lead generation, lead nurturing or closing more leads, you'll want to start by drafting a Service Level Agreement between your marketing and sales teams.
08
Top Marketing Mistakes Made By Manufacturers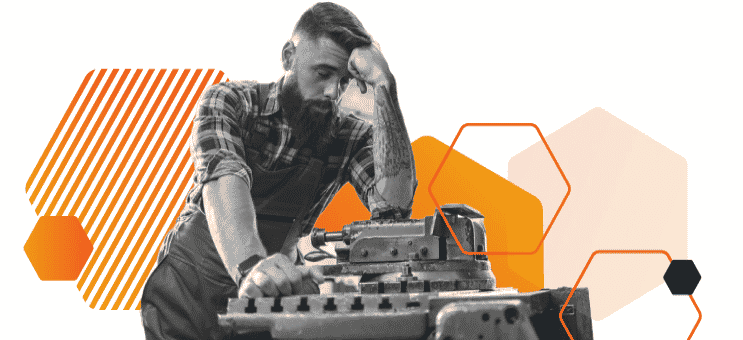 Many manufacturers have gone boldly toward the vast marketing landscape, looked out, and jumped right in. Some of them were very successful. Others wasted time, money, and resources and cursed the day they Googled "Do it yourself marketing."
Here are some of the most commonly-made mistakes we've seen our clients make before our engagements with them:
Expecting Results too soon. While it's possible to see some quick wins on the board right away, digital marketing is a long game. It would be reasonable to expect sustainable, measurable results after about a year of consistent, strategic efforts. However, there is a direct correlation between how much you spend and how quickly you'll see results from your digital marketing.
Focusing on perfection. In manufacturing, you want zero defects. Everything is painstakingly run through quality control before it goes out. Marketing is much more trial and error. The goal should be to get the best possible content out there (think B+ vs. A+) and then A/B test, measure and improve along the way. You'll never know what's going to work with your audience until you try it, and you'll never try anything if you're paralyzed by perfection.
Going tactics-first vs. strategy-first. Even a broken watch is right twice a day. Going tactics-first can sometimes work, through sheer luck. But developing a strategy built on SMART business goals, having a sales & marketing SLA in place to hold everyone accountable to results, and regular measurement and adjustment of the tactics in your program is much better than a spray and pray approach.
Getting distracted constantly. Business owners, entrepreneurs and CEOs are visionaries. They're big idea people who are capable of turning businesses and entire industries around. Unfortunately all that big thinking can lead to chasing shiny objects and getting off course. Empower your marketing team or agency to say 'no' to you. Don't divert your team from the SMART goals you set at the top of the quarter to 'chase squirrels' that will waste time, money, and human resources.
Being a bottleneck. Just like #4 above, this is a common pitfall for CEOs and owners. They want to see everything before it goes out, wordsmith and pixel-push everything to death (see #2) and sometimes projects will sit on their desk for weeks because they just don't have bandwidth to review them. Consider empowering someone on your team who has the desire and capacity to expedite your marketing projects.
Not measuring their marketing. Even if you don't make mistakes 1-5 above, making this one can destroy your marketing program. Digital marketing is measurable-- it should be clear what's working and what's not. Set benchmarks early in the project, then do regular reporting to make data-driven decisions about what to pull the plug on, what to invest more money in, so you can replicate success.
Digital Marketing Delivers Results
As much fun as marketing is to make –it's not made just for fun. Your digital marketing efforts should provide a clear return on investment. Modern marketing automation tools provide access to data that shows revenue/deals that were directly influenced by marketing efforts. It can be that clear!
As a manufacturer, you know all about ROI and getting results. You're judged every day on how you deliver products and service to your clients. We understand, because we're judged on the same criteria.
Ranked in order of importance, here are the 5 things that your customers are looking for from you:
Delivery Performance
Cost
Quick Turn Around
Quality
Industry Experience
Your digital marketing messaging should highlight all of these areas and how you're better at delivering on them than your competition.
Marketing results take time, patience, data, and talented digital marketing experts.
Experienced industrial marketers can quickly build you an effective, high-quality marketing program that aligns with your budget. They should be able to tell you what's working, what's not, and what needs more time. Most importantly, they should not use a cookie cutter approach. Every business is unique, and deserves to be understood by the folks who handle your marketing.
Hopefully this guide helped you understand how we do it--so you can get marketing results of your own.
09
Digital Marketing Glossary
Digital marketers speak a language all their own. For more help understanding these terms, visit our blog.
Basic Concepts
Buyer's Journey
Journey a buyer persona takes from awareness, to consideration, to decision when seeking services or solutions.
Buyer Personas
Semi-fictional representations of the decision makers and influencers who research, consider and select your products and services.
CMS
Content management System is software used to create, edit and manage your digital content.
CRM
Customer Relationship Management software that helps sales teams track leads across the buying process.
Ideal Customer profile
A company that is your most ideal industry, company size, company revenue, and geographical location to work with.
Inbound marketing
Inbound marketing
Customer-focused, two-way communication. Permission-based, with a goal of providing being personalized, helpful, relevant, and meeting customers where they are.
Lead Generation
Process of generating marketing qualified leads to hand over to your sales team.
Lead Nurturing
Process of continuing to nurture a lead through your sales and marketing to becoming a customer.
Marketing Tech Stack
Tools and technologies that work together to form your digital marketing infrastructure. Often have components for SEO, email, social media, CRM, CMS, analytics and advertising.
MQLs
Marketing Qualified Leads, which are leads that have been qualified by the marketing team to be interested in your company/product and more likely to become a customer than other leads.
Outbound marketing
Self-focused, one-way communication. Goal is to blast your message out far and wide to as large an audience as possible.
SQLs
Sales Qualified Leads, which are leads that have been qualified by the sales team as a potential customer.
Anatomy
Above-the-Fold
Area on your website that downloads first and is visible to the visitor without scrolling.
Call-to-action
It is a button, link, or image where the goal is to get the visitor to visit a landing page in order to convert them to a lead.

Conversion point
Webpage where a conversion or collection of contact information is successfully completed, such as on a landing page.
Forms
Visitors fill out info fields to sign up for updates and content downloads. It is best practice to only ask for information that will help qualify a lead or enable sales to follow up with them.
Landing pages
Simplified webpages set up to promote a particular piece of content or an event. These pages will not have not have website navigation, hyperlinks to other pages, or anything to distract the user from filling out the form, which is the ultimate goal for the page.
Lead magnets
Any digital, downloadable content that a lead would give up their contact info/fill out a form to receive such as pdfs, eBooks, white papers, videos, etc.
Pathway pages
Help direct visitors to more specific inner pages. For example an overall products pathway page would feature all of your products at-a-glance, with clickable images for each product that take visitors to those pages.
Pillar pages
SEO-rich, copy-heavy pages meant to be the "ultimate guide" to something. Used to educate visitors on complex topics, and often entail multi-media such as videos, animation, graphics, etc.
Thank you pages
Webpages that appear to the visitor to thank them for filling out the form on the landing page.
UX
The overall user experience (UX) is the impression a person using a product such as a website or computer application has, especially in terms of how easy or pleasing it is to use.
UI
The user interface (UI) is where the user interacts with the interface. This refers to the buttons, text and other elements as well as how these pieces interact when a user engages. For instance, when someone hover's what they determine to be a button, the button changes (or at least it should in some way)!
Tactics
Content Marketing
Creating sharable, downloadable content (gated and un-gated) to position you as a thought leader, and for the purpose of educating your visitors and capturing leads.
Conversion Rate Optimization
Reviewing your content and looking for ways to get it to perform better. For example, reviewing the low click-through-rate of an email and then determining a way to increase it.
Pay-per-click (PPC )
Ads shown in search results, social media, and on websites where the advertisers pay for each click on their ad.

Re-marketing
Used to get customers who did not make a purchase back to your site, this tactic is when an ad pops up in their feed showing something they had looked at previously.
SEO
Search Engine Optimization -Increasing the quality and quantity of your website traffic by increasing the visibility of it to a web search engine, such as Google.
Analytics
A/B Testing
Testing 2-3 versions of something running at the same time to see which performs best (email subject lines for example).
Click Through Rate
How many times something (ad, email) was clicked on by users.
Conversion rate
How many people filled out a form on your landing page.
Direct traffic
Traffic flowing to your website directly with no referring URL.
Hard bounce
Permanent delivery issue where emails are not delivered possibly because of the email address is bogus or the receiver blocked you.
Key performance indicator (KPI)
Metrics tracked to evaluate success towards achieving marketing goals.
Open rate
How many people opened an email.
Organic traffic
Traffic flowing to your website from a search engine, such as Google. Inbound marketing tactics center around increasing this type of traffic.
Soft bounce
Temporary delivery issue where emails are not delivered, possibly because of the receiver's inbox being full.