3 Reasons Construction Companies Need to Embrace Digital Marketing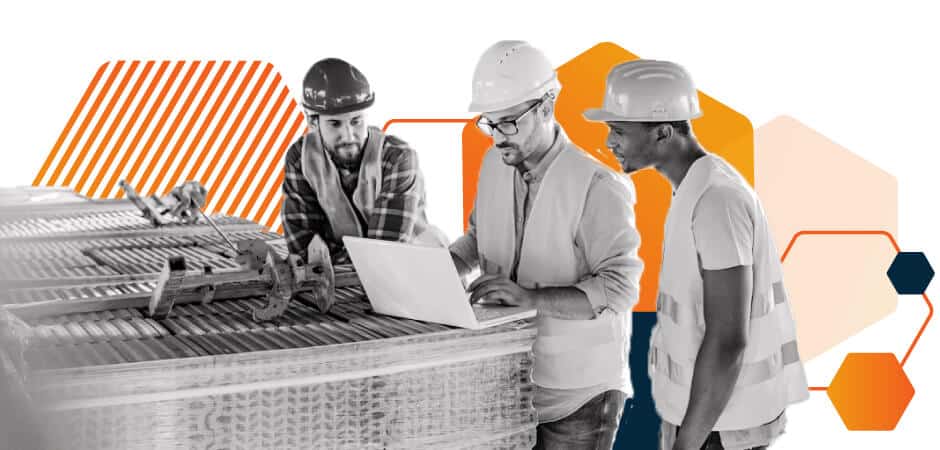 March 10, 2021
Digital Marketing works. Sure, we may be a bit biased, but don't take it from us. Just take a look at the change in digital marketing spend and traditional advertising in the past 8 years, according to Chief Marketing Officers in the United States. Every year, companies are spending more and more on digital marketing and less on traditional marketing. So, why are construction marketing strategies less likely to embrace their digital side?
It's not because companies don't understand the importance of marketing strategies in the construction industry. According to the Wall Street Journal, the Construction/Mining Industry has the 5th largest marketing spend of any industry. Sales and marketing in the construction industry is serious business.
Speaking in general, there are a few common characteristics most construction companies share that may create a barrier to entry for digital marketing.
The construction industry is likely the oldest in history. It's no surprise that sales and marketing in the construction industry applies an "if it ain't broke, don't fix it" approach.
Digital marketing, for the most part, takes place in an office on a computer (speaking from experience here). The majority of construction work is done outside, on job sites. This means construction workforces aren't in an environment where they can spend spare time optimizing email marketing campaigns. The skills that a digital marketer needs and a construction worker needs aren't likely to crossover.
Company culture is a reflection of its employees. A B2B construction company that spends most of its time outdoors, building tangible goods is more likely to embrace marketing that reflects those qualities, like flyers and direct mail.
These are just some of the barriers to entry to digital marketing that sales and marketing in the construction industry face. But any company, if it wants to remain competitive, will embrace and view change as an opportunity. Otherwise, they might end up like BlockBuster.
We get it. Change is scary. There's a reason we still wear t-shirts 7 years after the print has faded away. But throughout history, we've seen the best companies in the world adapt, time and time again. So, here's 3 big reasons why construction companies need to embrace digital marketing.
3 Reasons Construction Companies Need to Embrace Digital Marketing
1.Digital Marketing Means Targeted Marketing
One of the drawbacks of traditional construction marketing strategies, like direct mail or billboard ads, is that it's like using a shotgun for hunting. You'll cover a wide area but you may not hit your preferred target. With digital marketing for construction businesses, such as Facebook Advertising, for example, you can target down to occupation, location, age-range, and a variety of other demographics.
If a construction company begins advertising on a search engine, they can even find customers who are actively looking for their services. A billboard may reach more eyes, but how many of those will be the eyes of interested parties?
Pro Tip: Build an Ideal Customer Profile (ICP) to help your team wrap their heads around who your business should target online and how to sell to them. This article can help you do that.
2.Digital Marketing is Measurable
Let's go back to our billboard example. If a construction company buys an ad on a billboard, there's no way for that company to know exactly how much revenue should be attributed to the ad.
With digital marketing, whether it be email marketing campaigns or search engine advertising, you can track so much valuable data and statistics, it's enough to make a baseball nerd drool.
If our construction company above converted their billboard ad into a web banner ad, they could track exactly how many eyeballs landed on their ad (a stat called impressions) and how many of those eyeballs turned into qualified leads. They could then measure just how many of those qualified leads turned into closed deals.
Yeah, that's right, you can watch prospective customers navigate your sales funnel in real-time. The sales and marketing teams can then determine exactly how effective a marketing strategy is down to marketing-influenced revenue generated.
3.Digital Marketing Builds Brand Equity and Loyalty
For a lot of construction companies, word-of-mouth referrals are a big part of generating business. Today, conversations and discourse online are the new form of word-of-mouth referrals. Just think of Google Reviews, I know I'm not the only one that rules out a business if it has less than 3 stars. Unlike real-life word-of-mouth, which disappears after the referral, online reviews and testimonials live on forever and encourage prospects to trust you.
Creating an online presence through social media, a well-built website, and email marketing can create the same word-of-mouth effect. It allows your company to be shared and tagged to potential customers and it allows companies to highlight their best work.
Brand Equity, meaning the value of a company's brand, is also heightened by an online presence. If a prospective customer does a quick Google search for multiple construction companies, without any prior knowledge, they're going to gravitate towards the company that keeps it social media fresh and relevant and its website updated.
If you need help building a construction website that's optimized for the ever-changing digital marketing landscape, check out our Construction Website Best Practices Checklist.
Inbound & Outbound Marketing Can Live Happily Ever After
Now, all of this doesn't mean that the construction industry should abandon outbound marketing. Inbound and outbound marketing tactics complement each other; if a construction company takes out a billboard ad, they should make sure there are accompanying social media and email marketing campaigns to nurture leads. But if a construction company is serious about competing in the 21st century, it needs to be serious about digital marketing.
If you're ready to take your digital marketing seriously, we'd be happy to show you how. Schedule a 30-minute meeting with us today.