Smart Tools: Project Collaboration with Smartsheet
May 1, 2013
At The Whole Brain Group, we're always looking for new tools to make managing our work a breeze, and our latest favorite tool is called Smartsheet! Smartsheet is a great project management tool that encourages collaboration with advanced features tailored to project teams. We like to describe it as "spreadsheets on steroids".
We had previously used Basecamp for many years to manage our projects, but as we started working with more retainer clients we found that the tool just wasn't working for us anymore. With Basecamp we had to go into each client project to view our individual to-dos, and it was tough to track tasks that were "in progress" since Basecamp only thought of tasks as Complete or Incomplete. Finally, because we have a lot of repeating tasks on retainer projects, it became tedious to set up the same tasks and due dates every month.
With Smartsheet, we're now able to create workspaces for each client, and add our WBG-designed spreadsheets to manage project to-dos. The project managers love this tool because they are able to manage multiple projects and tasks and easily follow up with each team member on the project. Each Whole Brainer has a custom report that includes all of their to-dos in one place, and it's emailed to us daily so we can stay on top of our tasks.
Smartsheet Features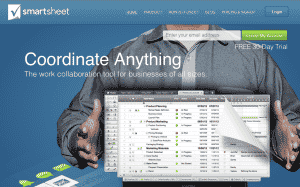 While there are many things to love about Smartsheet, we'll list our top 5 below. You'll have to check out Smartsheet for yourself to discover other fantastic ways to use the tool.
Custom reporting across multiple projects

Ability to set alerts and reminders

Integration with Google Apps and Box.com

Branded workspaces for each client

Collaboration between team members
If you are trying to manage retainer clients with Basecamp and have experienced the same frustrations, give Smartsheet a try! The company offers a free 30-day trial period – no credit card required. Make sure you check out the helpful Smartsheet templates – they gave us a lot of great ideas to keep us organized and on track.
Next Steps
If you found this post helpful, you may want to check out the posts about our other favorite smart tools: