4 Essential Marketing Reports and How to Use Them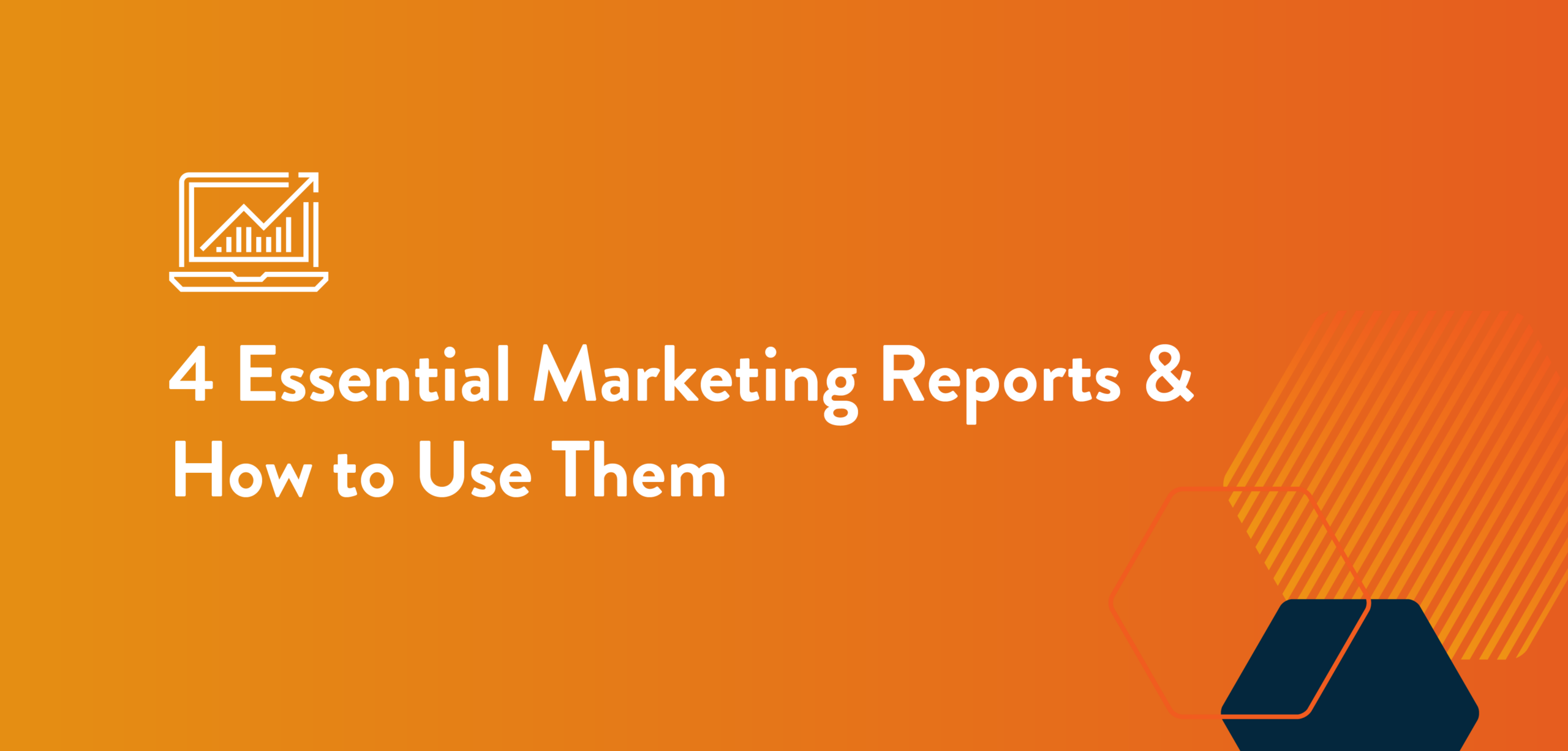 January 30, 2023
Creating great reports is an essential skill for every marketer. Marketing reports are the basis for determining strategy, identifying areas of improvement, showing the value of marketing, and creating your budget.
You're already tracking data through Google Analytics, your CRM, and other tools, but a marketing report pulls all the information together in one spot. With the right report, you'll be prepared to answer data-related questions and confidently make decisions.
What is a Marketing Report?
A marketing report is just what it sounds like—reporting on your marketing. Reports can vary in their delivery. You might report via a spreadsheet, dashboard, or PowerPoint presentation. Marketing reports can also vary in the content you report on, too. You may only report on SEO, or maybe your goal is to report on several KPIs for the team.
The content you include in your marketing report will depend on your reporting frequency: weekly, monthly, quarterly, or annually. Let's take a deeper dive into each type of marketing report.
Weekly Marketing Report
A weekly marketing report helps you keep track of your short-term marketing activities or KPIs that may have more sensitive changes week-over-week. This report only shows a small time frame and shouldn't be used to make strategy-changing decisions, but it is good for keeping an eye on the metrics you care about for the quarter.
You probably won't spend much time on this report, and it'll likely be presented more casually in a spreadsheet or as a quick review during a weekly team meeting.
What to Report on Weekly
With all of the marketing reports mentioned here, it should be customized to your business. You probably won't report on email marketing or earned media if you're working at a paid ads agency. But if you're at a full-service agency, you will likely report on a broader set of marketing data for your client.
One example of a weekly report is using a scorecard. EOS, the Entrepreneurial Operating System®, defines scorecards as "forward-thing, activity-based numbers, with weekly goals, which lead to desired outcomes."
To put it simply, scorecards track the efforts you take to meet your goals for the quarter. If one of your goals is increasing the number of marketing qualified leads, you can include scorecard items like new website users, number of new contacts, and number of content offer downloads.
Monthly Marketing Report
Monthly marketing reports are probably the most common reports to create. With weekly reports, it can be easy to overreact to changes in the data, but a full month gives enough time to identify any meaningful positive or negative trends. It's the perfect "Goldilocks" timeframe where it's not too soon to see how changes impacted your marketing and not too long when you can identify areas of improvement before they get worse.
What to Report on Monthly
For your monthly report, you'll want to include a high-level overview of all the metrics that matter to your team. This can include metrics for your website analytics, conversions, campaign performance, social media, email marketing, search engine optimization, and more. This is also a great report for your long-term marketing activities that won't always show big changes from week to week, such as improving page rankings.
You'll also want to include your goals, your progress toward your goals, relevant activities for the month, why some of the data may have increased/decreased, and plans for the next month.
Don't forget to add context behind the numbers. Look into why traffic increased so much or why there was a dip in leads. Numbers will say what happened over the month, but your marketing reports need you to analyze and explain why.
Quarterly Marketing Report
The quarterly marketing report is your time to check in to see if you've hit your goals for the quarter and measure your progress toward your annual goals. It's a deeper look into your marketing efforts than your monthly reports and provides the basis for creating your goals for the next three months. Using a quarterly time period means you have a bigger data pool to make decisions and helps you identify seasonal trends.
What to Report on Quarterly
You'll want to include your quarterly goals if you've met them and any additional context to whether or not you hit your goals. You should include how you're pacing toward your annual goals, too. Think about who you will present this report to and what metrics they care about.
This report will likely contain KPIs related to traffic, your marketing funnel, conversion rates, and revenue. If you run paid ads, you'll want to include spend and ROI. Don't forget to add additional comments and strategy recommendations for the next quarter.
Annual Marketing Report
The annual marketing report is meant to give an overview of marketing data over the last year, along with if and how you achieved your goals for the year. This is typically presented at your annual marketing meeting and serves not only as a review but as a reference for goal-setting for the next year.
What to Report on Annually
Like all the other reports mentioned, this should be customized to your business. Your annual report will be similar to your quarterly report but with an annual view. The annual marketing report should showcase your yearly marketing goals, identify what's working and not, justify budget spend and provide insights for the next year.
Create Your Next Marketing Report
Now that you know the different types of marketing reports, put them into practice and build your report. Got a monthly meeting coming up? Pull the data from last month and start analyzing! Reading this on a Monday and have a weekly meeting on Wednesday? Pull some quick stats to review for the meeting. Talk to the people you will present your quarterly and annual report to and get feedback on what they want to see.
Not sure where to begin? We can help with that. At Hivehouse Digital, we love making data-driven decisions for our clients, so we know our way around a good report. If you need help creating the right report for you (or have any other inbound marketing needs!), reach out to learn more about how we can help.
Still Looking For Answers? We Can Help!