How Manufacturers Can Benefit From HubSpot Marketing Free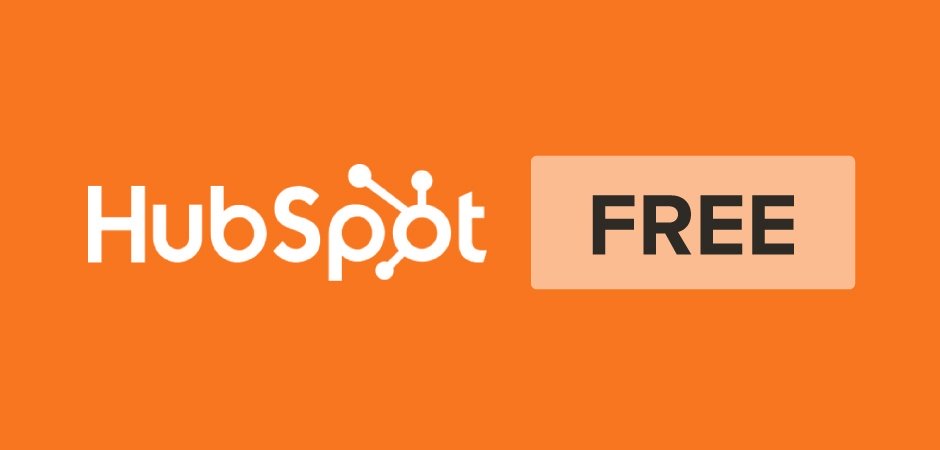 March 9, 2018
Production automation allows manufacturing companies, with even the smallest teams, to move faster, scale efforts, reach more customers, and increase revenue. You automate everything else…why don't you automate your marketing?
Why Manufacturers Need HubSpot Marketing Automation Software
Hubspot is the marketing automation software and website/blog platform that we use, but HubSpot has also helped many manufacturing companies, just like you. It helps you attract visitors, convert leads, and close customers with multiple tools and integrations such as:
Analytics
Website Building & Optimization
Search Engine Optimization
Workflows
Contacts & lead flows

Landing Pages
Emails and Calls-to-Action
Social Media Posting & Tracking
Blogging
CRM integration
That's a very robust offering, and the cost varies depending on how big your team is or how many tools you need. But here's good news: HubSpot also has a free version of their automated marketing software so you can get started and learn the basics.
Here's what comes with HubSpot Free:
Lead analytics
Lead capturing tools
Contact management
Contact/Company insights.
How to Get the Most from HubSpot Marketing Free
If you're ready, we have 6 suggestions on how to get the most from HubSpot Free. Remember that your team needs to invest a little set up time, but after that, you've got features, reports and other bells and whistles you can use to start automating your marketing for free!
1.Get Lead Insights From Your Current Forms
If you already have some existing forms on your website, to capture leads, you can start tracking your form data and new contacts with the Collected Forms tool. Plus all the info gathered from your forms will be sent to one central contact database inside your HubSpot portal.
You'll need to have applied the HubSpot tracking code on your website. But after you've done that, you can go into the Collected Forms page in the settings area like in the image below: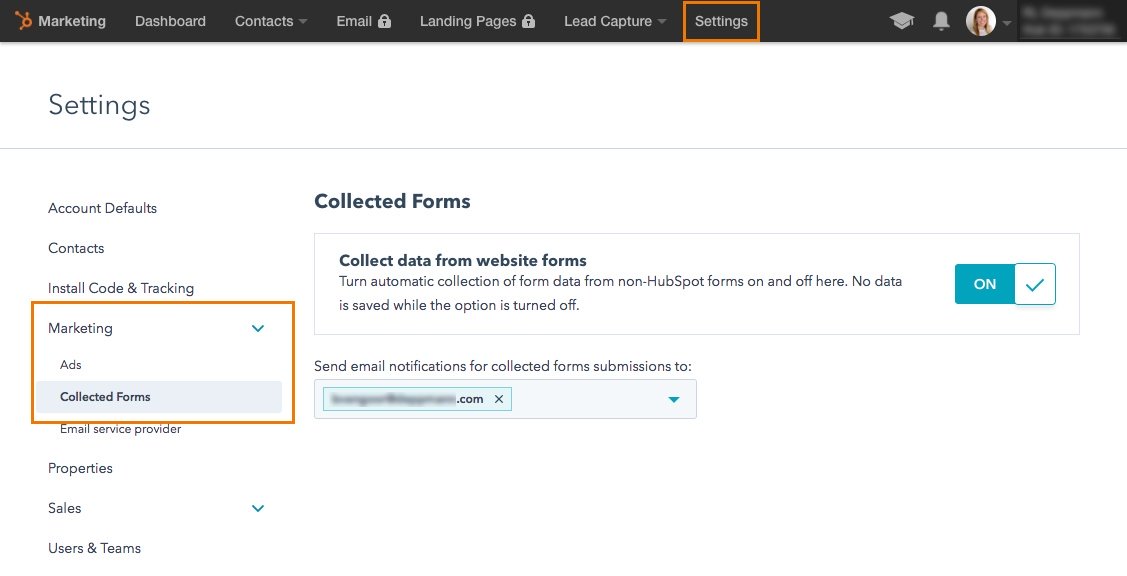 Once you flip that on-switch your leads and their insights should start showing up in your contact database. The Collected Forms page shows you the name of each form submitted, the number of associated contacts, and an option for email notifications.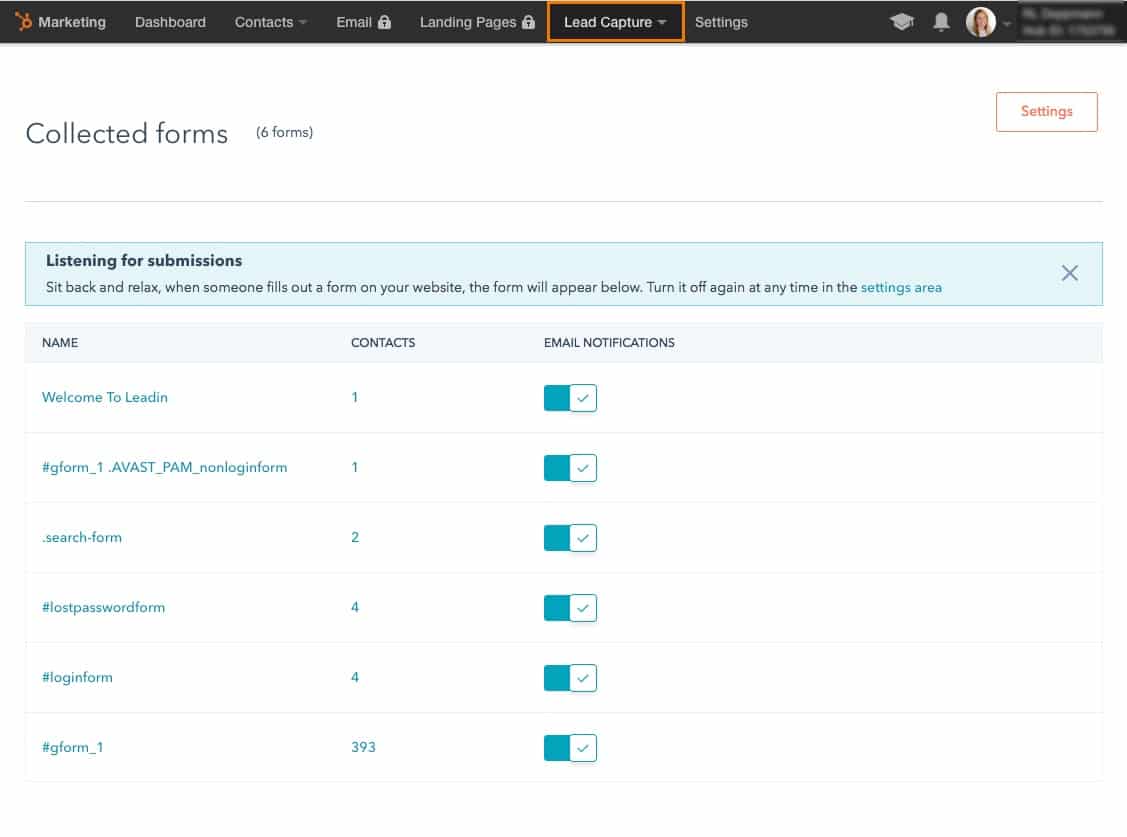 2.Use the Contact Insights to Optimize Your Marketing Efforts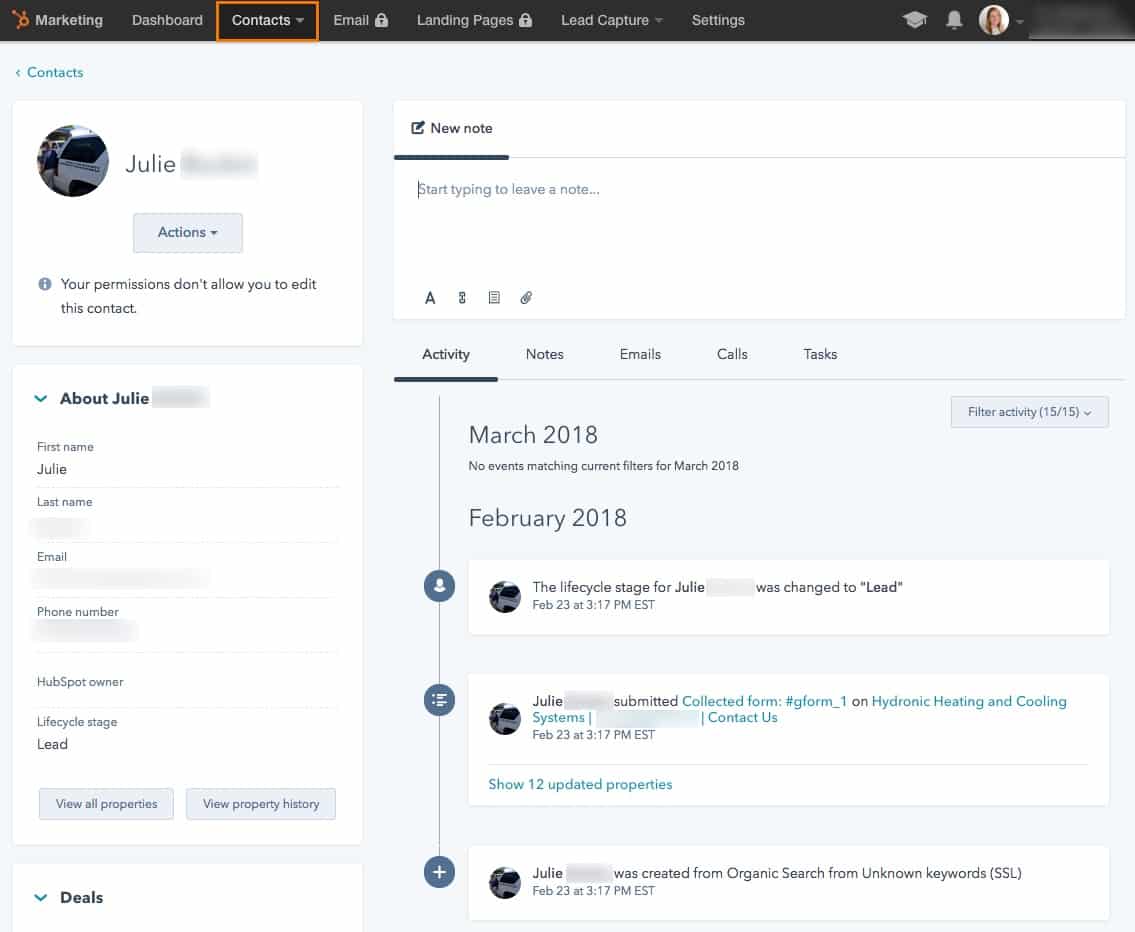 So now you know that you can gather your contacts and their information from the forms on your website. What's even better is before a visitor even fills out a form, HubSpot allows you to track their behavior.
The contact insights, you'll see with HubSpot Marketing Free:
How a contact found your website
A contact's first and most recent visit date
How many times they've visited
How many pages they've viewed
Exactly which pages the contact has viewed and when.
Which forms the contact has submitted
The data you get from your form submission contacts can help you optimize your marketing efforts to better capture and nurture your leads. You can see data on what content is driving the most visits, leads, and customers. Furthermore, your sales team can leverage the info you are gathering on your contacts to make the right sale to the right person.
3.Use Lead Flows to Increase Lead Generation
You know when you get to a website and a box pops up asking if you want to subscribe to a newsletter or download a content offer – yeah, that's what this does. In HubSpot Free you can quickly and easily create lead capturing pop-up forms to appear on any page on your website. Lead flows can help you grow your email subscribers, but we like to use it to promote downloadable content. Here's some simple setup tips:
You Can Choose a Flow Type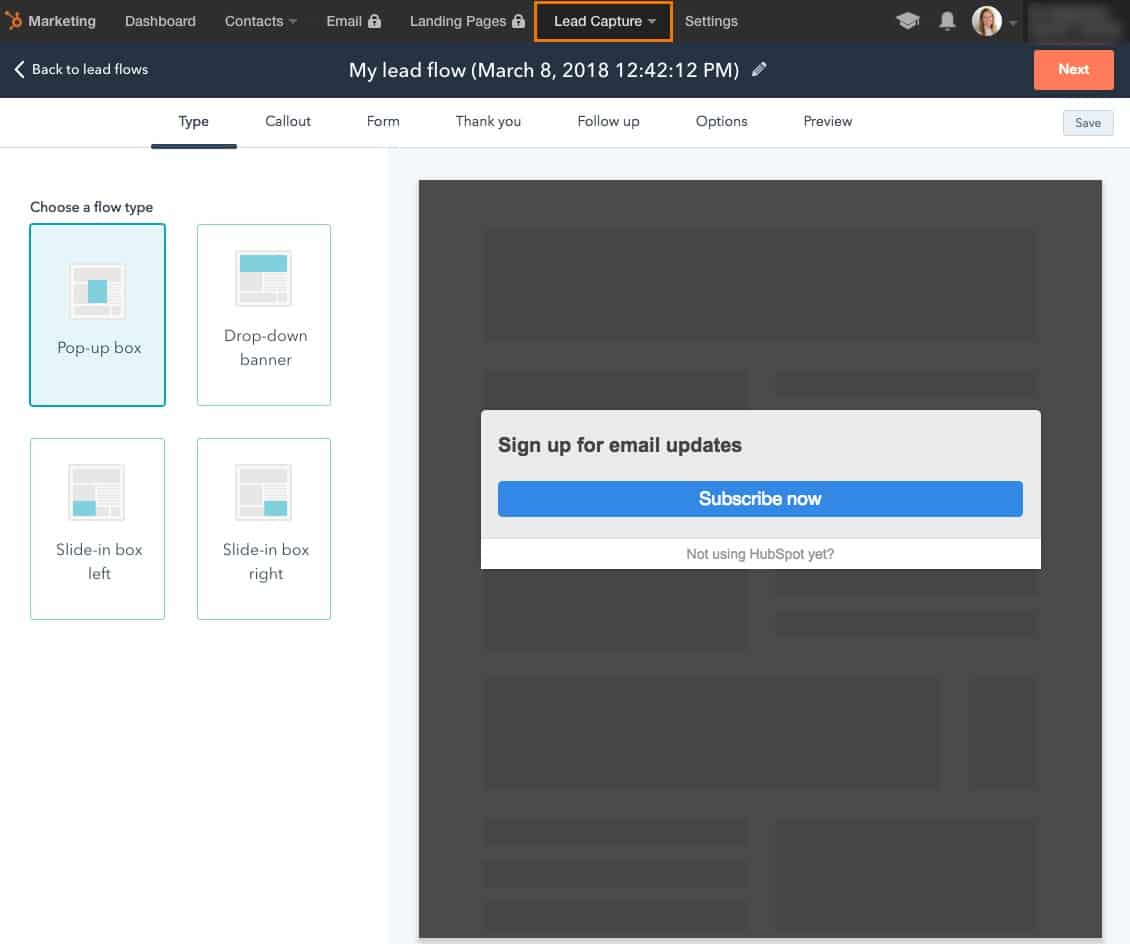 HubSpot free provides a few options for your lead flow pop-up. Start off with the pop-up option that best suits your conversion needs and your branding. Make sure you keep an eye on your data metrics and test different variations of your lead flows to see what works best for your target audience.
4.Take Advantage of Lead Flow Customization Options
Website Location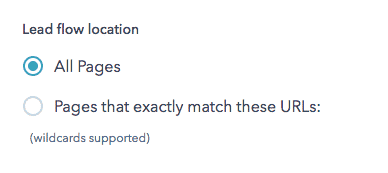 Choose where each pop-up lead flow box will appear: on all site pages, only on specific pages, or on just specific portions of your website. For example, You can create a lead flow that only shows up on all your product pages.
Flow Triggers

Customize which events will trigger your pop-up, like page scroll, exit intent, or elapsed time. You can choose the best triggers by using data that you get from other free tools, like HotJar, which tell you how your users tend to interact with you site.
Screen Size Options

We recommend that you use this customization option to disable your pop-ups on small screen sizes. You want to keep a good visitor experience across all platforms. So it is best to eliminate the possibility of your site performing poorly on mobile devices; for usability and SEO reasons.
Email Notifications

You can set your lead flows to notify specific team members, such as your sales team, when someone fills out the form. That way your sales team can get a jump on nurturing your leads into customers.
5.Make Smart Decisions With Marketing Metrics Reports
Marketing metrics are your backbone. HubSpot collects analytical data from your website and your contacts which populate cool summary reports on your HubSpot portal dashboard. A HubSpot free account provides you with a number of contact report options. By using these snapshot reports on your dashboard your team can be empowered to make quick informative website updates.
6.HubSpot Free Integrates With MailChimp, WordPress and More
One of the best things about HubSpot Marketing is you can easily connect your free account to MailChimp, WordPress, Weebly, Drupal, Shopify, Magento, and the other marketing tools that you already use.
Start by integrating your email marketing tool
By integrating your email provider in the Lead Flow settings, you can push new contacts that you gather in HubSpot to your email marketing tool. Currently, HubSpot's free account email integration  is MailChimp.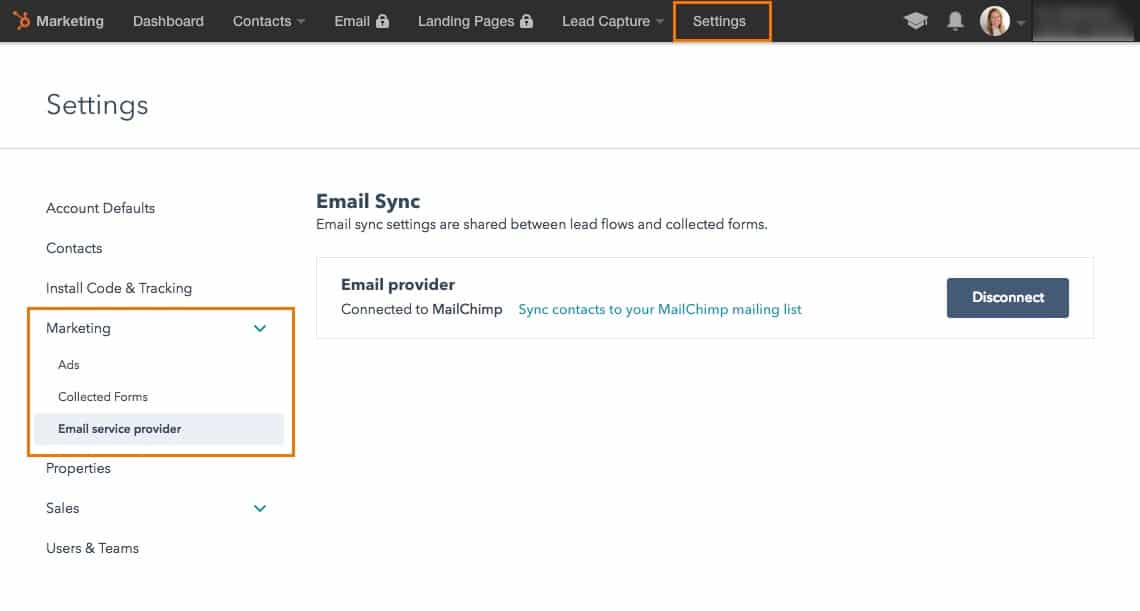 HubSpot CRM Free & HubSpot Sales Free
Help your sales team manage their leads (Free!) with HubSpot CRM & HubSpot Sales. From your portal dropdown menu, use the button labeled "Products & add-ons" to activate the HubSpot CRM and HubSpot Sales. Taking a short amount of time to turn these on will get you a more comprehensive (and still free) sales and marketing solution.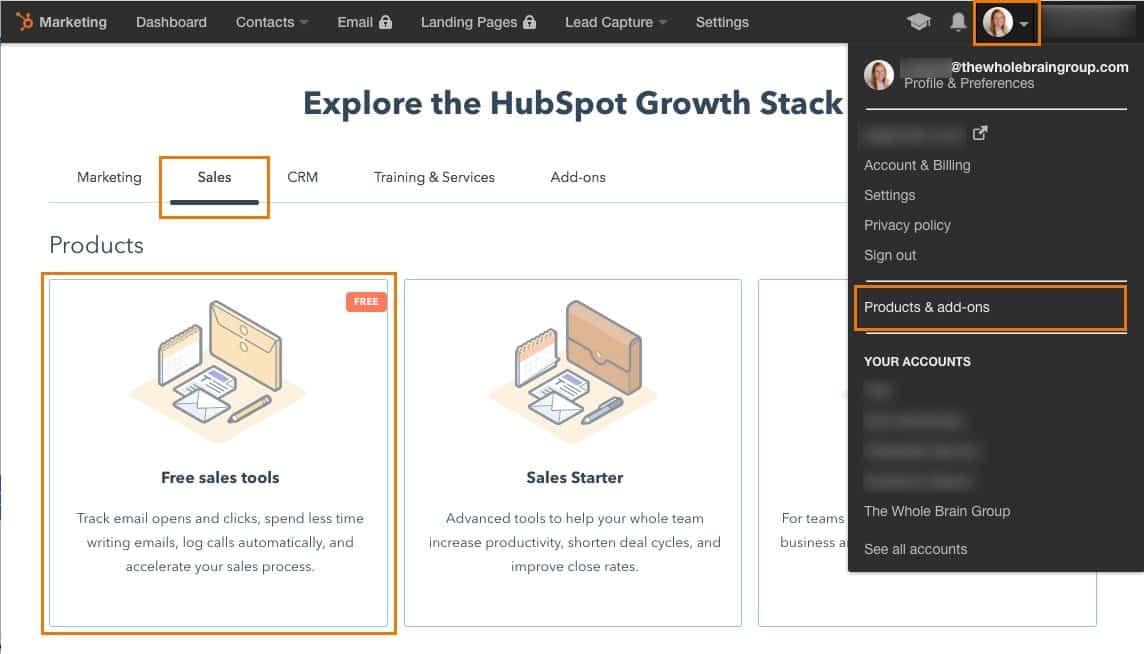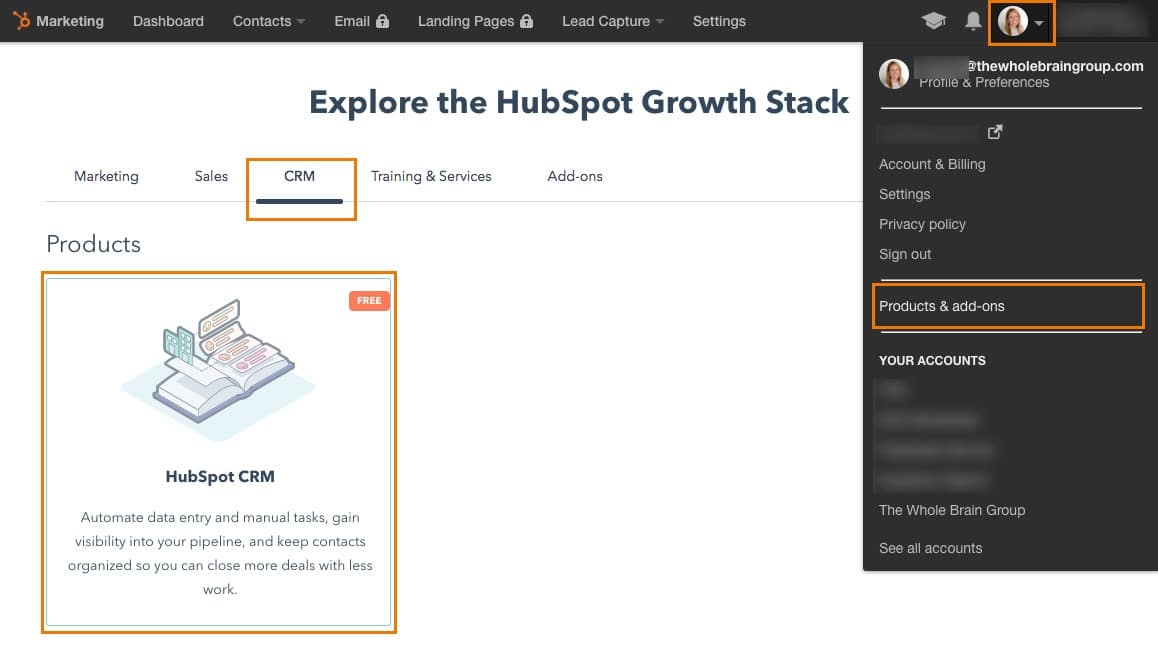 Want more free digital marketing tools? Check out the 5 free tools to measure your website that we recommend to our clients, and learn how to set them up on your site.
Getting Started With Marketing for Industrial Companies
If you have questions, need help setting up and managing HubSpot Marketing free, or any of the free tools we recommend – we can help. We're industrial marketers that are currently helping many Michigan manufacturers understand how industrial marketing and automation fits into their Industry 4.0 landscape – let us know if you need help!