How to Create a Deal Pipeline in HubSpot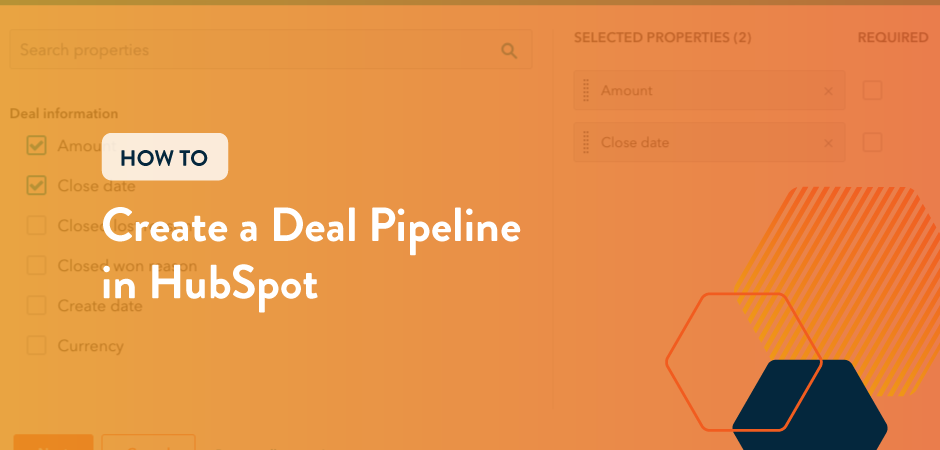 July 25, 2023
Is your sales team stuck in organized chaos, tracking deals in a spreadsheet? Maybe everyone seems to be doing their own thing to close a deal?
With HubSpot Deal Pipelines, you can configure your sales process, set up automation, track deals, and estimate revenue all in one place. Plus, it helps your marketing team track KPIs more efficiently.
Keep reading to learn more about Deal Pipelines, and how to set them up in HubSpot to make your sales team more efficient.
What are Deal Pipelines?
Deal Pipelines are a way to visualize the steps in your sales process. As a deal moves through the Pipeline, the likelihood of converting increases. You can use Pipelines to track open deals, identify roadblocks, and estimate revenue.
Deal Pipelines in HubSpot are easy to customize. Here's how to set up a Deal Pipeline step-by-step.
How to Create a Deal Pipeline in HubSpot
Click the gear icon in the top menu.
Find the Objects dropdown menu in the left sidebar, then click on Deals.
Click on Select a Pipeline and click Create Pipeline.
Name your Pipeline.
Configure your Pipeline steps.

As a best practice, we recommend naming your Deal Stages in past tense, so there is no confusion over if the stage means something has already happened or not.
You can modify or delete the default stages to suit your team's Pipeline.
Click on Add Stage at the bottom to add more stages.
Click on the dots on the side of the Deal Stage to rearrange the order of the stages.

Configure your Pipeline Stage Probability.

For each stage, you can configure the probability the deal will close. For example, your first stage may be 10% or 20%, while the stage before closed won might be 60% or 80%.

Adjust editing access

If necessary, you can restrict who can modify a Deal depending on the Deal Stage.

Add Properties to Update

You can add properties that need to be updated based on the Deal Stage.
For example, if you have a Deal Stage called Proposal Submitted, you will likely want to update the deal property "Proposal Submitted Date."
Another example is updating the "Closed Lost Reason" when a Deal is lost.

Click Save
Next, click on Automate to set up automation.

This is a simplified version of the Workflows tool where you can add automation for the different deal stages.
For example, you can set up automated emails to send to prospects or assign tasks for your sales team based on when a Deal moves to a new stage.

To set up Deal Tags, click on Deal Tags

Deal Tags show up on your Deal cards that can differentiate the different Deals.
For example, you might set up tags for small, medium, or large deals. You could also set up tags for different regions.

Click on Manage Deal Tags
Click Add Tag
Fill out the Tag Settings

Name, Description, Color, and Pipeline

Add Your Filters
Review your Deal Tag
Click Save
Finally, click on the Customize Deal Cards link in the Pipelines tab to customize.
Click Add Property to add more properties to your cards.
Click Save
And that's it! You now have a fully customized Deal Pipeline. If anything ever changes, you can always go back and modify your Pipeline to reflect changes in your process.
Need help identifying your sales process and setting up Deal Pipelines in HubSpot? Schedule a call and learn how Hivehouse Digital can help optimize your process.
Still Looking For Answers? We Can Help!