You Can Have a Blog That Drives Sales – Here's How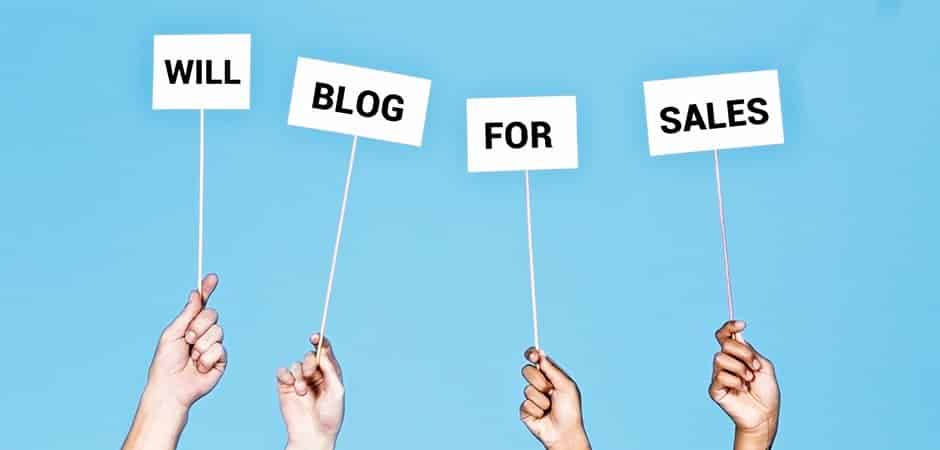 July 18, 2017
If you're in a love-hate relationship with your blog, you're not alone. A full 60% of B2B marketers say their biggest challenge is producing engaging content. Over half struggle to measure content effectiveness, and 57% are having a hard time producing content consistently.
Why Should You Have a B2B Blog?
As challenging as effective blogging may be, it's also incredibly rewarding. B2B marketers that use blog content get 67% more leads than those who don't. And marketers that invest into blogging are 13x more likely to see a positive ROI. Blogging is so effective, that 45% of marketers say blogging is the #1 most important piece of their content strategy.
Here are some reasons why blogging is such an effective part of your B2B content marketing tactics.
Blogs are versatile
You can include just about anything in your blog – any kind of topic, any kind of content, any kind of voice and tone – you name it. Embed a video, infographic, or audio clip.
This versatility makes blogs incredibly popular with your target audience, because they can consume visual content quickly, or skim through a helpful article that equips them to accomplish more.
Blogs can feed your email nurturing (newsletter and RSS feed)
If you've got an email list (you DO, don't you?), your blog content is an incredible way to stay top-of-mind with your leads. Your subscribers are already getting updated when you publish new articles, but you can take your blog to the next level by sending a monthly newsletter to your entire email list.
Your audience is busy, and they're not going to check your blog every day for the latest article that'll solve their greatest problems. But when your thought leadership is delivered straight to their inbox, you'll captured their attention and continually stay top-of-mind.
And you don't pay a dime for it, either.
Blogs have legs on social media
Your blog content can really take off when you promote it on your social media channels. Social media can get your content in front of eyeballs that would otherwise never come across your blog – and draw them back to your site.
They boost your SEO and increase traffic to your website
Want to get seen on search engines? There's nothing better than blogging to improve your SEO and draw organic traffic to your site. On average, B2B websites with a blog have 434% more indexed pages. That means you've got a 434% greater chance of being found on Google if you're investing into blogging. Not bad!
How to Build a Blog that Converts Every Time
Okay, so blogging can be a big-time tool in your content conversion toolkit. But like any tool, you need to know how to use it properly to get the results you're looking for. Here are seven basic best practices that'll get you greater success with your business blog.
1) Pick a persona
A lot of business blogs bottom out because their content doesn't hit home with the right people. Your blog content should be highly focused on your ideal customers' pains, motivations, and questions.
If you aren't using buyer personas for your content, start now! Personas keep you focused on your target audience by providing a very clear representation of your ideal customer. Don't know how to create a persona? Check out our article that walks you through it.
"Hivehouse Digital updated our logo and website to support our day-to-day business. We particularly valued identifying our customer persona so that we could design everything with them in mind. We have received numerous compliments on the logo from consulting engineers and mechanical contractors." – Norm Hall, R.L. Deppmann
2) Pick a pain point
Once you know who you're writing to, you need to decide what pain you'll address. People who read blogs are in pain, or they're avoiding pain. They're looking for a solution to a problem, or a better way to do their work. Your blog content should provide the answer they've been searching for.
If you "get" your persona and their pain, you'll score a major win here, because you'll be providing exactly the kind of content your audience is looking for. And that boosts your thought leadership and trustworthiness.
Each blog article should address one specific pain point. Keep it laser-focused for greater impact and effectiveness. If you try to address too many issues at once, your message becomes watered-down and muddled.
3) Identify and include relevant keywords
Keywords help your content get found – but the right keywords help you get found by the right people. If your target audience doesn't use industry-standard terminology in their searches, you'd better not use industry terms as your keywords either. Otherwise, you're just speaking to your industry, not your customers.
Getting the right keywords and using them properly can be overwhelming, especially if you're not an SEO geek. But if you focus on the basics of keywords, you'll see good results.
Hand-picked related content: 3 Keys to Finding the Right Keyword
4) Write the blog
Pick a blog type and length, and assign someone to write it. Some examples of blog types:
How-tos
Listicles
Curated content
Pro/con comparisons
Top 10 articles
Quizzes
You can also embed videos or infographics, which often boost the ROI on your content.
Speaking of boosting ROI, long-form content (1200+ words) has tremendous value in several ways:
Increased shares on social media
Stronger thought leadership
More conversions
Higher ranking in search results
Increased time on site
Greater perceived value
Who should write your post? You'll need someone who writes well, understands blogging best practices, and has the capacity to craft an effective post that converts. For many businesses, that person is hard to find – at least, on a consistent basis.
Outsourcing may be a smart option – professional marketers know how to expertly create content that presents you as an industry thought leader to drive more revenue.
5) Optimize for SEO and lead generation
When you're writing your article, optimize it for SEO and readability. Be sure to follow these guidelines:
Keep paragraphs short
Use headings and subheadings to break up long chunks of content
Include images – and use keywords in your alt tags
Optimize headings, titles, and URLs for search
Add a keyword-rich meta description
Titles should be compelling, but also specific rather than vague
Include links to authoritative sites, and to other posts on your site
Include a call to action at the end of your post – and within your post as well
Hand-picked related content: 10 SEO Fixes You Can Do Right Now For Better Google Ranking
6) Distribute and promote
Many companies believe that if you build it, they will come. With content marketing, there is no field of dreams, so you'll need to be purposeful about sharing your content and promoting it. And doing it where your ideal customers are already going.
We mentioned social media earlier. Think about which platforms your audience is spending time on – LinkedIn? Twitter? Facebook? Pinterest? – and share your blog content on those channels.
Also consider syndicating your articles with services that can get your content in front of a wider audience. Medium and Business2Community are a couple examples of popular syndication sites for B2B companies.
Share key articles with industry influencers – especially if you mention them by name. Send them a quick email letting them know they might be interested in what you have to say, and ask them to share it with their network.
7) Measure your effectiveness
Always be measuring the effectiveness of your blogging, and make adjustments as needed. Check your most effective and least effective posts each quarter, and make tweaks to optimize them for better performance. Then check back the next quarter and see how they're doing.
Handpicked related content: 3 Simple Steps to Generate More Leads with Your Blog
Business blogging is one of the most cost-effective ways to increase awareness of your company in the digital landscape – especially if you're consistent in following these seven best practices. Blogs boost thought leadership to drive more revenue, and they're incredibly powerful content conversion tools.
If you have questions on where to start or you're looking to hire an agency to help with your content, give us a call. We can take the guesswork out of content marketing tactics.
Still Looking For Answers? We Can Help!