7 Must-Watch Metrics to Validate Your Marketing Efforts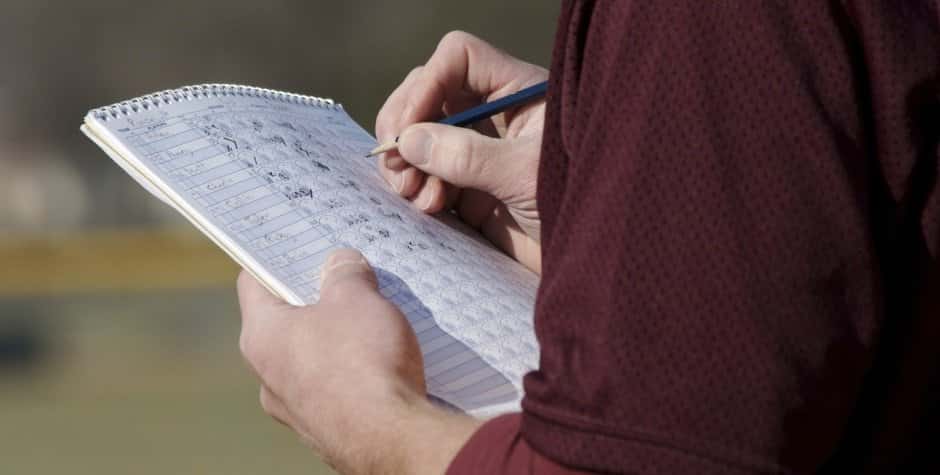 June 10, 2016
You're creating great content that answers your personas' greatest pain points. You're attracting visitors with well developed keyword strategy, and you're circulating those posts within relevant verticals to get your posts discovered. But then what? How do you know your audience is actually engaging with the content you write? What metrics show you real engagement?
Here are seven of the most important metrics you should be watching to validate your marketing efforts.
Scroll Depth
If YouTube metrics like Average Minutes Watched can help you determine ideal video length, or what content is boring vs informative, Scroll Depth will give you equivalent insights for your blog posts.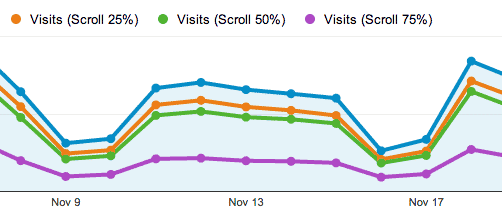 Create segments to examine a subset of traffic based off scroll depth (e.g., scroll depths of 25%, 50%, 75%, 100%) and set up advanced filters to only show blog posts. This gives you a snapshot of your overall blog performance. Enable different scroll amounts to drill down on deepest or shallowest scrolled posts, to uncover blogs that people are scrolling through or dropping out of.
Also, these segments are applied to Google Analytics as a whole, allowing you to see scroll depth by
Screen size
Browser
Geography
Demographics
Page load speed
And more
Setting up scroll depth reports requires a little bit of work, but it's not terribly complicated. For WordPress blogs there are some plugins available like WP-Scroll Depth by Parsnip, or you can use Google Tag Manager to get going. Most solutions require jQuery 1.7+. HubSpot supports jQuery 1.7x (make sure the proper jQuery version is selected under Content Settings).
Pro tip: For even deeper reporting on these segments, you can create custom tables and graphs with the new Google Data Studio.
Time on Page/Bounce Rate
Bounce rate as a stand-alone metric has the potential to give unreliable information. By comparing it to time on page we can identify if a high bounce rate is illustrating low engagement with content or a missing next step. If a visitor is on a page for a long time, like over two minutes, then bounces, what we're seeing is a missing next step, not bad content.
While time on page shows how much time someone spends reading your post, bounce rate shows a session that ends without an interaction hit (basically, any kind of interaction that sends data to Google Analytics). There is a common point of confusion in what a bounce rate is. Sessions with an interaction hit are not limited to sessions with multiple pages viewed.
Total Views
Total views is the total number of times a page has been viewed during the period you're tracking (month, quarter, year, etc.). It is NOT the number of visitors to a page. This metric can give insight to a page's quality and value—although you can also get high pageviews if your visitors can't find the information they're looking for.
Flag the pages with the lowest total views and analyze them to see why they might be performing so poorly. Are they hard to find? Do they need some SEO love?
Pages Per Session
This shows you how many pages your visitors viewed before they left your site. This metric is related to bounce rate, but it gives you a bit more granular information. You could have an extremely low bounce rate, but that could give you a false sense of success if you don't also look at your pages per session. If visitors are only clicking through to one more page before leaving, you're not giving people the answers they're looking for.
A low bounce rate and a high pages-per-session number shows that your visitors are getting a lot out of your content. The more they explore your site, the more interested they'll be in buying from you.
RSS/Notification Subscriber Count
This metric tells you how many RSS and email subscribers are following your blog. Blog followers are important, because they're the people who have found your content valuable enough to follow over time. They see you as a thought leader who provides the answers they're looking for.
Your subscribers may also be farther through the sales funnel than other visitors, so tracking this metric over time can give you some insight into your success in nurturing leads. Pay attention to year-over-year numbers so you can identify trends better.
Open/Click Rate for Blog Notifications
It's one thing to have people subscribing to your blog, but if they never open the notifications they get, that's an indication that they're no longer interested in you—they just haven't bothered to unsubscribe yet. The open/click rate shows you how many of your subscribers are still interested in your content.
If you're seeing lower numbers than you want, you might want to do some A/B testing on several variables, such as your headlines, publishing schedule, or featured images (one at a time, of course). One thing to consider is whether you're sending your notifications at the right time. SeventhSense is a terrific tool that can help increase open rates and CTRs simply by optimizing your send time.
Social Shares
Social shares give you a view into specific content that your audience really loves. We're wired to share what we're excited about, so this is a helpful metric to pay attention to.
Note your highest and lowest performing content and analyze the content that gets the fewest shares. Make changes with A/B testing and track the results over time.
No single metric will give you a good understanding of your marketing efforts, but this combination of metrics will help you get a fuller picture of your inbound marketing success and areas for improvement. Remember, inbound is a marathon, not a sprint. Make small adjustments over time and track your progress. Some of your changes could take a few months to show their results.
What to Do Next
Get more great inbound marketing content—subscribe to our blog
Want to see more results from your marketing efforts? We can help!
Still Looking For Answers? We Can Help!