Cleaning Your HubSpot CRM In 5 Workflows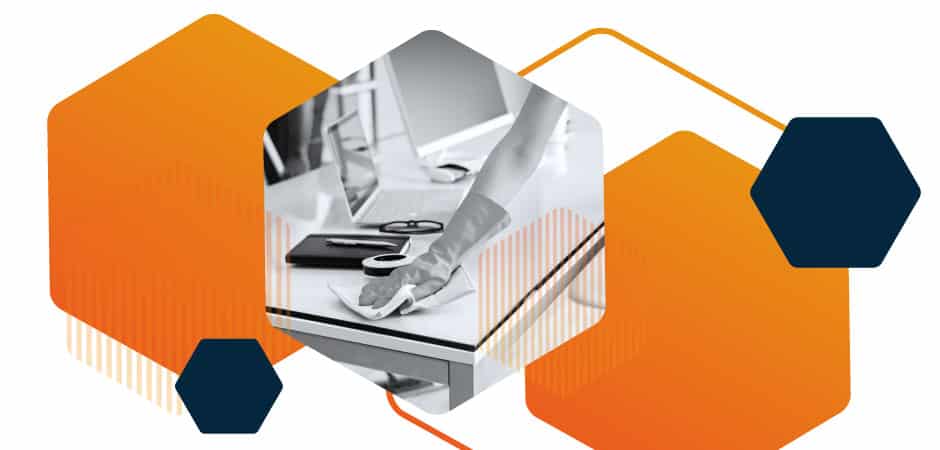 January 2, 2019
Our series of blogs to help you with HubSpot cleanup is basically an episode of Hoarders. Dirty email databases, dusty blogs stuck in draft…oh the shame! Well, the experts are here to help you purge.
In our first two articles, we helped you organize your HubSpot email database and your HubSpot portal. Now it's time to clean up your HubSpot CRM.
Ideally, your sales team should use your CRM to follow up on leads and close more business. If it's clogged up with old, uncategorized, or neglected leads, you're wasting their precious time.
Taking the time to create a couple of lists and set up 5 simple workflows in your HubSpot account can help you clean up your CRM, empower your sales team, and even affect your bottom line.
Is Your Sales Team Following Up on Leads and Their Contact Records?
One of the biggest problems we see in a CRM system are contacts that haven't been updated. Contacts without updated contact properties create a build-up of lost and unqualified leads, and neglected customers. Check with your sales team to make sure that they are consistently updating contact properties to ensure data quality. 
They should be:
Updating contact lead status
Updating contact lifecycle stage
Don't know the difference between the two? Go here.
Creating Contact Filters to Check Your CRM Cleanliness
Take a look inside your CRM, you can create filters that sort your contacts to help you determine if your team has dropped the ball a few times.
First, determine which contact properties are must-haves in order for a contact to become a sales-qualified lead. Then make a list filtering contacts by those properties. Then take a look at your Lifecycle Stage and Lead Status columns.
Example:
Here is an example with some of our sales-qualifying lead filters shown in the image below: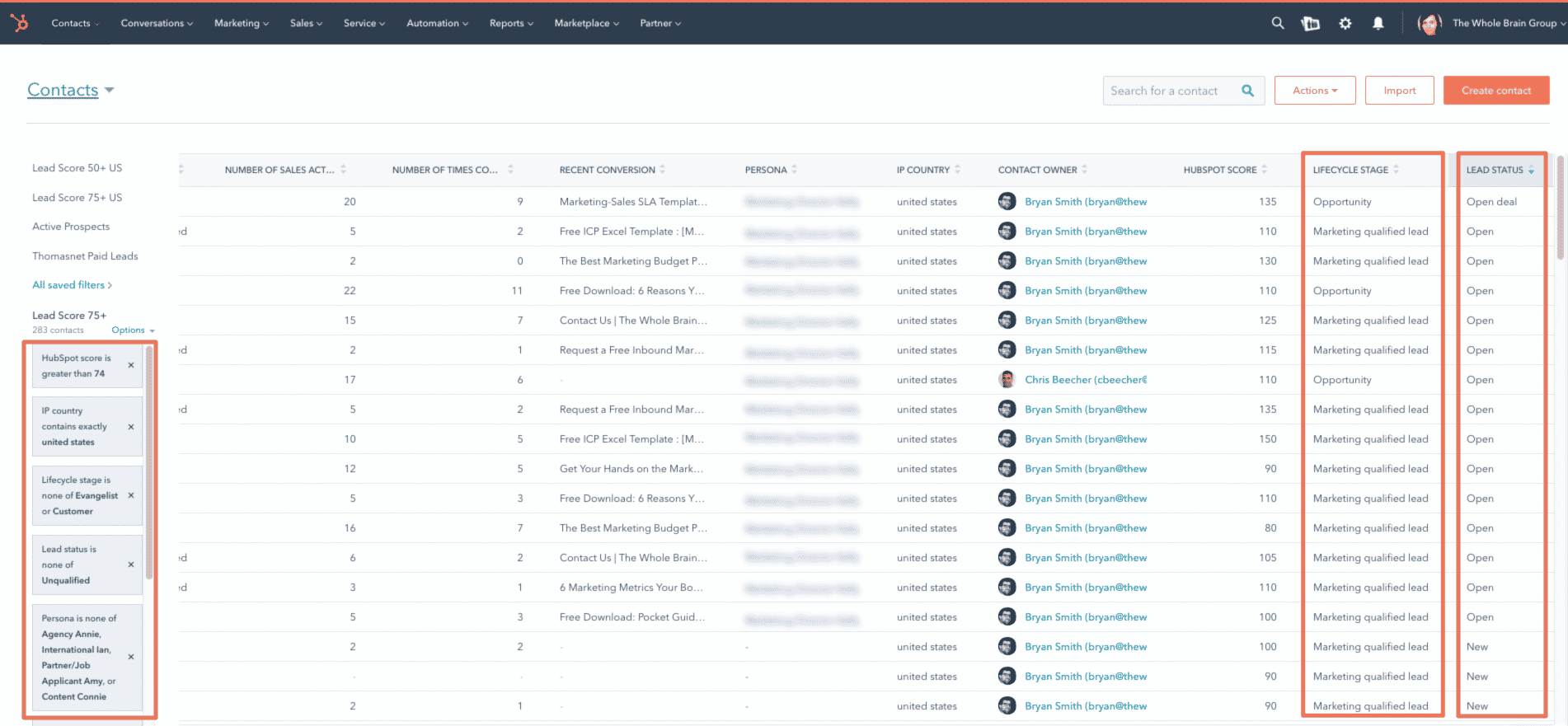 If the majority of your lead status and lifecycle stage columns are filled in—Congrats! Your sales team is awesome. But if you have a lot of blank space you might want to sit down with your sales team to talk about opportunities for contact data improvement.
Create Workflows to Keep Lead Status Up to Date
There are 4 automated workflows and 1 manual workflow you can create to keep your CRM clean and your contact properties up to date. But this is not a crock-pot –don't set it and forget it. You'll want to check up on your workflows annually to make sure they're working properly.
Workflow 1: Unknown Lead Status
Making sure the new leads coming into your CRM are identified with a lead status can be useful in other workflows where your sales and marketing teams may pass leads back and forth for nurturing or follow-ups. The lead status contact property is blank as default, so use this simple workflow to update contacts with an unknown lead status to 'New' or 'Open'.
Not currently using 'Lead Status' in your sales and marketing process? See suggestions from HubSpot for how you can.
Workflow 2: Update the Status of Leads Who Have Been Contacted
Use this workflow to change the status of leads that have been contacted or 'attempted contact' by your sales team. Putting the status to "in progress' can help your marketing and sales team determine the next steps in identifying who is an opportunity and who isn't.
 Workflow 3: Automate Assigning New Leads to Sales People
This one is a little more unique to your business and the people on your team. The workflow saves your marketing team time and your sales team grief when new leads pop-up in the CRM. By automatically assigning leads to your salespeople with certain enrollment criteria you can make sure there is less friction in the handoff between sales and marketing.
Start with the enrollment criteria for this workflow as "The contact property 'contact owner' is unknown".  Continue to build this workflow by using certain qualifications, like lead score or location, to differentiate your leads using if/then building blocks. Then based on those if/then branches chose the action to set the contact property of 'contact owner' to a specific salesperson.
Your workflow could look something like this: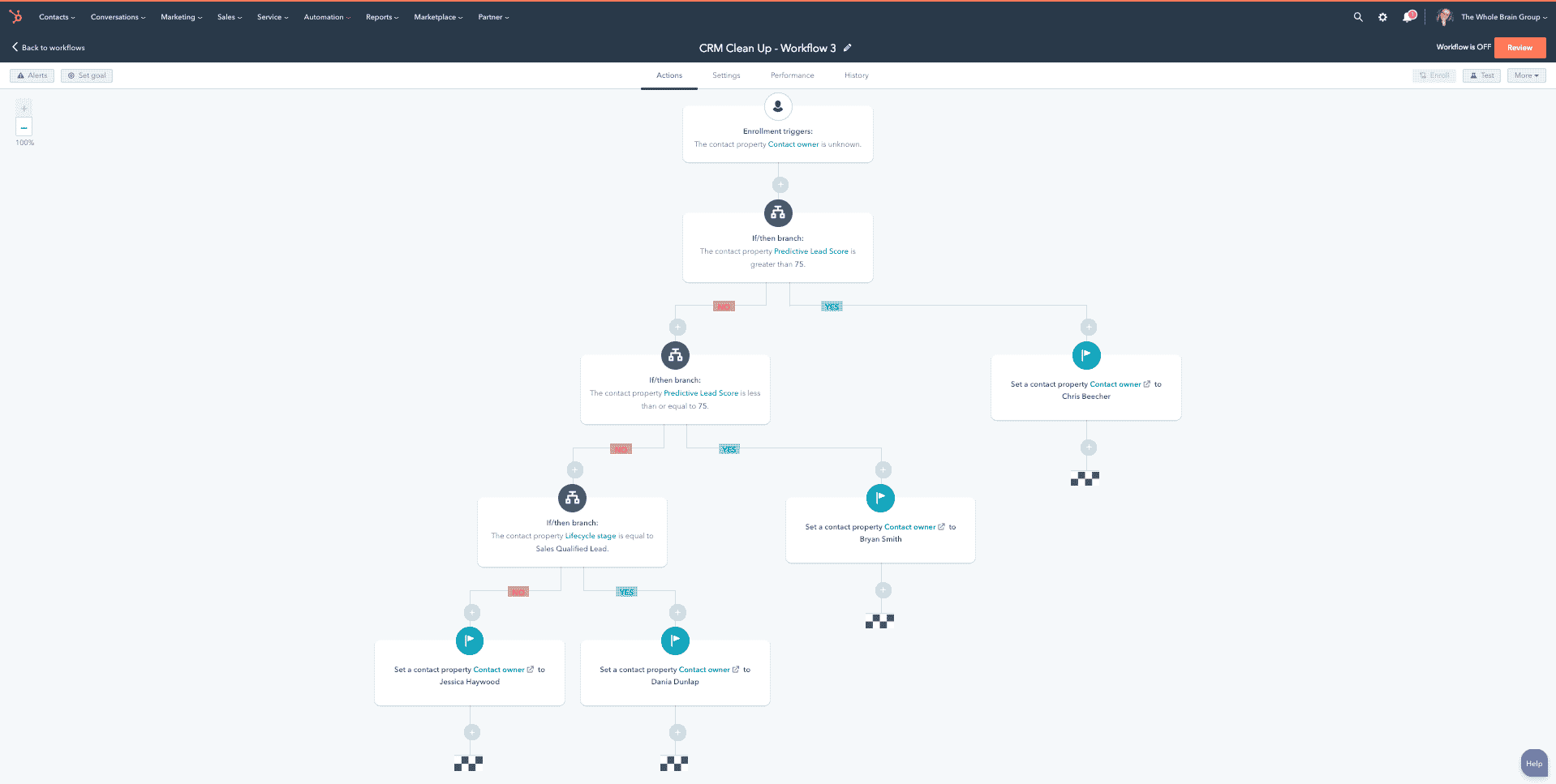 Workflow 4: Create Reminders to Engage With Neglected Contacts
Don't forget about those leads you haven't touched in a while – like that leftover Halloween candy in the back of the cupboard. It is still yummy! And those leads can still be nurtured! To remind your sales and marketing teams to reach out to contacts who haven't been contacted in a while, create a workflow like the one below which will automatically create and assign a task after a certain period of inactivity in a contact record.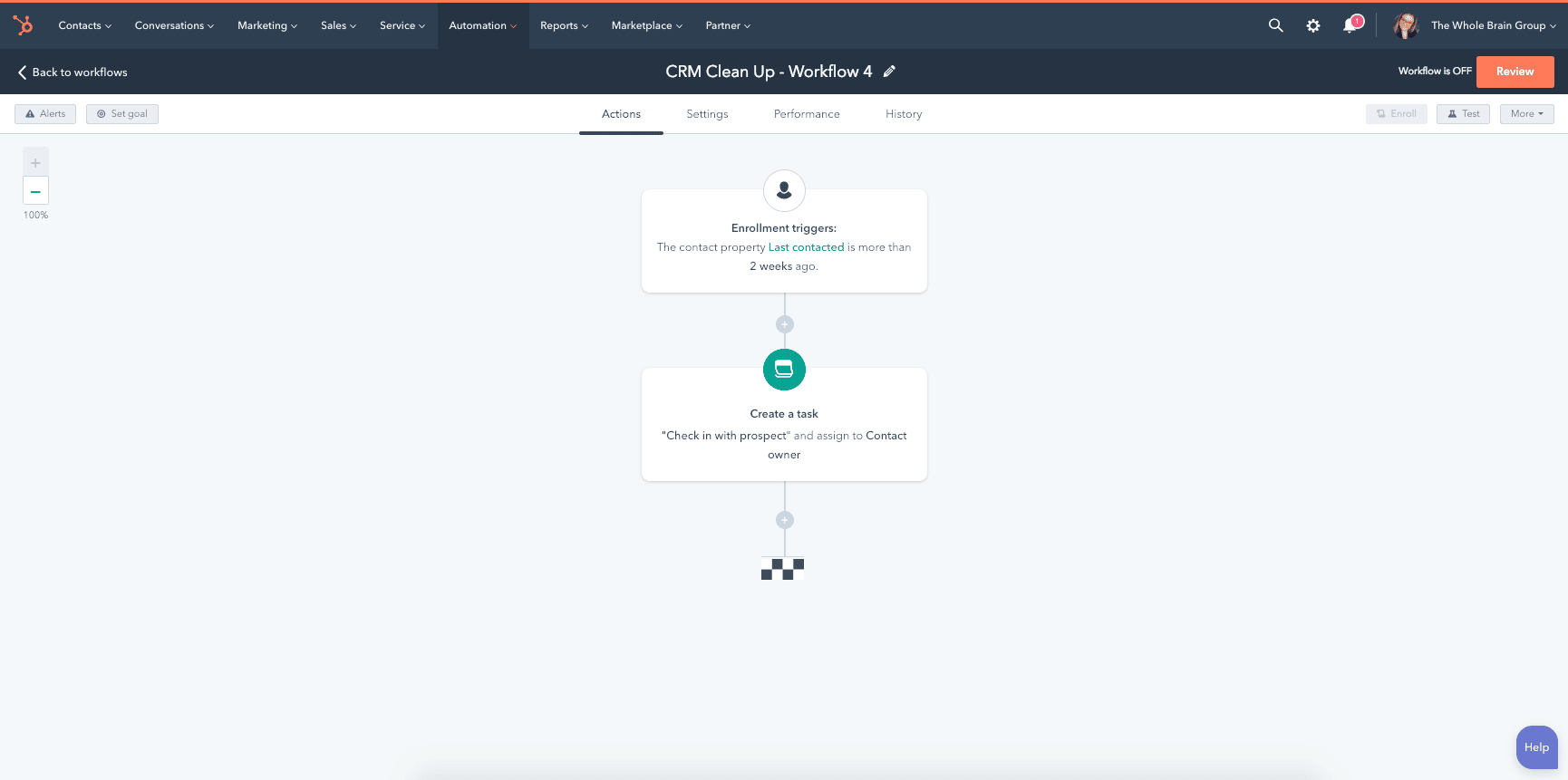 Workflow #5: Manual CRM Cleanup
Unfortunately, not everything can be automatic. We have one workflow to keep your CRM clean, but you'll have to manually enroll your contacts.
It's important to make sure all your customers are recognized as customers in your database. If their contact record isn't specified as a customer, they might miss out on important customer delight items like holiday emails and company announcements.
Use a workflow like the one below that enrolls a list of contacts to change their lifecycle stage in bulk.
Hubspot says that "Whether you have a bunch of customer contacts that haven't yet been changed or you are importing a list of customers you can use a manual enroll workflow to change the lifecycle stage."
Need Help Cleaning Up Your HubSpot CRM?
These workflows are a one-time set-up and then you'll just have to clean out your CRM annually.
Are you looking at these workflows like a chore list written in the Dothraki language (any Game of Thrones fans here)? If you need help, schedule a 30-minute free consultation to speak to our team of certified HubSpot experts. We'll help you get your HubSpot CRM, email database, and portal squeaky clean.