Does HubSpot Work With Gmail?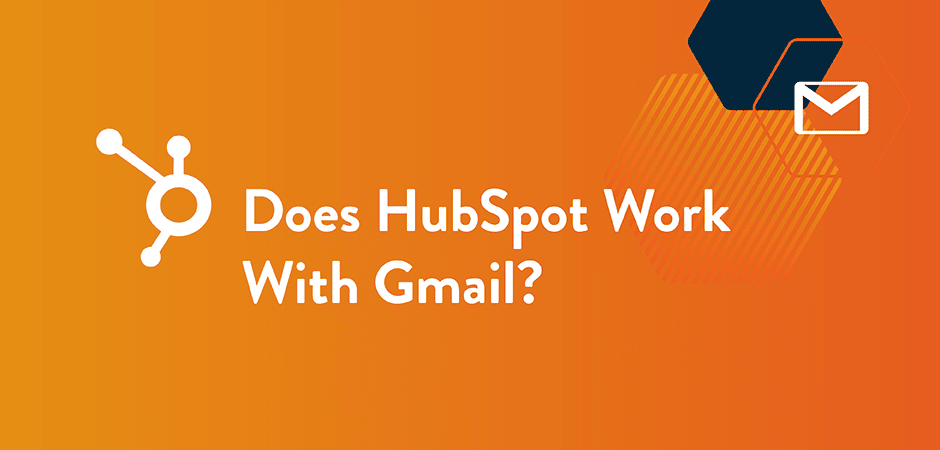 September 22, 2022
Not only does Gmail work with HubSpot – it works extremely well.
Gmail and HubSpot joining forces is basically the digital marketing version of Shaq teaming up with Kobe.
But unlike Kobe and Shaq's tumultuous relationship, this collaboration understands the power of working together seamlessly (you'll never see HubSpot taking potshots at Gmail in a post-game interview).
Let's learn how to integrate Gmail into HubSpot and then we'll cover some of the more interesting features of their partnership.
Steps to Integrating Gmail into HubSpot
Alright, let's cut to the chase. How exactly do you integrate Gmail with HubSpot?
In HubSpot, click on the Settings icon in the top right corner.
Click on the Email tab at the top of the page, underneath General.

Click Connect personal email.
Click Connect your inbox.
Enter your email address.
Read through what to expect when connecting your Gmail inbox to HubSpot. Click continue.
Login to your Gmail account, or if you're already logged in select which account to connect to.
Google will list the required permissions to connect to HubSpot, click Allow.
Connecting your email to HubSpot will allow you to send one-to-one emails, log replies in the CRM, enroll contacts in "sequences" (which are automated email workflows), and maybe most importantly – install the HubSpot Sales extension.
Power Up Your Gmail Inbox With HubSpot Extension
With your Gmail integrated into your HubSpot CRM, now is the time to take advantage of the Google Chrome HubSpot Sales Extension.
The extension unlocks many useful features, all of which can be accessed from your Gmail inbox, eliminating the need for users to switch back and forth between their inbox and HubSpot CRM. This will save busy marketing and sales professionals quite a few clicks.
To install the HubSpot Sales extension into Google Chrome, click on the puzzle piece icon in the top right corner of Chrome. Then manage extensions and search for HubSpot Sales.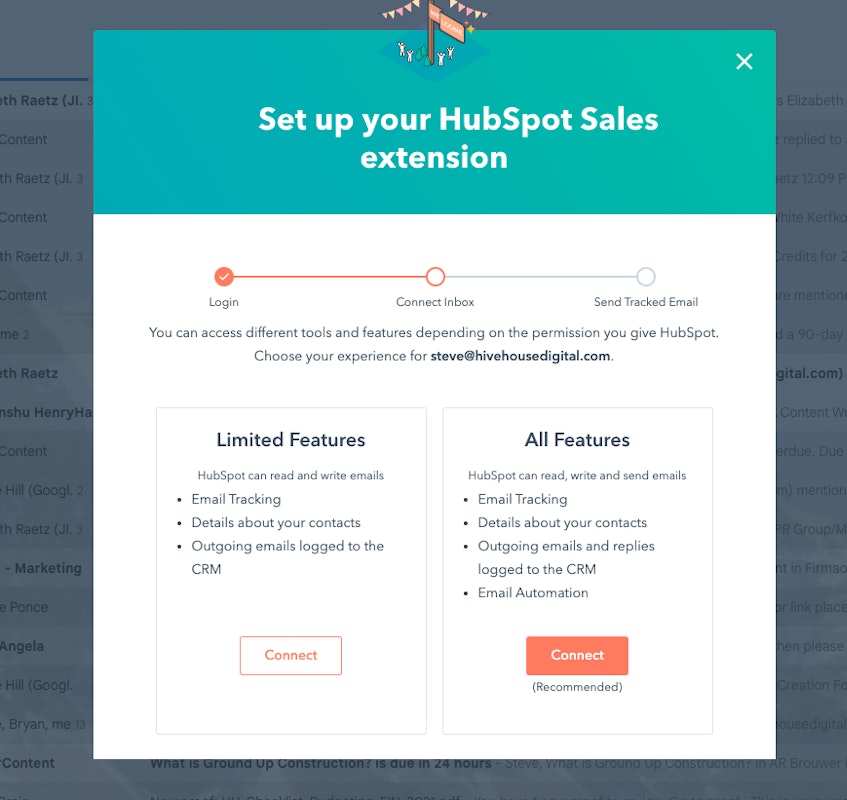 Here's a list of some of the biggest features the extension grants:
Search HubSpot CRM contacts from your inbox.
View important info about each contact from your inbox including title, phone number, email, company, recent interactions, deals, and related tasks.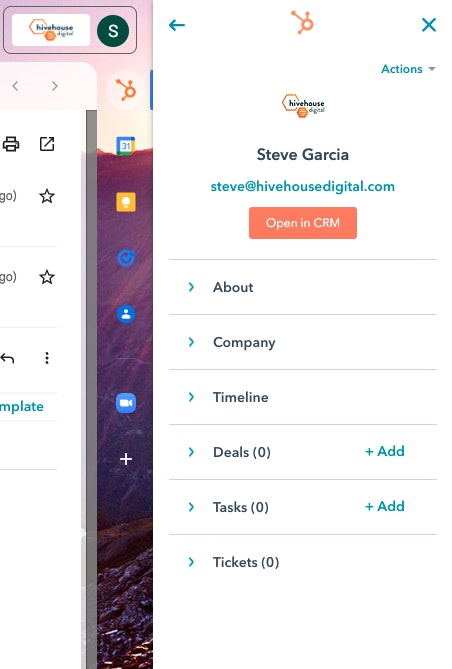 View emails' associated contacts and their HubSpot profiles.
Save emails as templates.
Enroll contacts into sequences.
Load documents stored in HubSpot
Track email opens and clicks.
Log and track emails sent from Gmail.
Notifications when tracked emails are opened.
All of these features allow Gmail to flow seamlessly into your HubSpot CRM, improving efficiency and making life a little bit easier for sales teams, account managers, and marketing professionals.
Want more HubSpot optimization tips and tricks? We're a HubSpot Platinum Partner, meaning we know our way around HubSpot and can leverage HubSpot to help you grow your business.