Emerging Technologies For Construction: Think Marketing Automation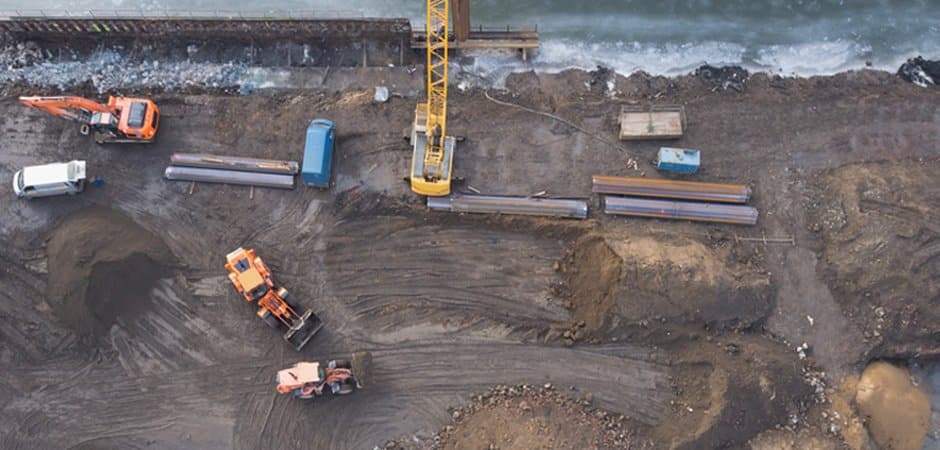 June 6, 2019
Construction and industrial businesses tend to neglect their marketing and are late adopters of marketing trends and technologies. It's not that they don't appreciate innovation, it's just that their innovation efforts are typically focused on production.
There is so much buzz around new construction technologies. Drones, project management tools, and robotics are just a few emerging technologies impacting the construction industry. It can be overwhelming.
However, emerging technologies promise construction companies these benefits:
Time saving
Money saving
Company growth
Differentiation
Marketing automation does the same! Here's a quick overview of what marketing automation does for your construction business.
What Does Digital Marketing for Construction Look Like?
It looks a lot like it does for other industries such as manufacturing, engineering, or even professional services, with the exception that construction is more seasonally impacted.
Marketing efforts can change based on the sales cycle for different types of construction specialties or locations. Here in Michigan, when spring hits, your staff might be so busy that some digital marketing efforts and budget take the back burner and your focus becomes more about customer delight. Then through the fall and winter you ramp up your effort on marketing tactics in order to increase leads and get shortlisted for the next busy season.
If you're still scratching your head (which is okay!), Here is our definition of digital marketing:
Digital Marketing encompasses all marketing efforts that use an electronic device or the internet. Businesses, like yours, leverage digital channels such as search engines, social media, email, and website to connect with current and prospective customers.
You can use digital marketing to:
Attract – Bring ideal buyers to your construction website
Convert – Collect contact information to generate leads
Close – Get shortlisted for projects
Delight your customers – Build relationships, retain customers, encourage referrals
Here are some examples of digital marketing tactics you can use to engage your ideal buyers and generate leads:
Blog posts

Write original content that speaks to the pain points and problems of your ideal buyers

Website download offers gated behind a contact form, which converts visitors to leads.

Infographics
eBooks
White papers

Search Engine Optimization (SEO)

Use relevant keywords on your website pages and in blog posts that your ideal buyers might search for in Google

Social Media Posts

Engage your ideal buyers in places they already are – share videos, blog posts, and industry news
Pro tip: Any digital marketing you do should always start with a strategy.
How Can Marketing Automation Help Me?
Get ready for a sweet analogy:
Digital marketing is like the house you and your crew are building, and marketing automation is the innovative tools and technology (Drones, Robotics, Digital Project Collaboration Tools, etc.) that are meant to speed things along, provide data for decision making, show progress, and collect valuable information.
Our analogies are pretty cool, but for good measure here is HubSpot's definition of marketing automation:
Marketing automation refers to the software that exists with the goal of automating marketing actions. Many marketing departments automate repetitive tasks such as emails, social media posting, and other website actions. The technology of marketing automation makes these tasks easier and faster.
In short: marketing automation is software and tools that help you stay top of mind with your ideal customers; allowing you to create automated touch points at every part of your sales funnel and get shortlisted for more projects, quicker.
It can be as simple as scheduling followup emails to nurture potential leads that your sales team met at a trade show; or advanced, such as building an email workflow that nurtures leads through a long sales cycle.
The right marketing automation software will help you increase your sales velocity. Now it's time to figure out which one is best for you.
What Automation Software or Tools Should I use?
Here are the most commonly-used marketing automation tools:
While all of these tools have pros and cons, we recommend choosing one that is a good match for your company size, budget, and the number of customer contacts and leads in your current database.
We're most familiar with HubSpot (we're a Platinum Partner) and recommend that you check out HubSpot's free marketing software and CRM, which gives you:
Lead analytics
Lead capturing tools
Contact management
Contact/Company insights.
and more…
Bet you don't get that for free when you buy a drone.
Pro Tip: Consult with the platform or an inbound agency, like us, to learn about packages and pricing for the right marketing software that fits your company's needs.
Get Started With Marketing Automation
We always recommend starting with a digital marketing strategy and these other tactics:
Interested in digital marketing automation for your construction business, but don't know where to start? Schedule a time to chat.
Still Looking For Answers? We Can Help!