How To Use Competitor Research To Boost Your B2B SEO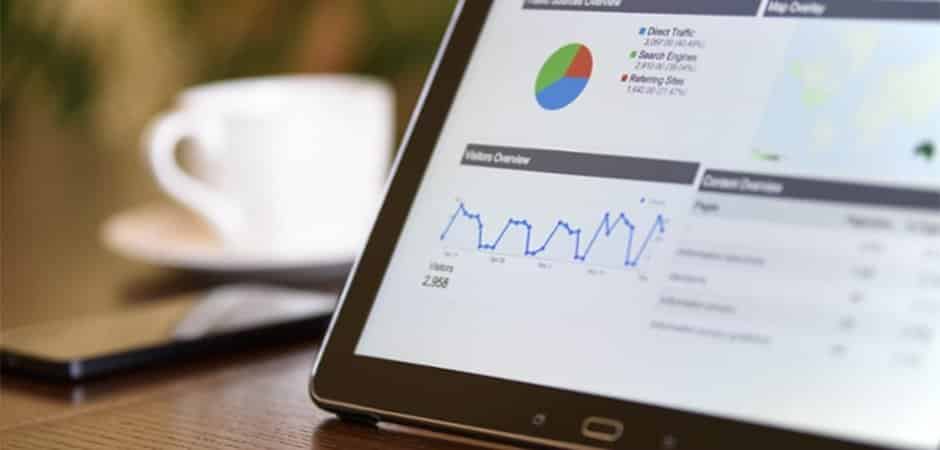 May 18, 2017
Do you think that SEO doesn't apply to B2B companies? Think again. The search market is in some ways a competition, so you have to spend time sizing up your competitors. What are they ranking for (and why)? What lessons can you learn from them? Especially in competitive B2B industries, competitor research is an important lifeline and market validation tool. This research should reveal what keywords you should optimize your on-page content for, and where you could source backlinks to boost your site's authority. Let's explore how you can improve your SEO by getting inspiration from your competitors.
Check out our previous post on top tips to make your business stand out from its competitors.
Why SEO matters for your B2B business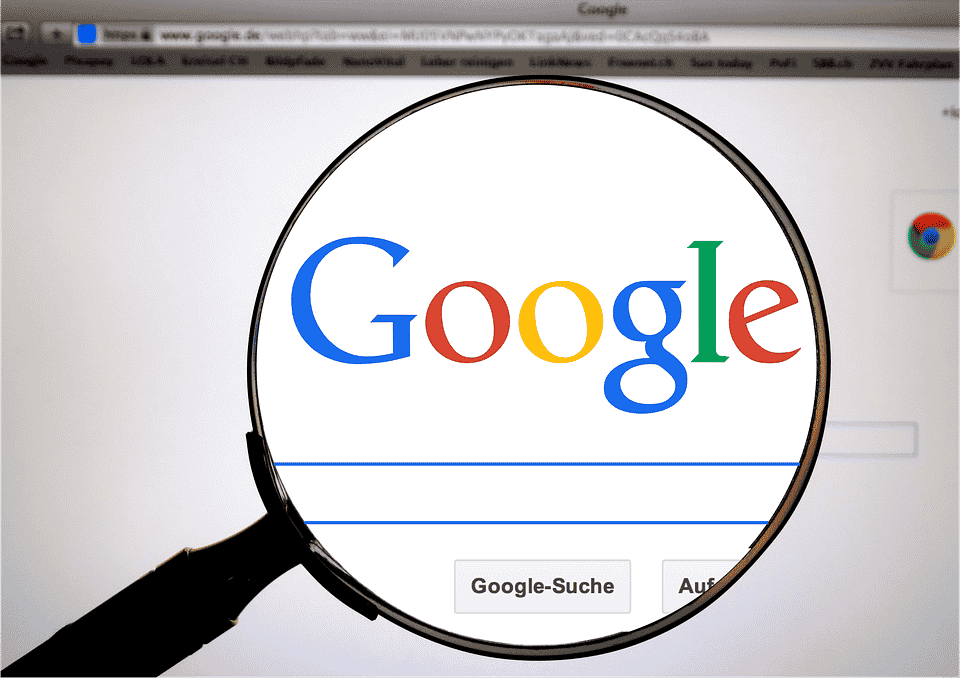 credit: pixabay
The SEO requirements of a B2B company's website are very different to those of a B2C company. B2B SEO presents more complexities: for example, search terms are more varied, and often more jargon-heavy. B2C searches tend to involve brand names and product types, whereas in the B2B world there are multiple technical terms for any one product or service.
For example, a person searching for freight services could search for 'freight services', 'cargo transport' or 'haulage services' – none of which sound similar. Your B2B business' site must be optimized for all of these technical terms in order to rank in organic search engine results.
B2B products are generally not sold in an ecommerce environment, so the primary goal is to be included in the consideration set of searchers. You want your business to be on their shortlist, and for that your site must feature streamlined on-page keyword optimization. Your site should also have high amount of authority, that will enable it to rank higher in search engines. A great way to do this is by gaining powerful and relevant backlinks. Check out this guide on how you can improve your site's authority.
Competitor research will assist you a great deal by improving your potential backlink profile and your on-page optimization. Let's explore how this works.
Competitor research for backlinks
Competitor research can reveal where they have gotten links from, and this can give you a great insight to where you could source them from yourself. Check out this definition of a backlink.
Sites that have linked to your competitors are more likely to link to you too, especially if they focus on a niche relevant to your product offering.
Can you spot any patterns in the types of sites that refer to your competitors? Try to analyze what links seem to be giving other domains their power.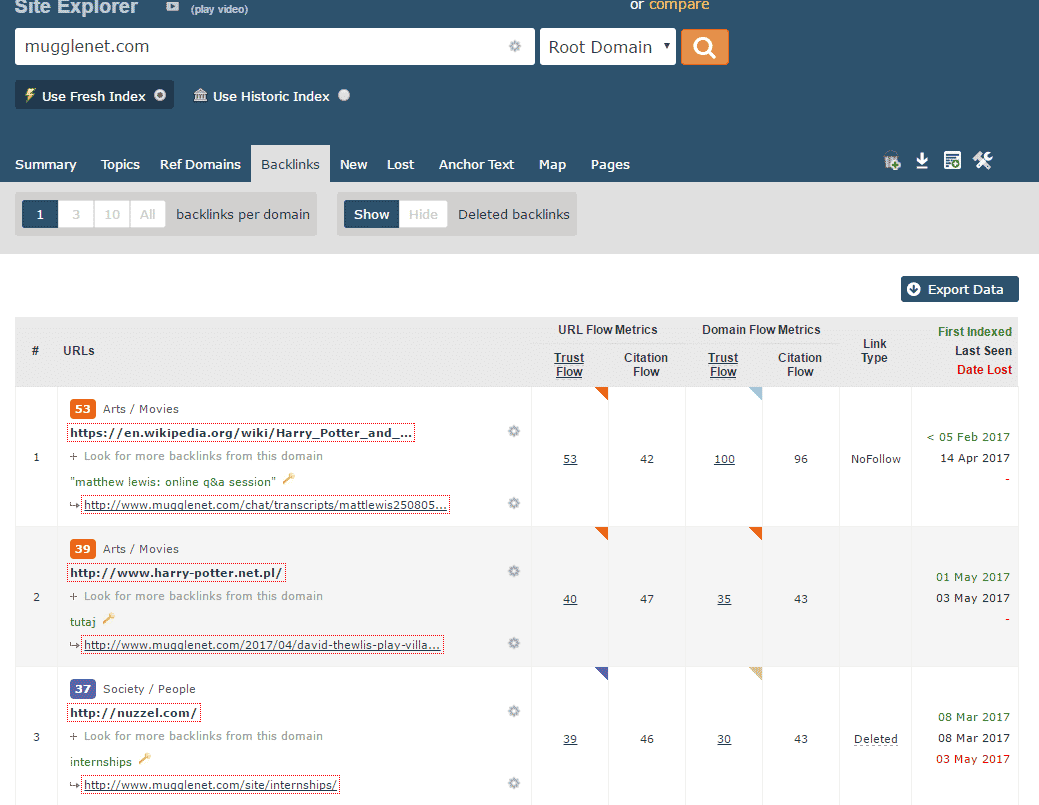 If you were an up-and-coming Harry Potter site, you would want to check out all the backlinks to Mugglenet.com's content and blog and then see how you could get a link from those same places.
Using a link tool like Majestic you can see that Mugglenet have got a very powerful backlink from the Wikipedia, thanks to their Q&A session with Matthew Lewis, an actor who played Neville Longbottom. Off the back of this data, you could then decide to pursue all the relevant domains for backlinks, and perhaps invest in more journalism-worthy interviews with the cast that can be cited as sources. No matter what field or niche you are targeting, competitor research will always yield good PR ideas.
The key here is to be bold and not be afraid to pursue opportunities – if they've worked once before, they'll work again. You don't have to be the market leader in a niche to get good backlinks – you just need to know where to look.
Look at your competitor's on-page SEO
As we have discussed, keyword research is very important for your B2B business, and it will be a lot more complex than if you were B2C.
You can look at your competitor's on-page SEO to see what keyword decisions they have made and what USPs they are pushing. You should be thinking about how you can stay one step ahead with more targeted and unique content. Spot any industry knowledge gaps and be the first to market with a page or blog post on a new topic or term.
Google Keyword Planner and the Google Adwords keyword research tool provide you with information on average monthly searches and competitiveness among other marketers bidding on it. This offers a real insight into how competitive certain keywords are among your competitors and any potential low-hanging-fruit for you to easily optimize and rank for.
UberSuggest is a brilliant keyword tool that can provide you with thousands of keyword ideas based on a base term or phrase. Keyword phrases are broken down by letter and numerical variation. This is perfect for you to get many variable search terms that your prospects might be searching for.
Your next step is to implement these findings into your on-page content, such as product and category descriptions and blog posts. Use a tool SEOBook's Keyword Density Analyzer by copy and pasting your copy into the 'plain text' tab and tweak your keyword density – this will help you make sure you have used all of your keywords, without over-optimizing.
Lessons to be learnt from B2C businesses
Though B2C businesses may not be your direct competitors, they can be in your vertical and you shouldn't disregard them entirely. You can learn some valuable lessons from B2C companies, particularly from the way that they treat their customers. Use B2C companies for branding and messaging advice — B2B can learn a lot from B2C tone of voice!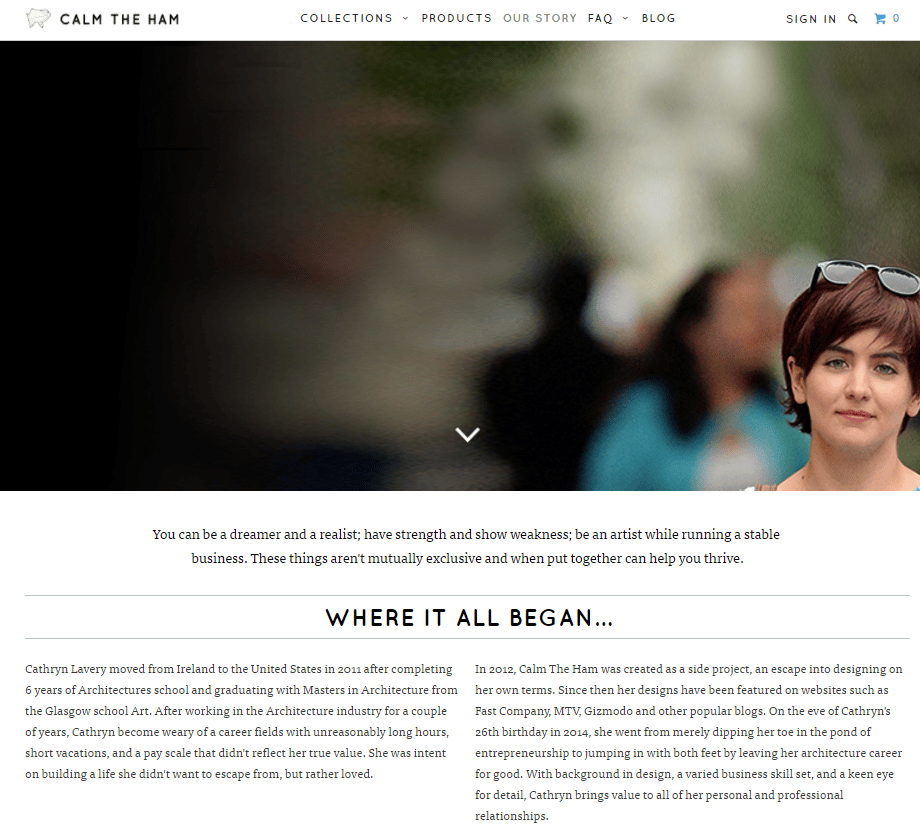 credit: calm the ham/very on brand
It's important not to get so bogged down in the nitty gritty of SEO that you forget that the person reviewing your website and product offering is a human, and will require engaging content to persuade them to buy from you, even in a B2B deal.
Calm The Ham, an ecommerce store powered by Shopify and offering graphic design prints and services, has an entire page dedicated to the brand story. Using an online store builder has sped up the development time of the site, allowing the brand to focus more on brand storytelling and sales copy. This page serves to interest the viewer and offer a human face to the business, making sales more likely. Nobody likes a faceless corporate giant, even in the B2B world.
You can learn more about B2B storytelling in this blog post.
Improving your backlink profile and on-page SEO should be things that you do regularly. Only then will you stand a chance at ranking on the first page of search engines and being shortlisted by your prospects as a potential business solution. Both of these things are assisted a great deal by competitor research, so don't be afraid to be nosy – if it works for them, it will work for you. But, don't forget that your page viewers are humans, so don't let your SEO compromise your page content's ability to sell your product offering.
If you're looking for further tips on how to maximize your B2B website's conversions, check out our profile on Clutch.
Will you use competitor research to improve your website's SEO?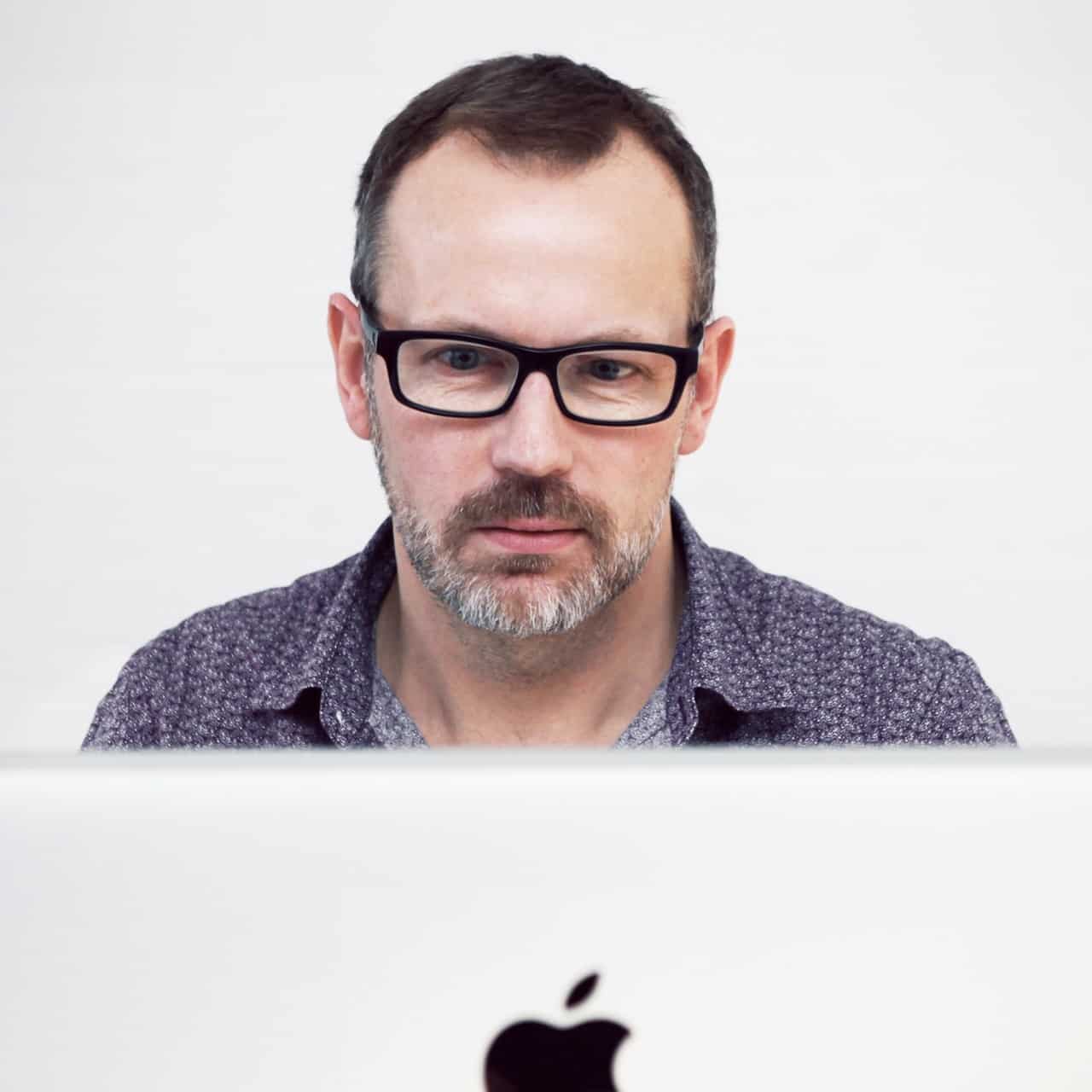 Patrick Foster – I'm an ecommerce consultant and business coach, fascinated with all things B2B and marketing. Big believer in the power of startup mentality and bootstrapping, as well as content marketing and social proof.
Still Looking For Answers? We Can Help!