Industrial Marketers Need This Digital Content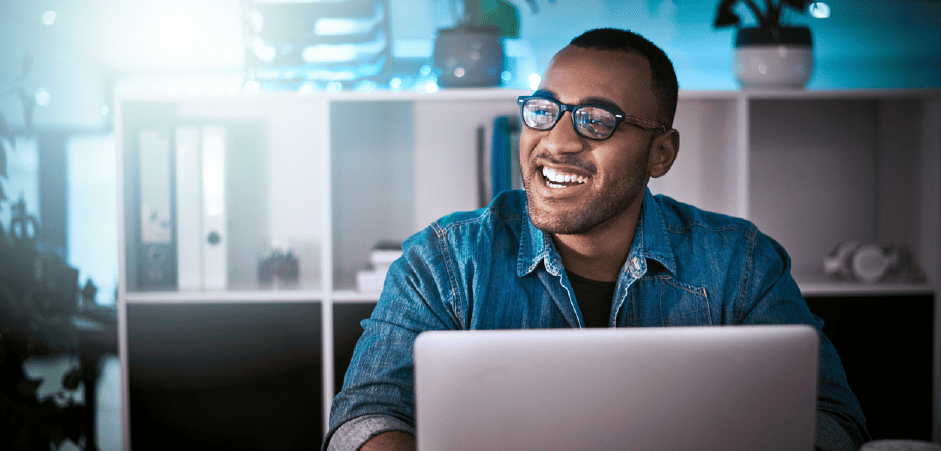 February 5, 2019
Digital content helps build trust with your ideal customers, as well as generate and nurture leads. It can also help you get ahead of your competition by positioning you as a thought leader in your industry.
What is Digital Content?
Digital content is any content that exists in the form of digital data, and can be broadcast, streamed, and downloaded. B2B digital content helps buyers do research early in the buying process, and also helps them make final decisions about vendors.
And good news: people want to hear from you! HubSpot reported that: 96% of B2B buyers want content with more input from industry thought leaders.
Let's look at four types of digital content that manufacturing, engineering and construction companies should include in their content strategies for 2019.
Content Type 1: Video
Data shows that the play button is the most powerful call-to-action around. As a matter of fact, video content is 50 times more likely to drive organic search results than plain text.
Using video at every stage of the buyer's journey is a great way to nurture your leads.
Use video content at the top of the funnel (social media, your website) to explain who you are and what you do.
Try it in the middle of the funnel to explain a complicated concept or deliver an on-demand webinar.
Shoot a few videos of your sales people answering questions and then plop them in a personalized email from sales team members, is a great tactic at the bottom of the funnel.
Use a mix of formal and informal videos. Formal videos, like a branded, corporate overview video set to music, are often produced by a professional videographer or marketing agency.
Informal videos can be shot by anyone on your team, on a smartphone or laptop. They should be kept very simple and conversational.
Bonus: 55% of people consume video content thoroughly. So start filming your employees like a proud mom.
Get extra use out of your videos by sharing them on social media. Encourage your leadership and sales teams to share them on their personal LinkedIn profiles as well.
Pro Tip: Use the HubSpot video integration to get started!
Content Type 2: Technical Stuff
The majority of buyers do research online for B2B products and services prior to speaking to a salesperson. By providing them with the technical content they're looking for, you'll accomplish two things:
Build trust as a thought leader and go-to company
Warm them up for your sales team
Technical content can include:
eBooks
white papers
ultimate guides
pillar pages
blogs
webinars, etc.
Strapped on time to get this content created? Choose someone in your company who's a Subject Matter Expert (SME) on that particular topic and have them work with an intern, a journalism student, a freelance writer, or an agency to get the content written and optimized properly for the web.
Content Type 3: Online Reviews and Testimonials
Having customers testimonials on your website is a great way to build credibility, and demonstrate your success. Authentically-worded testimonials, that include a photo of the person, their name, and organization, can help visitors 'see themselves' as clients and set their expectations on what it's like to work with you.
Create a mix of testimonial content types – video testimonial, audio clips, and written testimonials. Testimonials should be found throughout your site – some on the homepage, some on specific solutions pages, and if it makes sense, on your About Us or Proven Process pages.
Online reviews, including those for recruiting skilled employees, are also must-have content. Glassdoor is especially important for your employer branding and recruiting. You can read about tips to use Glassdoor here.
Content Type 4: Pricing Information
This one scares people. Many manufacturing or industrial companies don't want to talk about pricing up front.
They want visitors or prospects to talk to their sales team about pricing. Unfortunately, customers doing online research (and trying to avoid your sales team) find this frustrating. And, your competitor might be offering easy-to-find pricing on their website–and thereby stealing your leads.
Plus, if they can't afford you or are scared off by you're pricing, they might not be in your ICP (ideal customer profile) anyway.
We understand from our clients that manufacturing, construction, and engineering companies have pricing that may need to be very flexible, or on a quote-by-quote basis. In that case, we recommend creating a downloadable sales sheet that showcases your services, and possibly some ballpark price ranges. This sales sheet should be un-gated content (content that you offer up freely without asking for them to fill out a form and provide contact information).
Pro Tip: Feature a "Schedule a Demo" offer on your pricing page to capture their contact information and give your sales team an opportunity to call on them.
Building an Online Content Library
Once you've created some of the content we mention above, you need to keep it in an organized resource library where visitors can 'shop' for what they need.
Still Looking For Answers? We Can Help!