New HubSpot ABM Feature For Account-Based Marketing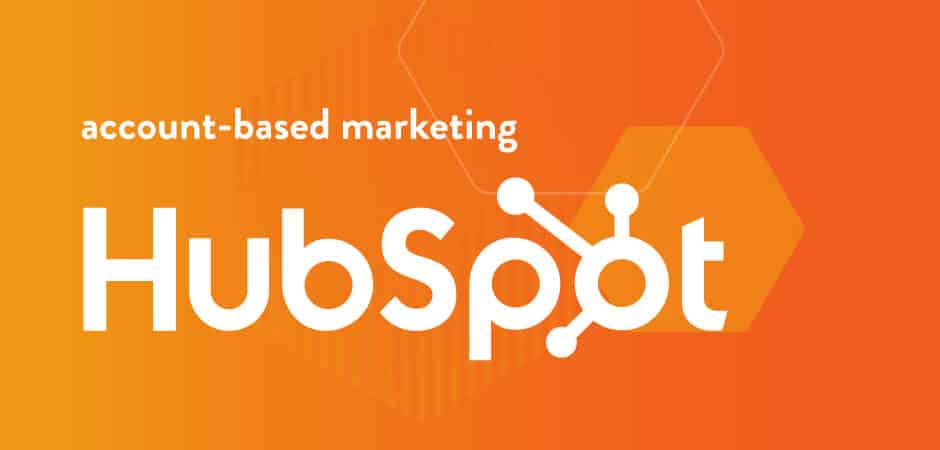 June 10, 2020
As a HubSpot gold agency partner, we are always excited when new HubSpot features are released. In May, HubSpot announced that it had added a new tool in the Marketing Enterprise Hub: an Account-Based Marketing dashboard. Here's a little background on ABM, what it means for growing businesses, and how HubSpot's tool will help you jumpstart ABM for your B2B company.
What is ABM?
Account-Based Marketing (ABM) is a growth strategy in which sales and marketing work together to create personalized buying experiences for a select group of high-value targets or companies.
To be clear – HubSpot did not invent ABM. The ABM concept has been talked about for a few years now – there are even a few good books on it (our team read ABM is B2B.: Why B2B Marketing and Sales is Broken and How to Fix it which was a good primer on the subject).
You can find a lot of great information out there on ABM, including the HubSpot blog and a few resources we list below.
Pro Tip: Download our Ideal Customer Profile (ICP) template and get clarity on who your targets are and what they need from you. Then develop your ABM target list from there.
Why Practice Account-Based Marketing?
At its core, ABM is about efficiency. It eliminates wasted time selling to unqualified leads who aren't a good fit and helps you get quickly focused on engaging and delighting your high-value target accounts.
Account-Based Marketing, when used as part of a larger inbound marketing strategy, can provide these benefits:
Better collaboration
You'll have focused task forces (marketing and sales) that build better buying experiences and drive better results.
Improved Sales Velocity
Deals will close more quickly because you were better aligned and better able to handle large deals.
Increased Deal Size
Because ABM has you focusing on the biggest opportunities, your deal size will increase.
How Do I know I need ABM?
ABM is not right for every company or every company's lifecycle stage. At a minimum, HubSpot recommends ABM for companies that meet the following criteria:
You offer an expensive product or service
You have a finite number of prospects
You're selling to a buying committee
To elaborate a little on #3, the buying committee might consist of several players such as a gatekeeper or blocker, an influencer, a champion, and a decision-maker. ABM can help you to sell to all of them seamlessly instead of getting tripped up by one or all of them.
How Do Inbound & ABM Work Together?
If some of the benefits of ABM sound like those of inbound marketing, that's not a coincidence. ABM and Inbound are complementary approaches that work together to help you close more business with your ideal customers.
Inbound is a buyer-focused, measurable approach to marketing that helps you meet your customers where they are. It involves sharing helpful and relevant digital content across a number of platforms including email, landing pages, blogs, social media, and more. Content is shared with a broad audience in the effort to attract them to your digital spaces, build trust, and convert them into customers.
ABM is a strategy within your inbound framework. The key is that it is highly targeted to a small group of companies, and it treats each of those accounts as if they're individual buyers.
The heavy lifting for inbound marketing mostly falls on the shoulders of your marketing team, with input from your sales team. However, ABM requires the two teams to work even more collaboratively to deliver a consistent, personalized buying experience for prospects. Success depends on clear communication – which is where the HubSpot tool comes in.
Using HubSpot For Account-Based Marketing
If you have Marketing Hub Professional or Enterprise, then you have access to the new ABM dashboard.
Get started by identifying your ABM target accounts and selecting them from your sales CRM. For your first try, we'd recommend a list of between 8-10 accounts, per salesperson.
Gain Ideal Buyer Intelligence
You can use the dashboard to track account activity including filtering for specific time periods. Remember the 'buying teams' we mentioned earlier? You can assign buying roles to specific people on each account, including blocker, champion, end-user, or decision-maker. Then track how they consumed your content including what they downloaded and pages they visited. You can then use that intelligence to create more relevant messaging for them.
The dashboard also lets you zoom out to look at the account activity at a higher level, including the total number of target accounts, open deals, open deal values, and how engaged they are with your team.
Jump Start Your Sales Team
You can use the action button to create tasks so you can take care of things that need immediate attention. The dashboard lets you organize and assign people on your team to certain accounts or individuals.
If you're stuck on creating your target list – you can take suggested recommendations for potential targets from HubSpot's powerful AI within the tool.
Once you've got targets identified, roles assigned and tasks in the system you can start executing your ABM campaign.
Pro Tip: If you already have HubSpot Pro or Enterprise, here is how you activate the new ABM tools.
Resources For Account-Based Marketing
If you'd like to take a deeper dive into ABM or the HubSpot ABM dashboard, we recommend these resources from HubSpot:
If you are just getting started with inbound marketing or ABM, we can help. Get in touch with us for a free, 30-minute digital marketing consultation with one of our experts.
Still Looking For Answers? We Can Help!