5 Tools To Measure Your Website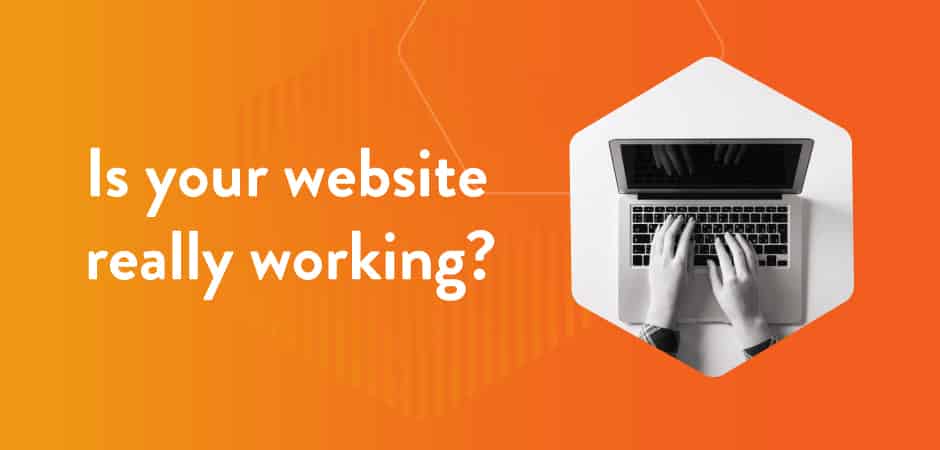 March 9, 2022
So your team has set benchmark data and is constantly measuring your website performance…right? If you aren't — You're killing me, Smalls!
Using metrics to know what's working on your website and what's not will allow you to make smart decisions about updates and changes.
Go beyond the basic website performance tools
We're sharing website measurement tools that you've may never have heard of, or didn't realize you already had!
These tools will help you:
Help local customers find you easier
Collect valuable insight about your website pages
Learn how visitors are searching for your business
Make changes to boost your search engine optimization (SEO)
1. Moz Local
What it is
Moz Local is a tool that helps you manage your presence on listing and directories, manage your reputation on customer review sites, and more.
Cost: $14-33/month
Why you need it
Managing your local SEO is important so your customers can find you and visit your website. Accuracy matters and Moz Local helps you easily manage your business listings on Google, Facebook, and other sites that customers can use to find you.
Some key features include:
Listings Sync: Keep your listing updated across directories and search engines from a single dashboard.
Reviews: Respond to reviews from multiple sites in one single dashboard, instead of remembering to log into
Reporting and Insights: See how well your website and directory listings score so you know what you need to improve.
When should you use it?
Update your profile whenever something changes in your business that would affect customers finding you online, like a change in business hours. Depending on your plan, you can set up notifications every time you get a customer review. Try to respond to these as soon as you can.
Special Tip
Set up email notifications for the digest email, which can be sent on a weekly, monthly, or quarterly basis. This will give you a breakdown of your profile completeness, suggested next steps, review rating, and more.
2. Google Analytics
What it is
Google Analytics is a free tool offered by Google that collects website data and provides analytical tools for marketing. You can track website performance and visitor insights so you can make informed updates to your website and campaigns. It also collects demographic data, tracks goal completions, and more!
Cost: Free
Why you need it
Google Analytics is a must-have tool for your website. The amount of useful data it collects is important for understanding your website performance. Plus it's free, and user-friendly once you get the hang of it. Every business should have their website connected to Google Analytics, and there's a good chance yours already is! You don't want to delay setting it up, so you can start collecting your data sooner rather than later.
When should you use it?
How often you check Google Analytics will depend on your website traffic, marketing goals, and of course, time. You might want to check on a weekly or even daily basis to give your analytics a quick check-in to make sure there are no traffic anomalies. You will also likely want to a deeper check into your analytics on a monthly basis to gain meaningful insights from month to month.
Special Tip
Set up goals so you can measure how often a customer takes important actions like a purchase, form submission, and more. You can view the number of conversions, which pages the action occurred, and more!
3. Google Search Console
What it is
Google Search Console is another free tool from Google that allows you to measure your website's search traffic and performance, discover and fix issues, and more.
Cost: Free
Why you need it
Search Console allows you to monitor your website's organic search traffic. You can get detailed and see your top search queries, average position ranking, click-through rate, and more. This tool is not only great for monitoring your search traffic, but you can also get content marketing ideas based on search terms.
When should you use it?
Check it regularly! Not only can you measure search traffic, but Google will also alert you to URLs on your website with issues, so it's good to fix them as soon as possible. Once fixed, you can alert Google so they can re-crawl your website. If you ever need Google to remove content from search results, you can also make a request inside of Search Console.
Special Tip
Make sure you add an XML sitemap to Google Search Console. This tells the search engine about all the pages that exist on your website, and will help them crawl your website and index your content more efficiently!
4. Ahrefs
What it is
Ahrefs is a powerful SEO tool that has tools or link building, keyword research, competitor analysis, rank tracking, site audits, and more. It's a great all-in-one tool that helps you keep track and improve your search engine optimization.
Cost: $99-$399. Take a look at the plans and determine which plan is the best for you. Many small businesses and teams can get away with the Lite or Standard plan to meet their needs.
Why you need it
If you want to get serious about your SEO, Ahrefs is the tool for you. Start with the site audit to learn exactly what parts of your website need fixing. The best part? Ahrefs tells you how to fix the issue according to SEO best practices.
From there, you can use the other tools available to:
Analyze competitor's organic search traffic and backlink profile
Use Keyword Explorer to find ideas for your content
Discover top-performing content
Monitor your keyword ranking
When should you use it?
Often! It's good to check it on at least a monthly basis to track rankings, but you'll likely find yourself using it more often when doing keyword research or taking a peek at competitor traffic (who wouldn't want to spy on their competitor's traffic?).
Special Tip
Set up recurring website audits to make sure you catch any website issues before they impact your rankings. These audits give you a complete rundown on what you need to fix.
5. Hivehouse's Website Grader
What it is
Our Website Grader, powered by HubSpot, provides an instant, high-level scorecard for your website's performance on a 1-100 scale. In under 30 seconds, it analyzes all of your marketing – not just your website.
Cost: Free
Why you need it
You can use the Website Grader to measure your:
Competitive Benchmarking
Lead Generation
Mobile Marketing
Social Media
Blogging
When should you use it?
Use it quarterly to stay updated on your website.
Special Tip
Use the website grader's customized action items. The Marketing Grader tool makes it really easy for you to figure out what to do next and how to start improving.
Start measuring your website performance…now!
These tools are excellent additions to your tool belt. Start soon, because many of these tools will only start tracking data once you get them set up! And if you are just starting to measure your website, this will give you a good baseline. Plus, it's is an awesome morale boost to see your metrics improve after you establish that baseline.
Updated on 2/24/22