Why You Should Work with a HubSpot Partner Agency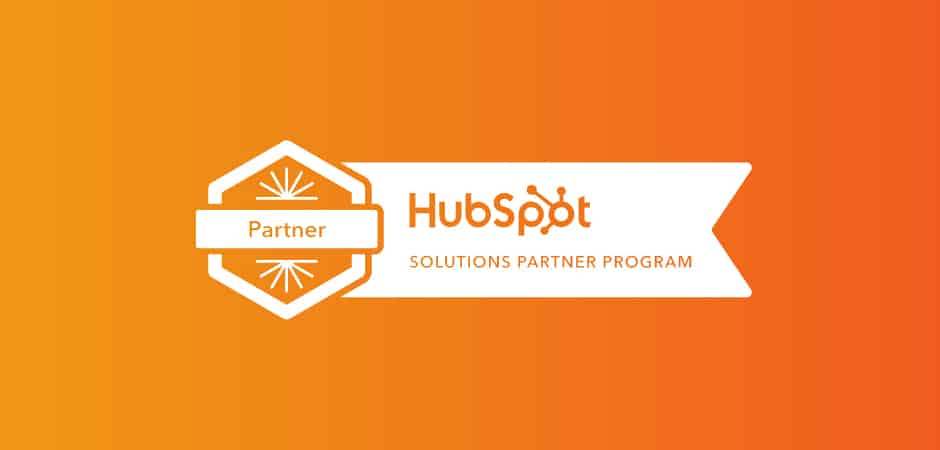 February 24, 2022
If you've been researching HubSpot, you probably know by now it's an absolute powerhouse. It has dozens of tools, automations, integrations, and more to help you optimize your sales and marketing funnels.
But where do you start?
If you're overwhelmed at the thought of setting up your HubSpot portal on your own, or you've set it up but you feel you aren't getting the most out of it, that's where a HubSpot Partner agency can help.
What is a HubSpot Partner Agency?
A HubSpot Partner agency, also known as a Solutions Partner, is an agency that is an expert in all things HubSpot. While it varies from agency to agency, they work within the HubSpot platform and use inbound marketing to achieve your goals. Some are full-service (like us!), while others might just focus on onboarding, sales support, or another part of the inbound methodology.
Agencies can't just claim the title of HubSpot Partner. HubSpot must accept them through the Hubspot Solutions Partner Program and the agency must go through a certification process to prove they are experts who can help you grow.
If you're a company that is thinking about using HubSpot, or are a current user that isn't quite sure what to do with it, a Hubspot Agency Partner is your best bet to maximize success. You'll work with experts that can help you make the most out of the software so you can attract, convert, close, and delight your customers.
What are Hubspot Partner Tiers?
HubSpot categorizes partners into different tiers based on a variety of factors, including sold and monthly recurring revenue, retention, and software engagement. The tiers are:
Solutions Provider
Solutions Partner
Gold Solutions Partner
Platinum Solutions Partner (that's us!)
Diamond Solutions Partner
Elite Solutions Partner
Now that you know what a partner is, here are the top four reasons you should work with a Hubspot Partner agency.
Save the Setup for the Experts
There's a reason HubSpot Partner agencies exist. HubSpot is a powerful tool with a lot of bells and whistles.
If you're busy running your business, you might not have time to learn all the ins and outs of setting up your portal. Or, you might be overwhelmed with all of its capabilities. HubSpot Partner agencies can do the heavy lifting of setting up your portal, plus they'll know the best ways to make it fit your company.
Getting your portal up and running takes time, but working with an agency that works in it all day, every day can help you optimize and expedite the process.
Additionally, HubSpot Partners can give you and your team customized training so you can learn how to use it best.
Oh, and it doesn't hurt that the mandatory $3,000 onboarding fee is typically waived when you work with a partner agency.
All Your Inbound Marketing Needs Under One Roof
Many Hubspot Partners are full-service inbound agencies, which means they can do more than just set up your HubSpot portal. Instead of working with multiple agencies, or hiring for multiple marketing positions in-house, working with an all-in-one team is a cost-effective way to keep your brand consistent.
At Hivehouse, you'll have access to a team of content writers, inbound specialists, strategists, designers, and more. Whether you're looking for a new website, content marketing strategy, search engine optimization, or another piece of inbound, we've got you covered.
Get Your Sales and Marketing Teams Aligned
Since Hubspot Partner agencies specialize in inbound methodology, they know the importance of sales and marketing alignment.
Plus, HubSpot is more than just marketing software. It offers an entire Sales Hub that works together with the Marketing Hub to keep your teams on the same page. Instead of working out of multiple tools or setting up integrations, everything you need is all in one place.
Whether it's defining lifecycle stages, setting up deal pipelines, or creating sales templates, partner agencies can help you set up and optimize your Sales Hub so you can grow to meet your goals in collaboration with marketing.
Get Early Access to New Features
HubSpot Partners are always up-to-date on the newest HubSpot features. Plus, they often get access to them before most customers so they can learn and master the newest tools and updates.
Plus, if there's a beta feature not yet released that would be a good fit for your needs, we can jump in and help you unlock access.
Should You Work with a Hubspot Partner Agency?
If you know you want to use Hubspot and you don't have a big marketing team, working with a HubSpot Partner can make the process a whole lot easier.
Every agency is different. Some are full service, while others focus on a certain set of services. Think about what your current needs are, and what marketing you may need in the future.
And if you're looking for a full-service agency, you're in the right place. We're a certified Platinum Solutions Partner that can help you set up and optimize Hubspot, create a marketing strategy, update your website, and more. Let's talk and see if we're a good fit!