6 Things to Know Before Planning Your Marketing Budget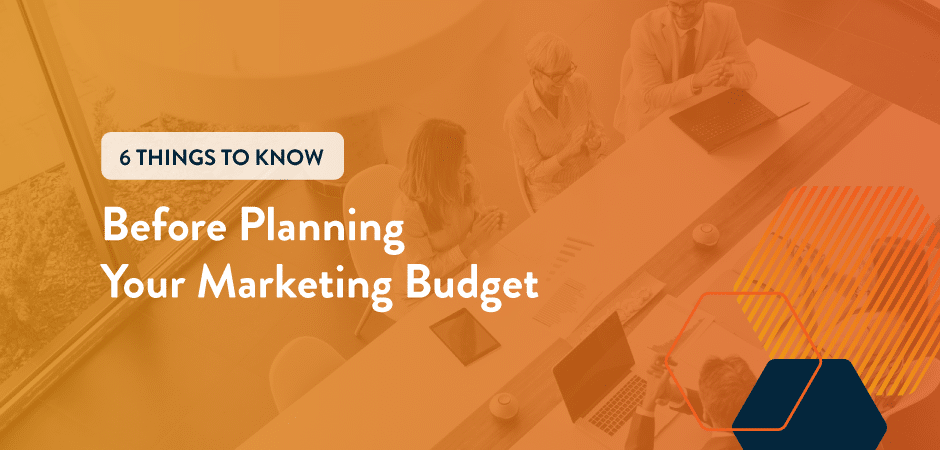 October 3, 2023
It's scary how quickly marketing budgets can reach numbers that would make Jeff Bezos blush. One too many Google Ads campaigns or unsuccessful tradeshows, and you may end up in a meeting with your boss trying to explain this year's expenses.
Setting a marketing budget is a no-brainer way to make marketing more strategic. But with so many ways to spend a marketing budget, from traditional marketing to digital marketing, it's not always easy to find the best areas to invest.
According to HubSpot, in 2022, businesses allocated 8.7% of revenue to marketing. When such a sizeable chunk of your company's revenue is dedicated to marketing, it's key to make sure it's effective. In order to make it effective, it requires a deep understanding of your business, where it stands, and where it wants to go.
At Hivehouse Digital, we work with a variety of different marketing departments in the construction, manufacturing, professional services, and SAAS industries. Planning marketing budgets is at the core of our business and often how we kickstart strategy discussions. Marketing budgets can be a challenging and touchy subject, though. To make things easier we've developed some go-to tools and tips to help companies examine their own external and internal variables, leading them on a path toward a deliberate, measured, and strategic marketing budget.
Company Growth Stage
Your company's present growth and future goals can help lay the foundation for how aggressive or conservative your marketing budget should be.
Companies that would like to grow their market share need to be more aggressive and likely deploy marketing strategies that require a higher budget. If you're a company with a growth target of more than 50% growth in YOY revenue, you should plan to commit somewhere between 15 – 30% of projected revenue to your marketing budget.
Companies that simply want to maintain current growth require less aggressive marketing strategies and can commit less of their revenue to marketing. These companies should budget between 2 – 10% of revenue goals to their marketing budget.
Overall, the more significantly you'd like to grow your company, the more aggressively you should spend on marketing.
In This Economy?
Before you charge into a marketing budget meeting like Lil' Wayne at a jewelry store, you, of course, need to take stock of the health of the economy and your industry.
It seems like there has been discussion of an inevitable recession for the past few years, but that doesn't mean you should hamstring your marketing with a conservative budget.
According to The CMO Survey, a non-commercial survey that collects and disseminates the opinions of marketing leaders, 49% of marketers are more optimistic about the U.S. economy in the Fall of 2023 than they were the previous quarter. Only 22% are less optimistic — which is a drastic shift from the 40% during the summer quarter.
Sentiment may not have caught up with action quite yet, though, as marketing budgets have fallen to pre-Covid levels.
It's important to keep a pulse on the economy, regardless of where it goes, to find a marketing budget that is aligned with customer sentiment.
Marketing Budgets by Industry
The health of the economy is important when building your budget, but the industry your company is in can also guide your marketing budget's size.
Some industries spend less on marketing in general, some more. According to HubSpot, the technology sector spends 21% of its revenue on marketing, while the energy sector spends only 1% of its revenue on marketing.
Plus, some industries are just less or more sensitive to external economic conditions than others. Healthcare is typically considered "recession-proof," but industries like retail can be extremely sensitive to a poor economy.
SWOT Analysis to Build Your Budget
In business school, there are certain foundational concepts that seem to come up in every class. SWOT, or Strengths, Weaknesses, Opportunities, and Threats, is one of them.
It's commonly presented as a matrix or as a weathered slide in a professor's presentation, but there's a reason SWOT has stood the test of time — it's an efficient structure to evaluate a business quickly.
Because SWOT analysis can give you such a concise summary of a company's position in the marketplace, business leaders and strategists often use it as a weathervane for where a business is headed.
What is a SWOT Analysis?
If you managed to avoid business school or regularly skipped class, you may not be as familiar with the idea of a SWOT analysis.
As we mentioned before, SWOT is short for strengths, weaknesses, opportunities, and threats, but it's important to note that these are relative to your competition in the marketplace.
The strengths and weaknesses refer to internal company assets such as extraordinary logistics or high turnover. Opportunities and threats typically refer to external factors such as a new technology your company can capitalize on or a slowing economy that your business relies on.
The information is typically arranged into an easy-to-read chart.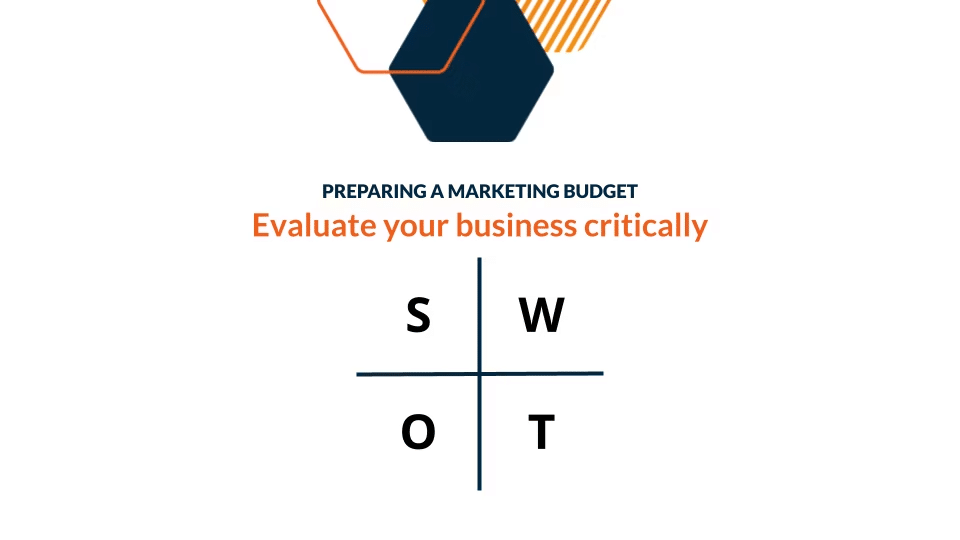 Referring to your SWOT when planning your marketing budget can help determine what to market as a strength, which weaknesses to be mindful of, the opportunities to capitalize on, and threats to mitigate.
Competitor Analysis
Marketing is often used as a tool to stand out from the competition, so it's key to have a solid understanding of your competitors before planning your marketing budget.
A competitor analysis can include performing a SWOT analysis, which can be compared to your own SWOT analysis, giving you a baseline for how you stack up against the competition.
Once you've performed an analysis of your own company and your competitors, you'll be able to identify which areas are ripe for opportunity and which to avoid.
For example, maybe none of your competitors are focusing on SEO and inbound marketing, or they are all using a similar voice and tone or marketing style; these can be areas where your marketing budget can be spent to stand out and gain a competitive edge.
The BCG Growth-Share Matrix
Another tool that every marketer should have in their toolbelt and study before planning their budget is the Boston Consulting Group (BCG) Growth-Share Matrix.
As the name implies, this matrix was created by The Boston Consulting Group, "a global consulting firm that partners with leaders in business and society," and is used to analyze how valuable a company's products or services are.
Similar to the SWOT analysis, the BCG Growth-Share Matrix is presented as a chart divided into four areas: dogs, cash cows, stars, and question marks.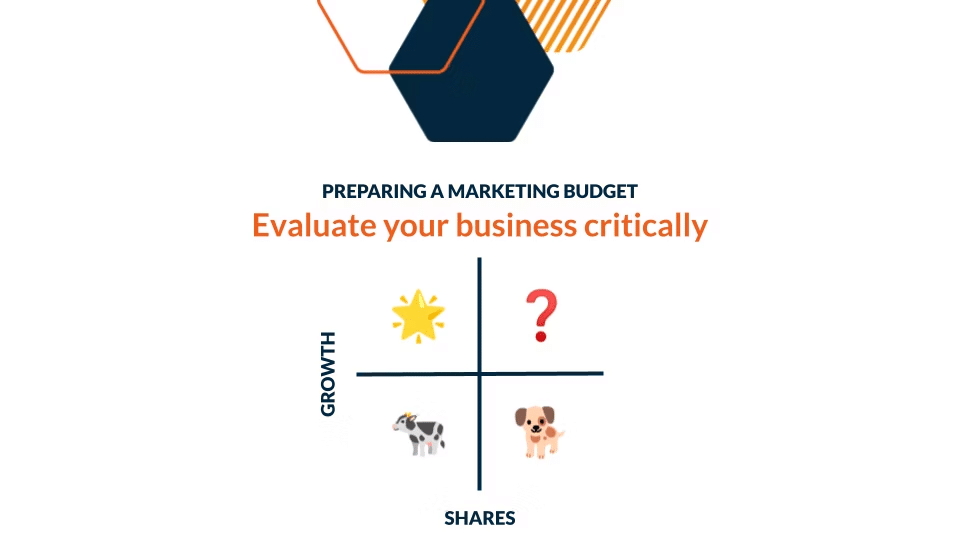 Dogs represent products or services that have a low market share and low growth
Cash cows are low-growth yet high market share
Question marks have low market share and high growth
Stars have high growth and a high market share
One thing to note about the BCG Growth-Share Matrix is that it's relative to your company. You're simply comparing your products or services to each other, as opposed to competitors or industry averages.
Organizing your products or services into these areas can help you prioritize during budgeting. Products or services that are dogs should not be the primary focus of many marketing campaigns or take up too much of your budget, but stars should be, well, the stars of your marketing efforts. Cash cows and question marks are likely to sit somewhere in between in terms of allocated resources.
Marketing Budget Next Steps
High-level concepts such as BCG Growth-Share Matrix, SWOT Analysis, and economic trends are a great way to grab the ambient temperature of your company and its surrounding variables, but sitting down and planning your marketing budget requires a micro-level understanding of marketing resources, such as the cost of campaigns, available workforce, and more.
For more information on how to create a marketing budget that produces a successful marketing department and an amazing 2024, watch our marketing budget workshop. In this workshop, Hivehouse Digital's Principal and Strategist, Megan Sherwood, will walk attendees through the Hivehouse Digital process for building a marketing budget using real-life examples. Attendees can prepare beforehand to follow along and create an actionable budget. Sign up today.
Still Looking For Answers? We Can Help!