Plan Your 2024 Marketing Budget with the Help of the HubSpot ROI Calculator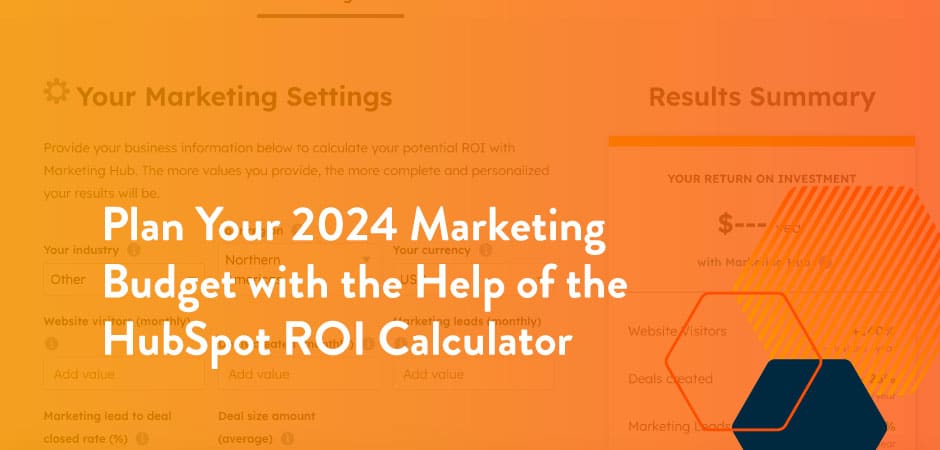 October 17, 2023
We can hardly believe how this year has flown by, but according to the calendar, we're just three months away from a brand new year. And with the changing of seasons comes the important task of forecasting and budgeting for your business across those next twelve months. Not to stress you out, but have you started yet?
Your marketing budget is really important — it can act as the foundation of your marketing strategy and help to point all of your efforts in the right direction. But it can also be overwhelming to know where to start. After all, there are so many ways you could promote your business — and every year it seems like there's some new trend that you have to keep up with in order to stay competitive. From pay-per-click Google Ad campaigns to email automation marketing to optimized-for-mobile websites, there are a million directions you could focus on over the next twelve months.
But how do you pare these big plans down to fit within your carefully constructed marketing budget and ensure you're going to see a return on this investment? Many businesses have turned towards marketing automation platforms like HubSpot to integrate, automate, and analyze their marketing to optimize all efforts — and the results really speak for themselves. Let's meet HubSpot.
Meet HubSpot's ROI Calculator
HubSpot is an inbound marketing and sales customer relationship management (CRM) platform where you can easily set up email automation, schedule meetings, capture new leads, and track your sales pipeline — plus so much more — all in one easy-to-use system.
This all-in-one tool combines your business's five "hubs" into one system: Marketing Hub, Sales Hub, Service Hub, Content Management (CMS) Hub, and Operations Hub. And for whatever it doesn't directly provide, it offers a large marketplace of thousands of integrations so you can use your favorite tools seamlessly with the platform. And there's no coding needed — you can easily customize the system to work for you with drag-and-drop tools!
HubSpot also provides a ton of useful resources and tools that are free to use, even if you're not a CRM customer. One particularly useful tool that we often recommend to our clients to check out is their return-on-investment (ROI) calculators to help parse out both sales and marketing budgets for the upcoming year. If you are considering using a marketing automation platform to increase your website traffic, boost leads, and land more deals in the new year, then it's crucial to check this tool out for yourself.
How It Works
Step 1: Input Your Information
First, you're going to need to input some business information to calculate the potential return on investment your business can see with HubSpot's Marketing Hub. The more information you provide, the more personalized these calculated results will be.
Information you'll be asked to provide includes:
Industry
Region
Currency
Monthly website visitors currently
Monthly deals created currently
Monthly leads
Percentage of lead to deal closing rates
Average size amount of closed deals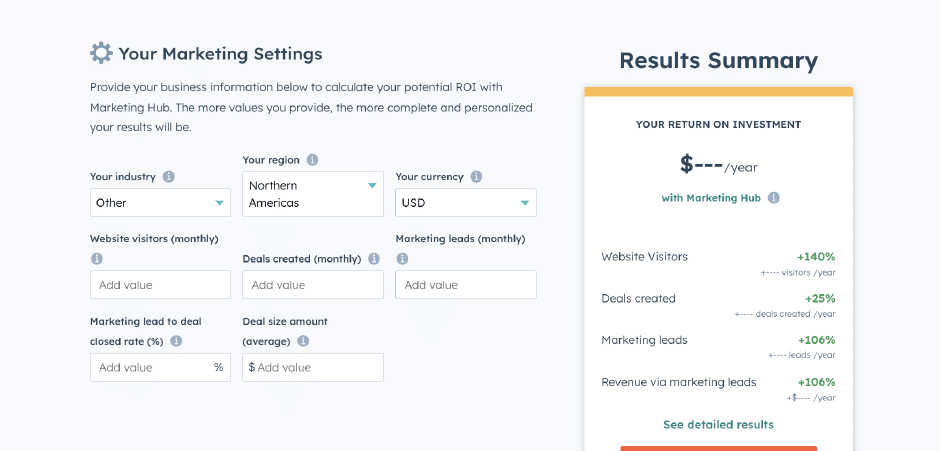 Step 2: Refine the Results
Once you've input this information, you can refine the results to what's most important to you. These options include benchmarks for your industry or region, and results can be displayed by a month, a quarter, or a year.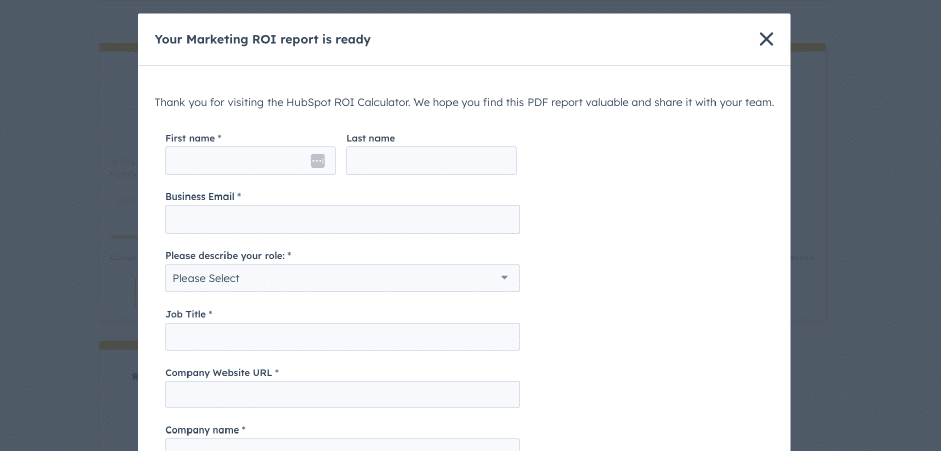 Step 3: Input the Cost
The last portion you'll want to include will determine the level of ROI you can expect with HubSpot. Input the cost of the Marketing Hub's annual license and the cost of onboarding to see what the return on investment looks like.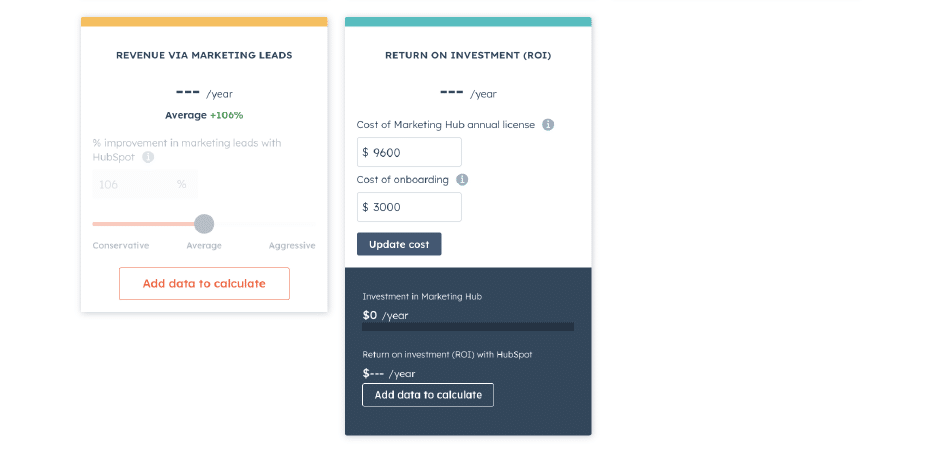 Step 4: Download the Report
Then, you'll download the comprehensive report that lays everything out. In order to receive it, you'll need to add your contact information (such as first and last name, business email, company information, website, phone number, and employee size) and indicate whether you'd like to speak with a sales team member or not. Then, it's time to download the final results.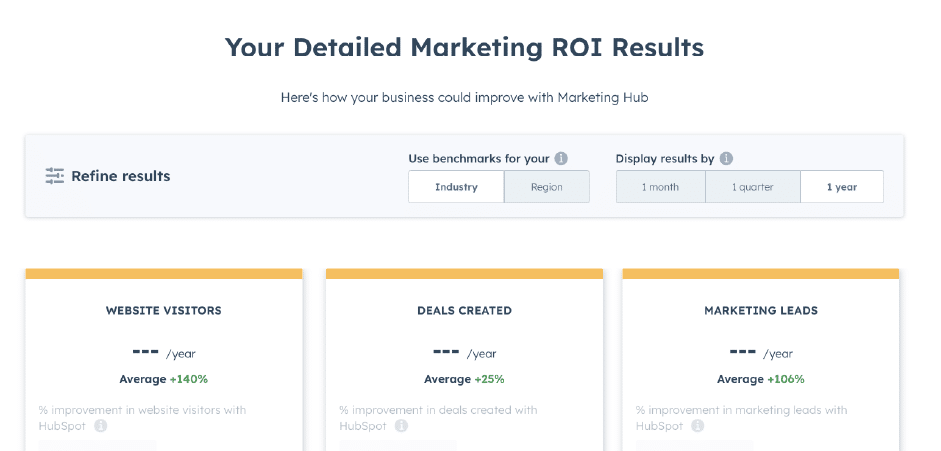 Step 5: Analyze the Results
Once you've successfully downloaded the HubSpot Marketing ROI calculator report, it's time to calculate the marketing ROI with your team. You can always update your calculations by revisiting the calculator with additional information.
There are many benefits to consider outside of the return on investment that marketing automation can bring to your business as a whole. Operational efficiency, marketing and sales alignment, and accurate reporting all accompany a system like HubSpot — and that's only naming a few key things!
If you're still not sure if 2024 is the year to upgrade your marketing approach with a marketing automation solution, let's talk it through together. Contact us to learn how we can help.