The Importance of Regular Website Maintenance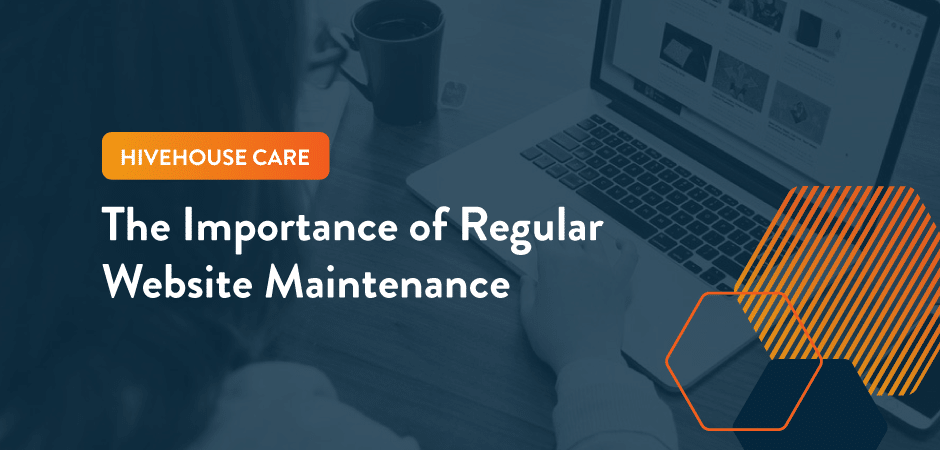 September 5, 2023
Just like your car or your house, your website needs regular maintenance.
Even if you just launched a brand new website, regular website maintenance will make sure your website is running in tip-top shape. Not only does it keep your website optimized and secure, but it helps with SEO performance and user experience.
Keep reading to learn what website maintenance entails, and how it helps your website.
What is Regular Website Maintenance?
Website maintenance keeps your website running as it should and ensures everything is up-to-date. This includes:
Security Updates
Malware Scanning and Removal
Software Updates
Website Backups
Performance Monitoring and Updates
Uptime Monitoring
It may include content updates, website changes, and SEO monitoring and updates, depending on who is doing your maintenance.
Why Should I Regularly Maintain My Website?
It Keeps Your Website Secure
One of the biggest reasons to invest in regular website maintenance is to keep your website secure. Failure to maintain security updates leaves your website vulnerable to hackers and data breaches.
In addition to security updates, you should have a firewall to help protect your website from attacks and use tools to monitor for security threats.
Plus, if a user is using Google Chrome and visits an unsecure website, it'll display "Not Secure" in the address bar, which risks your credibility and brand trust.
It Improves Website Performance
Regular website maintenance helps keep your website running smoothly, which is a huge factor for Google when it comes to ranking. If you have a slow website, you probably won't rank as high as a website that does, even if your content is better.
Additionally, if your website is down when the search engine crawls your website, it can hurt SEO performance. Your page may be de-indexed, putting all the work in search engine optimization to waste.
It Keeps a Backup of Your Assets
No one wants to think about the worst-case scenario, but it's best to protect your website assets in case it happens. If your website gets hacked or one of your employees makes a mistake, a backup of your website will make sure you can restore your website the way it was.
If you don't have a backup, all the time and money you put into your website will be gone, while costing you even more to build it back.
It Helps with Search Engine Optimization
It's Google's world and we're just living in it. Everyone wants to rank on page 1 of Google, and regular website maintenance can help with that.
Page speed is a big ranking factor. Not only is the speed itself a factor, but it impacts other ranking factors, like bounce rate and higher conversions. It also helps Google crawl websites faster.
Plus, if technical SEO updates are part of your website maintenance plan, all that work builds your authority over time. Things like broken links, duplicate content, and mobile-friendliness all play a role in how well your content ranks.
It Helps with User Experience
Have you ever been on a website and had a terrible experience?
Maybe you keep stumbling on broken links, it's not mobile responsive, or it just takes so much time to load, you just leave and find a competitor.
Maintaining a positive user experience by fixing broken links and pages, ensuring a fast site speed, and making it easy to use will only take a little bit of effort each month, but can result in long-term gains with customers.
Plus, as we mentioned above, user experience affects many factors and where you rank on search engines.

Maintain Your Website with Hivehouse Digital
When it comes to website maintenance, you want to be proactive, rather than reactive. When you maintain your website like you would your home, you can prevent larger issues from happening in the first place.
At Hivehouse Digital, we offer Hivehouse Care, our managed website hosting service with a digital marketing focus.
We manage any software and security updates, create backups, scan for malware, check for technical SEO updates, and more.
Check out our three tiers to determine which level of support is right for you.
| | | | |
| --- | --- | --- | --- |
| | Standard (Hosted) | Professional (Hosted) | Elite (Hosted) |
| Annual Fee | $1,200 | $2,400 | $3,600 |
| Website Hosting Plan | Kinsta Google Cloud Platform | Kinsta Google Cloud Platform | Kinsta Google Cloud Platform |
| Cloudflare DDoS protection | included free | included free | included free |
| Cloudflare CDN (content delivery network) | included free | included free | included free |
| Server-based Page Caching | included | included | included |
| Wildcard SSL Certificates | included | included | included |
| PHP Version Switching | included | included | included |
| One-click Staging Environment | included | included | included |
| Offsite Uptime Monitoring | every 5 Minutes | every 5 Minutes | every 5 Minutes |
| Malware Scanning | monthly | monthly | monthly |
| Malware Removal | included | included | included |
| Offsite Backup Retention | 14 days | 90 days | 90 days |
| Software Updates | quarterly | monthly | monthly |
| Website Updates | 1hr/quarter | 1hr/month | unlimited |
| Technical SEO Updates | none | none | SEO (report + remediation) |
Want to learn more about Hivehouse Care? Schedule a discovery call with us and learn more about how we can help you maintain your website.
Still Looking For Answers? We Can Help!