Above the Fold: Content on Your Manufacturing Website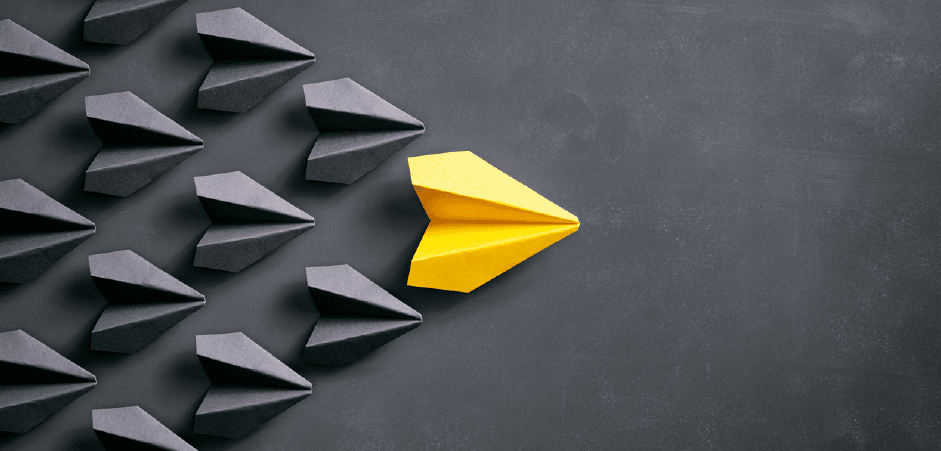 October 16, 2018
When a visitor first lands on your website, they'll see the area that industrial marketers (like us!) and designers call "above the fold." This area refers to what a user sees before they begin to scroll down or click through your site. You have just seconds to capture their interest, and keep visitors on your website so they explore further. Use this area to quickly communicate who you are, what you do and how to buy from you.
There are some key themes every great website follows, no matter if they're Nike or ExxonMobil. Let's dive into some actionable things that manufacturers should do to have effective "above the fold" content.
No more than 7 buttons in the navigation
Most manufacturing companies will be able to stick to 5 or so navigation (nav) buttons that include About and Contact. Any more than 7 and we begin to clutter the page on small screens or make visitors second guess where they need to begin to go to find what they are looking for. This also means the name of each navigation element should be quite direct, blunt even. You don't want to leave any doubt about what's behind each nav button. This puts the user at ease to explore.
A search bar
Manufacturers, and purchasers of manufactured products or services (your visitors), use a lot of specific keywords to find what they are looking for. It's not always obvious under what category someone will find a particular product or service, especially if your product is applicable to many industries. You'll see search bars on most every site, but it's especially important for manufactures and those with catalogs. So, give them a search bar! Preferably in the top right.
A simple logo with space around it
Wherever your visitor came from, whether it's a Google search or a link from an advertisement, they'll want to know they landed in the right place. Your logo, preferably in the center or top left and with some space/breathing room around it, is a subtle reminder to your visitor that you a) are legitimate and b) have the service or product they are looking for.
Pro-tip: They'll click on this logo at some point to get back to the home page, too, so make it easy to find.
A strong, unique statement
Tell your visitor they are in the right place with an impact statement. This can be about a particular product as long as it eludes to other products you may offer. This statement will take some time to write. It should describe what you do and why you do it. It should be intriguing – something a visitor would want to know more about. Be aware of what your competitors are saying here, above their fold, and come up with something that differentiates you. Be bold, memorable, and brief –no more than 8 or 10 words.
Call to Action (CTA)
This is just a button and you only get one, maybe two, to lead your visitor to learn more about something you've expressed in your impact statement. The button should feature 1-3 words and should be blunt. If you want someone to book a meeting, your CTA should just say "Book it"
Pro-tip: Make sure you measure the performance of your CTAs. Check on the data regularly and make changes as needed.
Quality, unique, and relevant imagery
Good manufacturing websites show some decent photos of their products or the people making them. Great manufacturing websites feature professional photography of their products and their people. Most manufacturing companies simply don't have access to professional photos of their installations or people because they don't see the value of a single photoshoot. A 1-2000k dollar investment can yield 5-50 amazing images that can be used above the fold, and in publications, blogs, and the countless other places you engage with your customers and potential clients.
Pro tip: Video doesn't load well on mobile, so no video.
A hierarchy
The navigation, logo, and search box are important but the visual priority needs to be on the pieces that make the story. The impact statement, imagery and call to action are what tells them they are in the right place and the call to action takes them to their first piece of fresh content. The impact statement and imagery should be the strongest and largest elements on the page so the website is understood as quickly as possible.
Your visitors have busy lives and they are impatiently searching for what they need online. And if they're searching on a mobile device, they're probably doing two other things at the same time (hopefully not driving). No matter how they got there, they're all thinking: "Impress me."
You can do that by making a bold impact statement to capture their attention, providing clear navigation, using simple, professional imagery, and keeping your most important information above the fold.