Marketing Agency Pricing Models: Retainers vs. Projects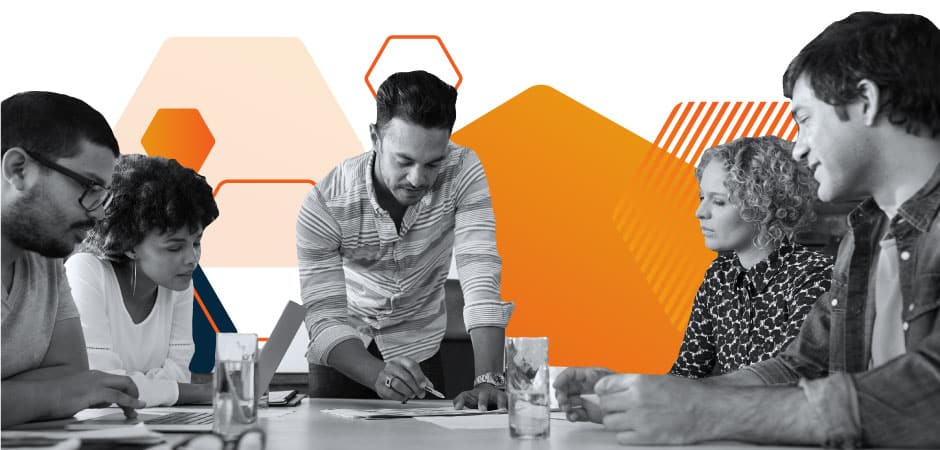 October 2, 2018
If you or your small internal marketing team are overwhelmed, it might be time to hire a marketing agency.
But there's one important question to answer before you sign a contract: should we work with an agency on a retainer basis, or a one-off project model?
Let's dig into the differences between the models to help you determine which is right for you.
What is a Marketing Agency Retainer?
An agency retainer model refers to an agreement between a business and an agency to work together for a period of time (typically 18 months) on more than one project. You're paying a set monthly rate to reserve the agency's time.
What do you get with a marketing agency retainer?
The scope of work done under a marketing retainer varies, but most inbound marketing agencies will deliver:
A digital marketing strategy
Planning and execution of inbound marketing campaigns
Benchmarks and regular reporting to determine success
Regular meetings to check in and ensure that everything is on track
Continuous improvement of campaign performance and A/B testing
Clear ROI
What does a marketing agency retainer cost?
To work with a medium-sized marketing agency in the Detroit area, it will cost clients roughly $6,000 per month. However, it's important to remember that this fee gives you access to the agency's entire team– including all 11 digital marketing specialists we recommend for a successful inbound marketing program.
Should we use a marketing agency retainer?
Companies that meet the following criteria are the best candidates for working with an agency on a retainer basis:
There's budget set aside and they can afford the retainer
There's clarity and alignment on the long-term marketing goals
They've got the discipline to stick to a consistent marketing plan
They want to be one of the agency's top priority accounts
They require a high degree of accountability/performance metrics & reporting
When to not work on a retainer
While marketing agency retainers offer consistency and forward momentum, they're not necessarily ideal for every business. Companies that should skip the retainer model:
Haven't budgeted for it/can't afford it
Only require marketing support when launching a product or during certain seasons
Don't have a clear understanding of long-term goals
Not interested in measuring performance/reporting/improvements
5 questions to ask the agency before signing a retainer agreement
What separates you from your competitors? You could research this yourself, but it's good to find out what they believe sets them apart.
How do you define success? Understanding their key performance indicators will ensure that you're all on the same page.
Do you have case studies to share? If you can get a good feel for what the agency did for another client, you'll have a better idea of what you can expect from them.
What's your employee retention rate? The last thing you want is to work with an agency that's constantly undergoing upheaval behind the scenes.
What do you require from me to ensure that the marketing strategy will succeed? It's good to understand what they expect from you before you sign.
What is a Project-Based Model?
When you use this model you pay the agency per project. If you want an agency to set up a Facebook ad campaign or write a content offer, they'll quote you a price and give you a timeline for how long you can expect the work to take.
Every piece of work completed by the agency comes with its own price tag. If you decide that you'd like a series of blog posts to support the content offer their writing, you'll be charged separately for that work.
What should you get from a project-based model?
Clear expectations from the agency on project costs
Commitment from the agency to a timeline that suits your needs
Capabilities and skills that you don't have in-house
A opportunity to 'test drive' the agency, and see if they're a good fit before you commit to working with them for an extended period of time.
What do marketing projects cost?
Project costs will vary greatly based on your scope of work. But for conversation's sake, the project type we do the most, is a full website implementation which includes site architecture, design, content, SEO optimization, development and launch.
The cost of redoing a website can start around $6,800 and run up to $26,000 or more, depending on the number of pages, the types of pages (simple contact us type pages, team pages, pathway pages, gateway pages, pillar pages), who writes the content, and any specialized functionality. If you're looking for a specific project cost, there isn't one! It begins with a conversation of what your company goals are, how you want your website to support those goals, and your budget/timeline. This is true of any type of marketing project, really.
Should we use a project-based model?
A project-based model is a pretty straight forward way to work with an agency. It's great for companies that have a one-off need to get something done. This could be for a website launch, or a big email marketing campaign. You can use the agency when you like, and otherwise handle your marketing yourself. It's a low-cost, low-commitment way to get some marketing projects completed.
Another consideration is whether you have your long-term plan put together. If you're still in a trial-and-error phase, determining what platforms and channels are most appealing to your audience, you're probably better off paying per project.
When not to use a project-based model
The project-based model isn't for everyone, including businesses that:
Have clearly-defined long-term goals
Want to build upon a long-term strategy
Want their marketing agency to prioritize their projects
Need or want continuous improvements and A/B testing
Want regular reporting on the performance of their marketing
5 questions to ask an agency before starting a project:
Do you have experience within my industry? If you're working on a project by project basis, you won't have time to fully indoctrinate the agency about your industry.
Who will I be working with? Will you be working with the person who will be actually handling your project or a project manager?
Is your team in-house, or do you use freelancers? Again, it's nice to know who will be doing the work.
How many revisions and edits do you allow? You don't want to assume how many rounds you get.
How long will it take to complete the project? You should know if your expectations are in line with what they can reasonably deliver.
Finding the Model That's Right for You
Regardless of the model you choose, it's important to find an agency that can work within that model. As industrial marketers, we help our clients determine which model is most compatible with our client's business goals. If you'd like to discuss the pros and cons of each model with an industrial marketing specialist, we'd love to talk! Schedule a consultation with our team today.
Still Looking For Answers? We Can Help!