The Business Tool You Need Now: Proven Process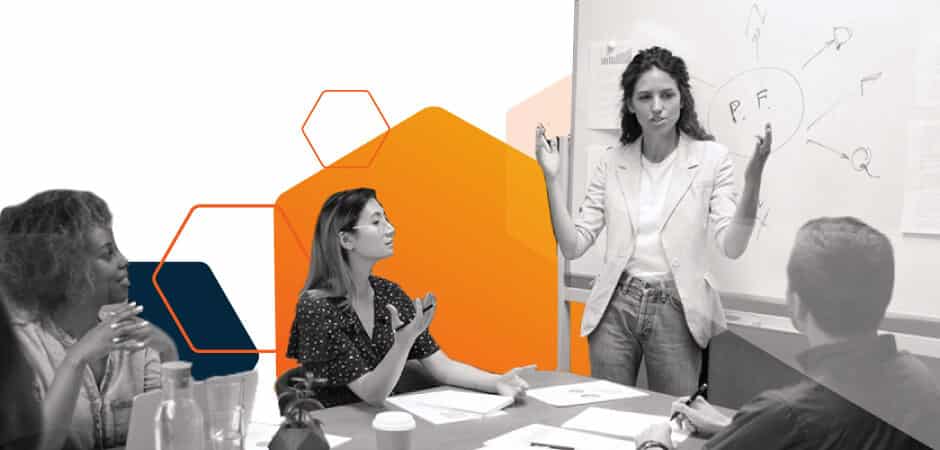 April 13, 2022
As a company that runs on the Entrepreneurial Operating System® (EOS®) we know the importance of having a Proven Process. The Proven Process is a visualization of anywhere from 3-7 steps that shows your customers (and prospects!) exactly how you deliver services. Everyone in your organization should be familiar with your Proven Process so that they can set client expectations, mark progress, and repeat the process for consistent results.
Having A Proven Process Helps You
It's more important than ever to have a proven process to act as a North Star to guide your team.
Having a Proven Process is critical for your leadership team and employees at every level of your organization because it provides a clear roadmap for all to follow. It helps lower distractions, creates consistency, and keeps you honest about what you do best and how you do it.
It is also a critical sales and marketing tool. It allows sales teams to close new business easier by setting expectations upfront. It also helps your marketing team develop crystal-clear talking points about what sets you apart from your competitors. In some cases, merely having a Proven Process document that you can show during a sales call will set you apart. Prospects won't have to wonder what you do and how you do it—it will be spelled out for them already.
Having A Proven Process Helps Your Clients
Having a Proven Process document is not just helpful for you – it's helpful for your clients because it alleviates fear and builds trust. It shows them that there's a method to your madness, and it's very appealing to clients who are process-driven themselves. It also helps keep expectations aligned and ensures that your project will say in scope and not get derailed by shiny objects. Finally, it lets your clients relax–especially if they're the micromanaging type.
Examples of Proven Process Documents
We have worked with many of our clients to develop their unique proven processes. Some are complex while others keep it simple. Here are a few examples of Proven Process documents!
Here is the 'original recipe' Proven Process from the Entrepreneurial Operating System. EOS Worldwide is based in Livonia, MI, and for more than 16 years has provided entrepreneurial leaders and managers with a complete system and a set of simple, practical tools for getting everything they want from their businesses.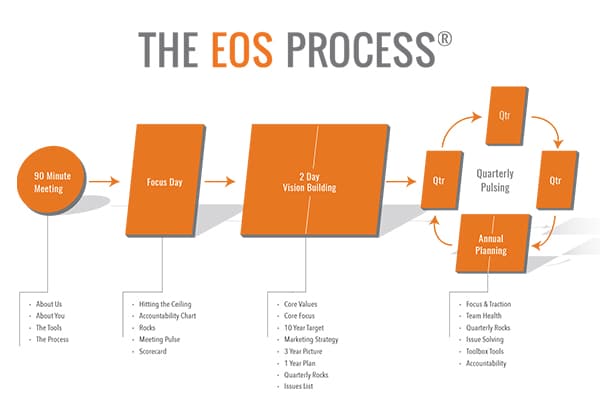 Next up is an example from our clients at MRPR, a Michigan-based full-service accounting and business advisory firm serving small-to-medium-sized businesses with everything from fractional CFO services to basic tax planning.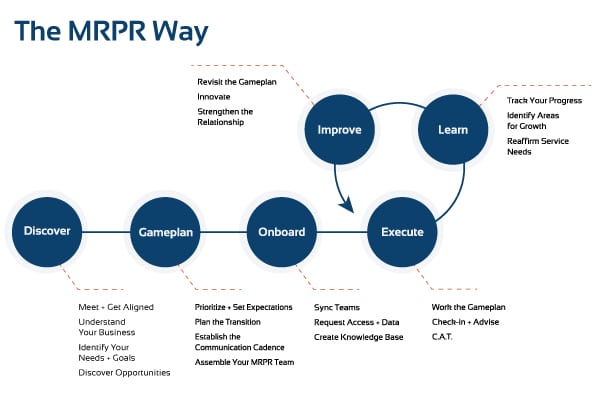 Our clients at GCI Consultants are the go-to team to solve your building envelope problems with services ranging from litigation consulting, forensic investigations, and more. Here's their Proven Process: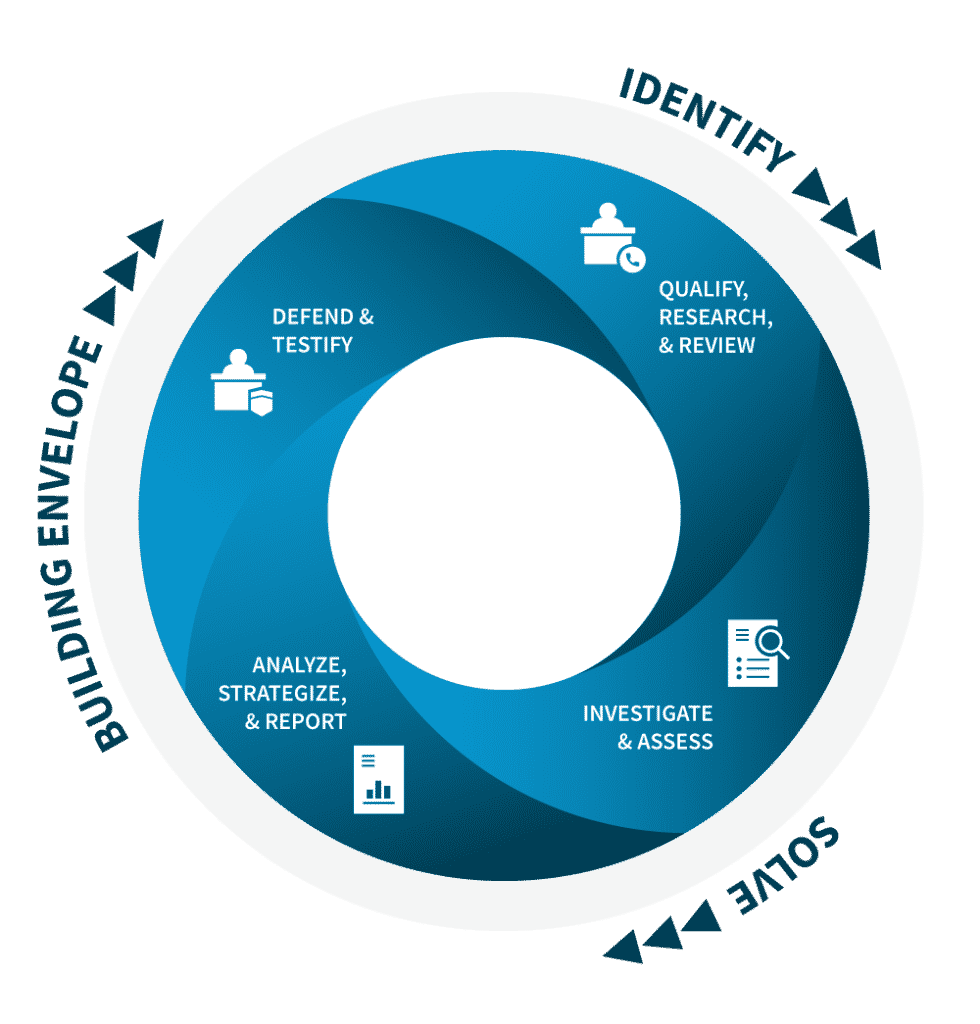 This example is from our clients at Federated Service Solutions, a woman-owned IT services firm that plans, designs, deploys, and manages enterprise-level wired/wireless networks.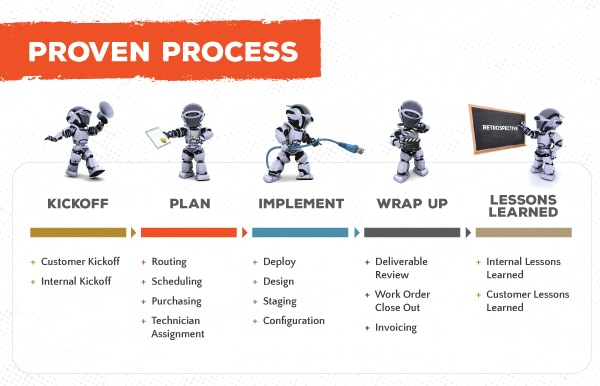 Finally, here's our Proven Process at Hivehouse Digital. As you can see, ours is quite detailed. We list each step in the process but we also include detailed information on tactics used at each step. We developed this partially from listening to the Frequently Asked Questions that we get during our sales process and from what worked when delivering services in the past.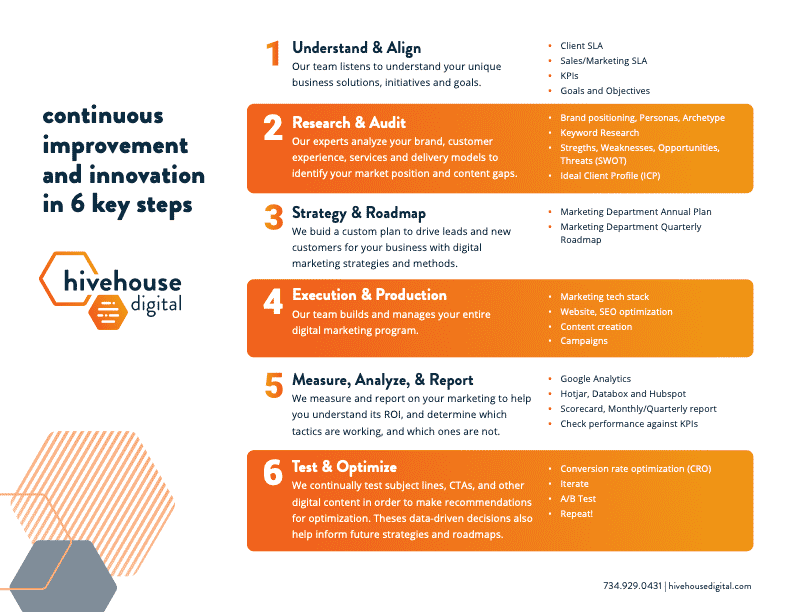 How To Document Your Proven Process
There are three things to keep in mind when mapping out your Proven Process:
It must be visual
It must be repeatable
It must be in your brand's voice & tone
There are many paths to developing a Proven Process and you should choose the one that best suits your company. For example, you can:
Do-it-yourself: Do some online research and then hold your own internal workshop with key stakeholders.
Hire An EOS Implementer: A Professional or Certified EOS Implementer is highly-trained and experienced at working with entrepreneurial businesses that want to grow. They can facilitate a meeting and ensure that it is focused on what your business does best.
Hire Us: We are experienced in developing Proven Process documents for our clients in professional services, manufacturing, construction, and engineering companies. We can help you nail this down in just one workshop!
Regardless of which route you choose, you should start by clearing several hours on your calendar for your leadership, sales, and marketing teams to work on this together.
We recommend getting a conference room with a large whiteboard and mapping it out step-by-step. Or, if you're working hybrid or remotely, you can use the Zoom Whiteboard feature to map it out virtually. The Zoom Whiteboard allows you to collaborate with your team no matter where you are in the world so you can still have the same experience as you'd have in person!
Once you have it down on the whiteboard, it's time to work with your designer or marketing team to get it documented into an on-brand, visual aid that exists both digitally (on your website) and physically (for sales folders).
Get Started On Your Proven Process
Having an outside opinion is always a good idea so even if you DIY your Proven Process, you may want to seek some consulting help or hire a marketing agency to take a look at it.
As a matter of fact, you can contact us if you need help to develop and document your Proven Process from scratch. Contact us today and learn more about how we can help you boost your marketing with a documented Proven Process.
Still Looking For Answers? We Can Help!