How to be a Sales Superhero with HubSpot's New Sales Tools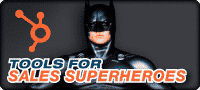 September 16, 2014

It was a dark time in Gotham. The year was 2006, and marketers toiled day after day in anguish – creating email campaigns, landing pages, monitoring social feeds, and blogging using every tool they could find – without insight into what was working and not working. In their secret laboratory at MIT, Brian Halligan and Dharmesh Shah had a vision: they would create the ultimate, all-in-one marketing tool that would provide a seamless user experience and enable companies to create marketing that people love.
The Origin Story
When HubSpot was launched, it quickly gained popularity — marketers reveled in their new-found efficiency, while the quality of helpful content sky-rocketed, and companies gained valuable insight into their marketing ROI. But as sales teams tried to keep up with the volume of new leads being generated by these efficient marketers, Gotham fell into darkness once more.
Sales managers struggled to find tools that would help their sales people personalize the customer's buying experience – cobbling together 5 or 6 tools, managing multiple logins to systems that didn't talk to each other, and losing precious time entering data in several tools. Sales inefficiency and chaos reigned, and Halligan and Shah retreated again to their secret lair – aided now by a team of software development ninjas – with a new vision: to create a set of sales tools that would complement HubSpot's marketing tools and fundamentally transform the customer experience.
A New Chapter: HubSpot Launches Powerful Sales Tools
Today, at the #Inbound14 conference, Halligan proudly unveiled their new secret weapons against sales team inefficiency and poor customer experience: HubSpot CRM and Sidekick. [Tweet This]
"We started HubSpot because we felt the way consumers shop and buy had fundamentally changed," Halligan declared. "The inbound movement has helped transform the world of marketing, and we really feel like there's a huge opportunity to transform the customer experience with sales technology that enables companies to sell more, better, and faster."
HubSpot CRM: A Powerful Tool in the Fight Against Sales Inefficiency
In order to help sales superheroes battle the evil forces of inefficiency and ignorance, the HubSpot team launched the HubSpot CRM, an intuitive system that frees up valuable selling time by automatically logging emails, recording calls, and managing sales data.
"Traditional sales technology is necessary but not sufficient," said Halligan, "HubSpot's Sales Platform is designed to arm sales teams with the context they need to improve how they engage with companies, prospects, and leads to drive sales instead of driving people crazy."
Most sales superheroes are engaged in an epic battle with their customer relationship management system to keep up with data entry – it either consumes most of their time, or they ignore it completely and then struggle to recall information and context for their sales communication. The HubSpot CRM equips sales people to conquer these challenges with supercharged features, like:
Automated intelligence gathering and data entry. HubSpot's new CRM automatically creates company records, associates contacts, de-duplicates leads, and takes care of all the little details a sales superhero shouldn't be distracted by:
Sales superheroes can instantly see new, useful information about any contact or company, including background information, details on key employees, social data, related companies, and more.

Every email sent from Google Apps, Outlook, Apple Mail, and HubSpot is logged automatically with the contact's record in the HubSpot CRM.

The HubSpot CRM then organizes every email, call, note, meeting, and website visit into one simple, intuitive Timeline view.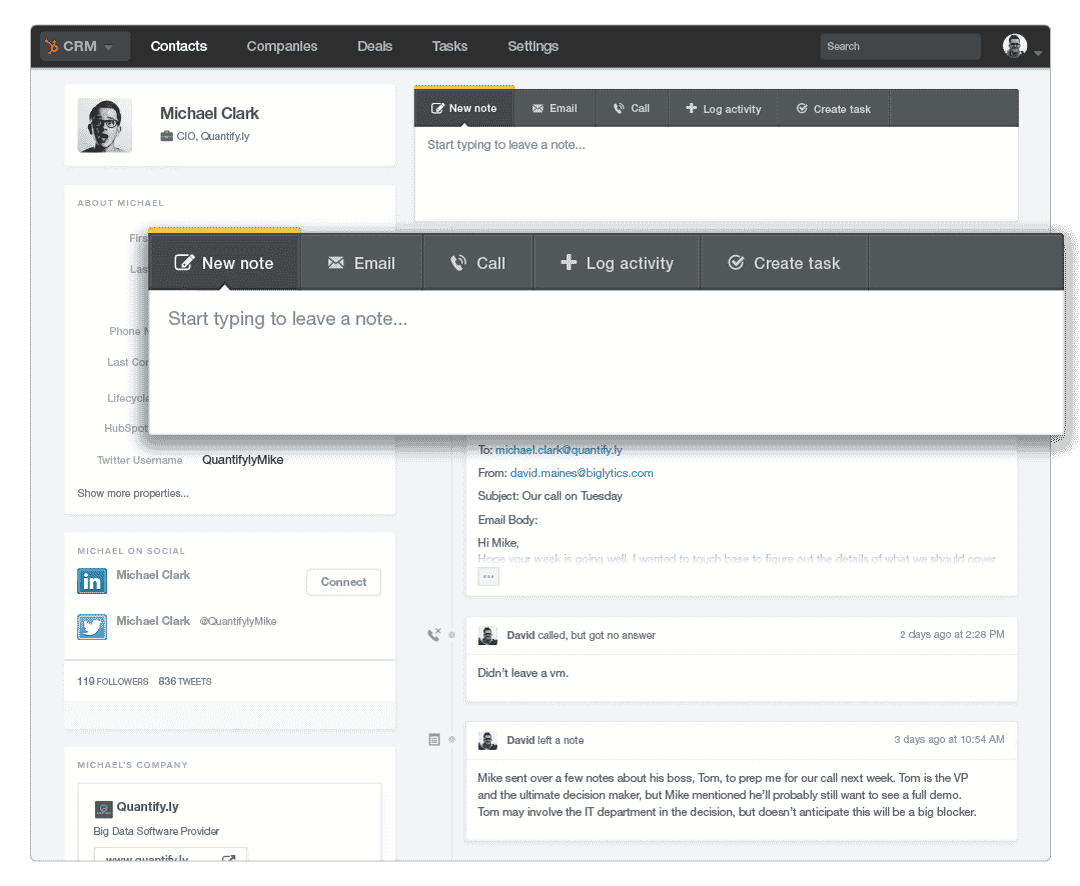 Phone integration and call recording. It's hard to rescue a customer in distress when you're trying to listen and take notes, while searching around on different screens for context. Real sales superheroes want to be fully engaged in calls with customers, so the HubSpot CRM allows them to easily make calls with one click from their browser, then automatically log notes and recordings of calls for future reference.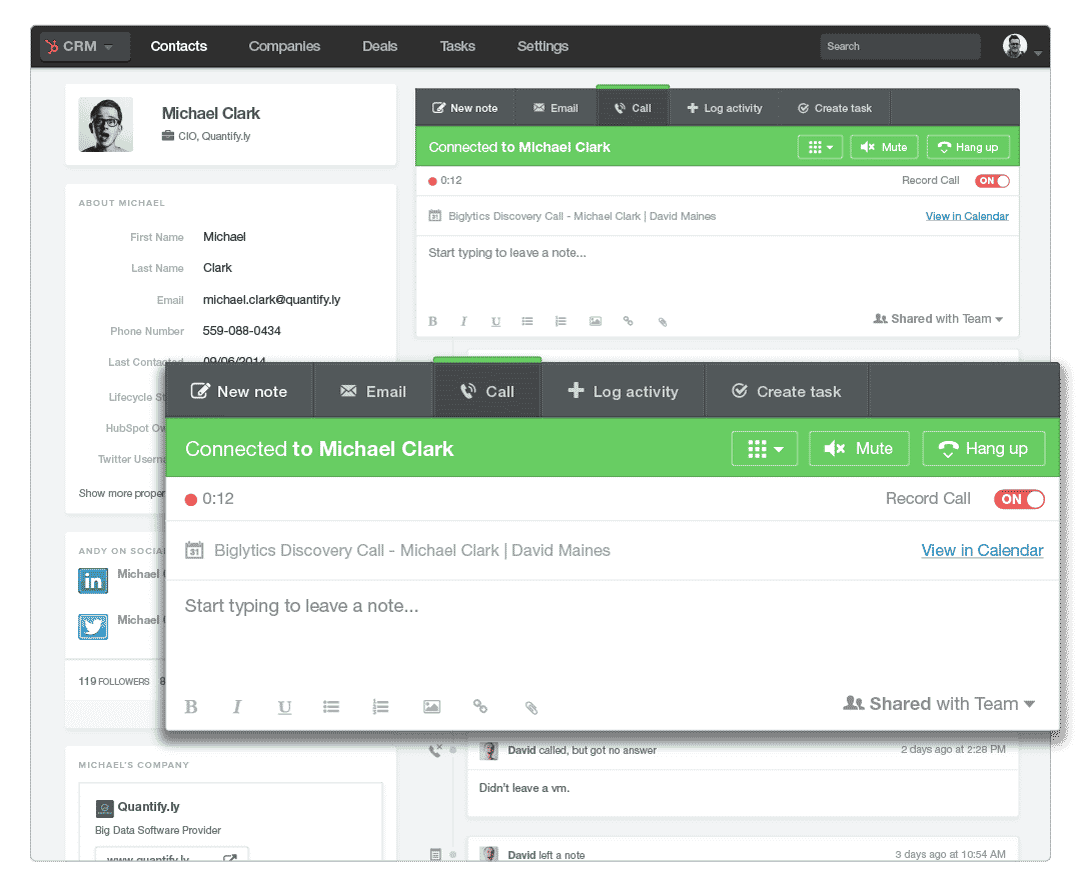 Sidekick: Every Sales Superhero Needs One
To complement the new HubSpot CRM, the team also launched Sidekick – a powerful tool that provides sales people with intelligence to improve sales communication. [Tweet this]
Supercharged online research
With Sidekick's Insights, a salesperson researching prospects and customers online can quickly gain valuable insight about the company they are researching, and access additional lead intelligence from HubSpot and their CRM. Using this information, sales superheroes can personalize their approach to opportunities based on data and context, and quickly add information into HubSpot with just a few clicks.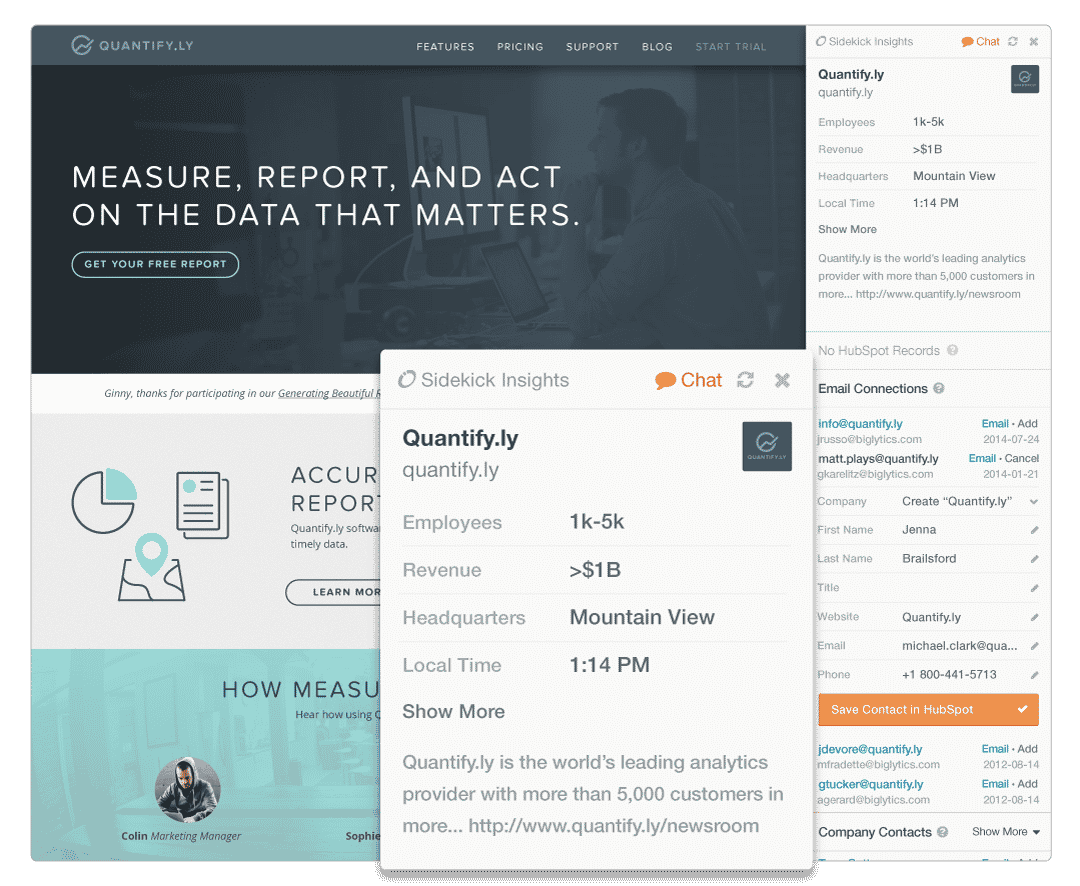 When communicating via email, sales superheroes can access the Sidekick Insights "heads-up display" that delivers relevant information about the contact's history, social and marketing engagement, and sales opportunities. Armed with this information, the sales person can supercharge his or her email to personalize the customer's experience and send real-time data updates back to Sales HQ.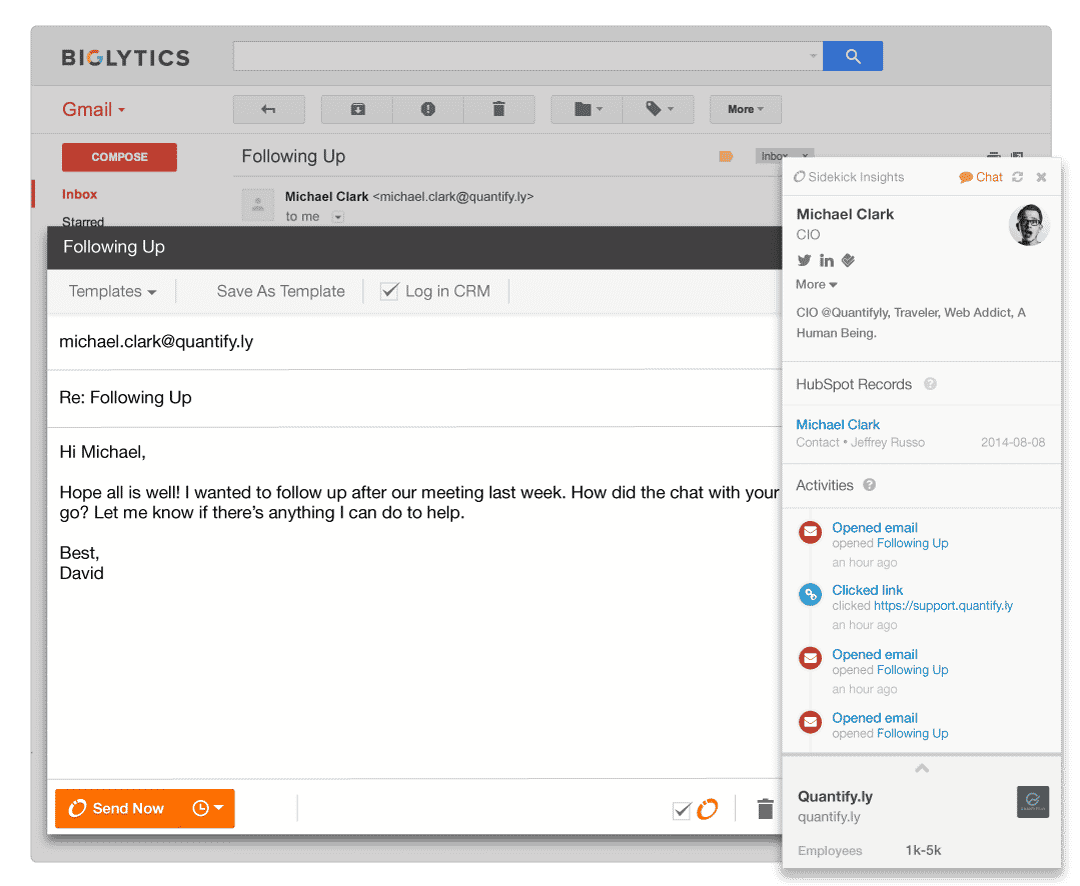 Mega-powerful email communication
Sidekick's email integration also equips sales superheroes with communication superpowers, including the ability to…
Time travel into the future. With just a few clicks, sales superheroes can easily schedule email to be delivered in the future, when it is more likely to be opened by prospects and customers. [Tweet this]
Read a sales prospect's mind. With real-time mobile and desktop Sidekick Notifications, sales superheroes will instantly know when a prospect is reading their email, looking at a proposal, or doing research on the company's website.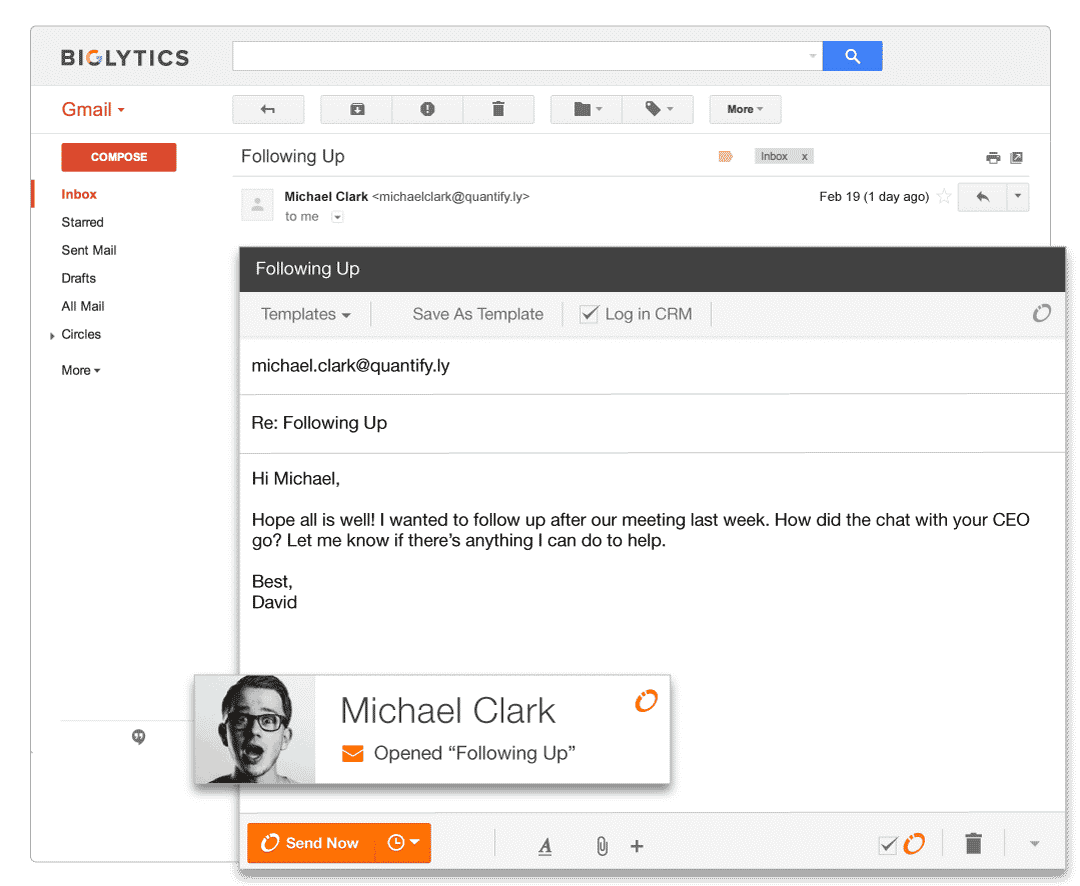 Look to the sky.
As the sun sets on Gotham this evening, sales superheroes across the globe are once again filled with hope for the future – a future where sales superheroes have the time and energy to deliver the delightful experience that customers deserve. The Whole Brainiacs look to the horizon, and are comforted to see the familiar signal reflected above Gotham, confirming that the HubSpot team is ready to help sales superheroes fulfill their destiny.
"We love helping and teaching our customers, and we are passionate about working efficiently to help our customers grow and create abundance in their own companies and communities," said Head Brainiac Marisa Smith. "Smart tools are essential to this mission, and we're excited that these new tools from HubSpot are designed to help us do just that."