How to Create a Pop-Up Form in HubSpot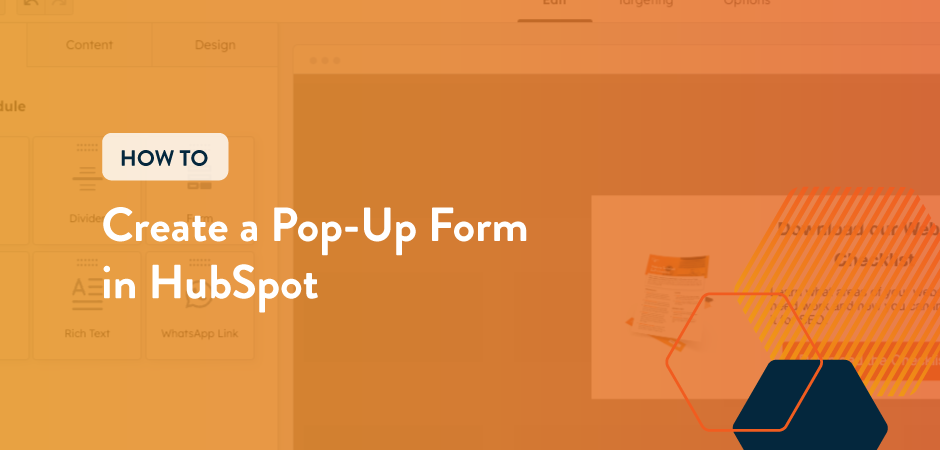 August 15, 2023
You've been there—scrolling through a website when all of a sudden a big form pops up asking you to fill it out in exchange for a newsletter, eBook, or some other offer.
It definitely grabbed your attention, but is it a good idea?
Pop-up forms might get a bad reputation, but when used strategically, they are a great way to capture leads. In fact, Sumo found pop-up forms have an average conversion rate of 3.1%, with top-performing pop-ups reaching 9.28%.
To use pop-up forms thoughtfully, you should only use strong, relevant offers that make sense for the page the pop-up is on.
The less fields, the better, so the user can get back to the content they were looking at. It should also trigger when it makes sense, such as after a certain amount of time has elapsed or on exit intent.
Pop-ups should always have a clear exit button, so visitors who are not interested can make it go away. Don't be the website that makes it difficult to make the form disappear!
Keep reading to learn how you can easily create a pop-up form using HubSpot!
How to Create a Pop-Up Form in HubSpot
Navigate to CTAs in HubSpot by clicking on Marketing, then Lead Capture, then CTAs
Click on Create
Click on a Template or click on Start from Scratch
Select Pop-Up Box.
Name your form.
Add the featured image.
Add the header text. This should call out what the form is for.
Add any body text. This is where you can add in the benefit of taking the desired action.
Update the button text and color, if necessary.
Choose the button action. This could be going to a website page, file download, meeting link, or calendar event.
Click on the Targeting tab.

Choose how you'd like your pop-up to trigger. You can choose on page scroll, exit intent, after elapsed time, or after inactivity.
Choose what website URLs should have the pop-up. You can also add exclusion rules or add visitor information and behavior.
At the bottom of this page, you can choose how often the pop-out will be shown.
Next, click the Options tab. 
Choose if you'd like to turn the pop-up off on small screen sizes, such as mobile and desktop.
Add a Campaign to associate the pop-up with.
Decided if you'd like to choose to schedule the pop-up for later, or set an unpublish time.
Click preview to review your pop-up.
Once you've reviewed it, click Review & Publish.
Click Publish Now.
You now have a pop-out form to catch website visitors' attention and gather leads!
Need help setting up a pop-out form or nurturing the leads you capture? Contact us to learn how we can help.
Still Looking For Answers? We Can Help!