How You Should Prepare for the Google Universal Analytics Sunset in 2023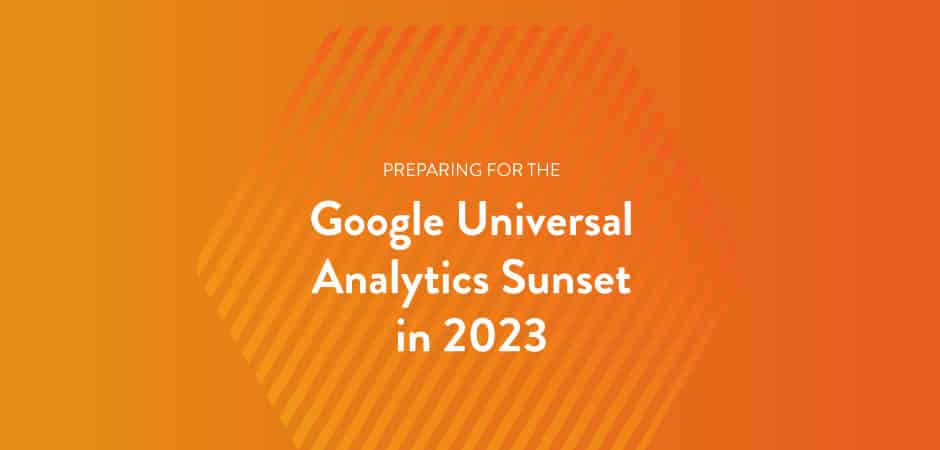 May 3, 2022
2005 was a big year for the internet. More and more people started switching from dial-up to broadband internet, YouTube and Reddit were founded, and Google made several acquisitions, including Urchin, a web analytics company. This led to the launch of Google Analytics, changing the game for businesses across the world.
Google regularly updated the platform over the years and introduced the current version, Universal Analytics (UA) in 2013. Seven years later in 2020, Google Analytics 4 (GA4) launched alongside UA. Businesses could choose which version of the platform they wanted to use, but in March 2022, Google announced that on July 2023, UA will no longer track data, and GA4 will be the go-to version for website analytics.
After getting used to an analytics platform that has primarily stayed the same over the past nine years, what does this change mean for you?
When is Google replacing Universal Analytics with G4?
On July 1, 2023, Google will stop processing hits for Universal Analytics, and will fully switch over to Google Analytics 4. You'll still have access to historical data in UA for at least six months. During this time, Google recommends that you export all of your data in UA so you don't lose it.
Once you install GA4, you will have Universal Analytics and Google Analytics 4 as two properties in your account for the same website or app. Before Google sunsets Universal Analytics, you can work between the two properties to find and analyze data. However, due to the differences in how the data is tracked, GA4 will only contain data from the time it is installed.
What's the difference between Universal Analytics and Google Analytics 4?
Universal Analytics was originally built for tracking desktop web sessions and using cookie data. Now, GA4 will track across platforms, including apps, and no longer relies on cookie data. With rapidly changing privacy laws, GA4 is built to meet the needs of businesses while managing user expectations for privacy.
One of the most important changes is how web activities are tracked. In Universal Analytics, data was based on hits, such as pageviews, events, or e-commerce hits. You also had to set up advanced tracking to track events like button clicks or video plays. With GA4, everything is event-based, including pageviews, and there is no additional setup for many common events that required additional setup previously.
GA4 also features machine learning for generating predictive insights and creating new audiences for the likelihood of churn or purchases. Machine learning will also help fill the gaps from missing data and will create user journeys for data linked to the same user.
Google is still improving GA4, and ongoing changes should be expected.
What Do You Need to Do to Prepare?
If you have never set up Google Analytics for your website, it will default to GA4 when you install it. If you are currently using Universal Analytics, you will want to set up a Google Analytics 4 property as soon as possible. Ideally, set it up before 7/1/22 so you have a full year of data to compare once the transition happens. The sooner you install it, the more historical data you will have in the future. It will also give you time to get used to the new user experience and terminology. For example, goals are now replaced with conversions, and instead of bounce rate, GA4 focuses on engagement rate.
Finally, you should export your important data from UA. You can do this through:
Individual Reports
Google Analytics Reporting API
Exports to BigQuery
While July 2023 seems a long time from now, it'll be here before you know it. If you prepare now, you'll have more time to collect data in GA4 and get familiar with the new features.
Need help navigating the change? Schedule time to talk to us and learn how we can help you with your website and inbound marketing.
Still Looking For Answers? We Can Help!