The Top B2B Lead Generation Ideas for 2022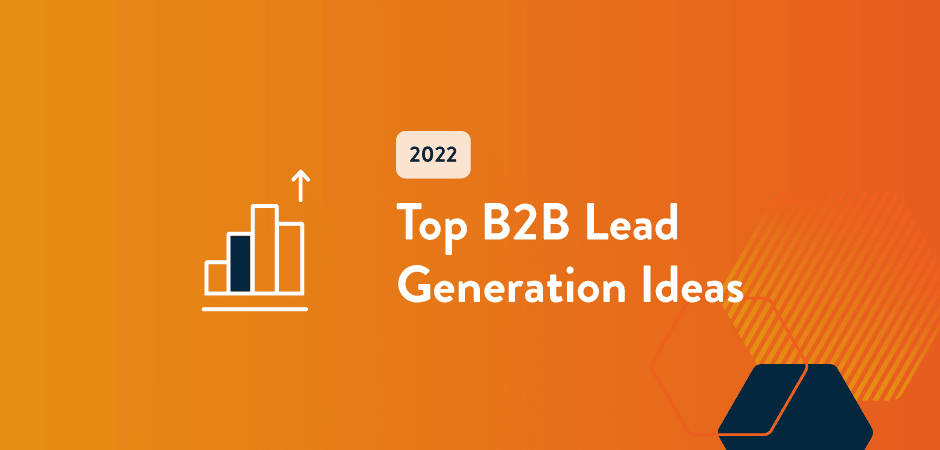 May 10, 2022
Generating leads is one of the most important parts of a B2B marketing strategy to establish a healthy sales pipeline and grow revenue. According to a survey from HubSpot, lead generation is the second biggest challenge marketers face in 2022. With changing privacy laws, new marketing channels, and growing competition, it can be hard to know what to focus on. If you're not sure where to start, we've got you. Learn our top B2B lead generation tactics for 2022.
What is Lead Generation?
Before talking about the top lead generation ideas for B2B companies to use, what exactly is lead generation?
Lead generation is a marketing activity that attracts prospects in your ideal customers to your business with the goal of converting them. There are an endless amount of ways to generate leads, and what works best will depend on your business and sales process.
For B2B businesses, lead generation is especially important when services or products typically have a longer conversion period and require educating leads. It also saves your sales team time by qualifying leads beforehand.
What are the Top B2B Lead Generation Tactics?
The following tactics can be used to generate b2b lead generation ideas. Which will yield the best results depends on your audience, industry, and business.
Gated Content Offers
Gated content offers, also known as lead magnets, are one of the most common forms of content marketing and B2B lead generation tactics. In exchange for the lead's contact information, you are offering something like an eBook, whitepaper, or guide in exchange for the lead's contact information. As an expert on the topic, you can build trust with the contacts that download the offer. Once the lead fills out the form, you can funnel their information go to sales for review, nurture them, or retarget them with ads. You can create gated content offers for the different funnel stages and help solve the potential customer's pain points. Gated content offers can also be added to relevant pages on your site, shared on social media, and included in email marketing to convert leads.
Pay-Per-Click Ads
Pay-per-click ads, also known as PPC, can help you drive more leads to your website who might otherwise not find you. If you don't have a strong social following or you're getting started on your search engine optimization efforts, you can pay for ads on Google, Facebook, LinkedIn, or other social media sites. Depending on your goals, you can advertise your product or service, content offers, or a free consultation. While you are paying for ad space, the goal is to have a higher return on investment.
Give Something Away for Free
People love getting something for free, and it's a great way to attract leads at the bottom of the funnel. What you offer will depend on your type of business, but this could be a free trial of your product, a free 15-minute consultation, or a product demo. These leads will likely be in the decision phase, so this is your moment to answer all their questions and get them to convert.
Chatbots
Building a chatbot is a great way to engage with leads, especially during off-hours when you don't have a sales or customer service team working. If you're using a CRM like HubSpot, you can use Sales Hub to build a chatbot. If you know the typical questions a lead will ask, you can build a helpful and informative bot that will lead prospects down the funnel. As more people use your chatbot, you can optimize it for success.
Important tip: Always ask for some form of contact information so you can email or call them in the future.
Start a Referral Program
Referral marketing is still a powerful way to bring in new leads with social proof. People will naturally trust the word of their friends and family, leading them down the funnel faster than other leads. It's as easy as using a program that offers referral links or codes and determining what reward you'd like to give to the referer. You could offer a discount on their next purchase or renewal or other perks like gift cards and commissions.
Automate Your Emails
Once you've captured a lead's information, email automation is a great way to nurture them down the marketing funnel. You can create follow-up emails to a content offer, create nurture campaigns, or create automated emails from your sales team. Since you already have some information about the lead, you can use personalization to cater to the needs of the lead better. Automating your emails helps move your lead down the marketing funnel and qualify them for sales.
Search Engine Optimization
There are many different tactics when it comes to search engine optimization (SEO). One way to attract high-intent leads for your business is by targeting long-tail keywords. Long-tail keywords contain three or more words and are highly specific, meaning they typically have low search volume. However, low volume is not necessarily a bad thing. If you are targeting the right keywords, these can lead to prospects with high purchase intent and a higher chance of converting.
Generate Backlinks
Backlinks play an important role in the SEO of your website. Not only does Google consider the quality and number of backlinks to your website, but they also act as another form of referral. Backlinks from a trusted site will generate more traffic to your website and in turn, leads. You can generate backlinks through:
Writing guest posts for other websites
Asking websites to include a relevant link to your website, including unlinked brand mentions or broken links
Getting included in a resource, directory, or "best of" article
Write website content people want to link to
Respond to requests on Help a Reporter
Need Help Generating Leads?
If you're struggling with where to start your b2b lead generation strategy or just need help coming up with b2b lead generation ideas, we can help with that. Our team of experts can build a strategy, create content, and generate more leads so your sales team can close more revenue. Contact us to learn more about how we can help you grow your business.
Still Looking For Answers? We Can Help!