Hivehouse Care and The Power of Quality Web Hosting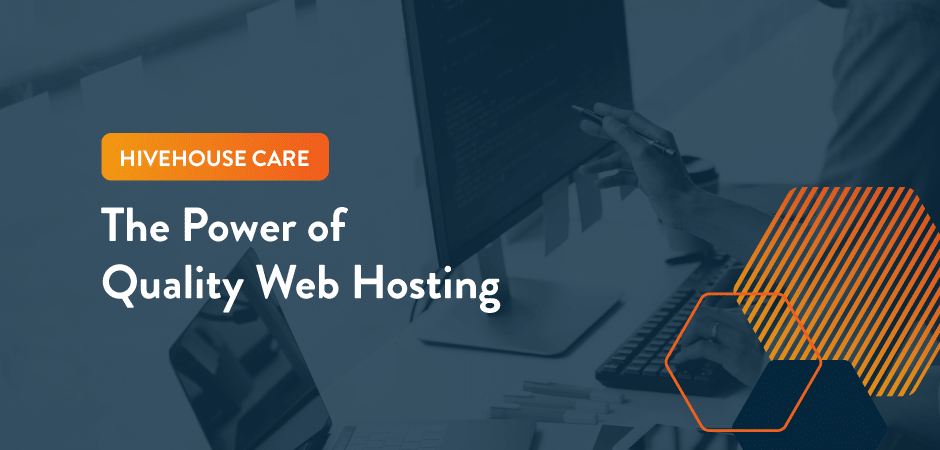 April 13, 2023
The best websites just work.
Like the plumbing in our houses, we tend to take a working website for granted until it doesn't. Everyone's experienced a crappy website— slow load times, unresponsive pages, or downtime. It may not feel like the end of the world when you're browsing MLB scores, but when it's your company's website that isn't performing correctly, that's a reflection of your business.
While internet connections and a website's code can impact performance, an important part of a website experience is how and where it's hosted.
Why Quality Website Hosting is Important
Your website's host can affect its overall performance, including its speed, security, and search engine optimization (SEO).
Speed
Speed refers to how fast your website loads and the overall responsiveness.
While the content of your website depends on your target audience, the speed of your website needs to be competitive to appeal to any audience. There have been countless studies proving how impactful site speed is to conversions.
According to Bidnamic, an e-commerce software company, for every second a site loads faster, conversion rates improve by 17%.
According to Portent, a digital marketing agency (probably not as cool as Hivehouse), a site that loads in 1 second has a conversion rate 3x higher than a site that loads in 5 seconds.
Also, according to Portent, a site that loads in 1 second has a conversion rate 5x higher than a site that loads in 10 seconds.
Outside of the complexity of a website and the user's internet connection, one of the most critical factors determining website speed is the platform it's hosted from.
SEO
Outside of its impact on conversions, speed also directly correlates to where Google and other search engines rank your website in search engine results. The slower your website, it's likely your website will rank lower in search engine result pages (SERPS).
Another way that hosting can affect your SEO is downtime. According to our friends at Kinsta, if a search engine crawls your website when it's down, it may get temporarily de-indexed and crawled less frequently, which means your website is less likely to appear in search engine results.
Security
One of the most important ways to secure your website is to perform regular backups. If something with your website goes awry, you'll have an earlier version of your website to roll back to. It is also important to store both on-host as well as off-host backups.
This allows you or the team hosting your website to revert to a previous, working version of your site rather than waiting to identify and solve an issue that could take serious technical knowledge to figure out. And it's not just hacking or other nefarious acts that create the need for a backup; sometimes, routine updates can cause website-breaking issues.
Hivehouse Care – Our Digital Marketing Focused, Managed Website Hosting Service
As a digital marketing agency, in order to deliver the best digital marketing possible, we believe that every piece of your digital marketing puzzle needs to be top-notch, from social media to white papers to the performance of your website.
Hivehouse Care is our managed website hosting service, powered by Kinsta and delivered by our experienced tech team. Here's how we've constructed Hivehouse Care to deliver a fast, fluid, and customer-first approach to website hosting.
Powered by Kinsta
We mentioned earlier that we use Kinsta hosting , which utilizes the powerful Google Cloud Platform to host over 25,000 businesses. In addition, they offer free Cloudflare integration, which boosts site performance and reduces the impact of malicious bots and hackers.
Kinsta also implements tight software-based restrictions and malware-scanning daemons that run continuously in the background to protect your WordPress site. The bottom line is: your site is monitored and secured 24/7.
If You're Not First, You're Last
We already mentioned how important a website host is for your website's speed. One of the ways a website host determines speed is with little guys called PHP workers.
A PHP worker is a process that runs PHP code, the code that makes up a website. The more PHP workers your website has, the more backend processes it can handle and the faster your website will work.
Hivehouse Care offers incredible bang for your buck when it comes to PHP workers. All of our hosting plans come with 8 PHP workers. An equivalent amount of PHP workers on an account directly through Kinsta would cost $8,100 a year
We're a Gracious Host
As a managed website, we'll take care of everything in the background, so you can focus on running your business. That includes managing the relationship between Kinsta and speaking Geek to their team when necessary, which means any issues are quickly identified and resolved.
We also manually apply updates to WordPress for you. Updates can seem routine with WordPress, but plugin updates can break sites, and major updates should be tested in a staging site, a duplicate of your site that isn't available to the public.
We also make sure we have backups for your backups. Kinsta provides daily automatic backups, but we also maintain offsite backups through ManageWP— one of the best practices of any website host worth their salt. Kinsta and ManageWP continuously scan your website for any potential malware, security vulnerabilities in plugins, and non-compliant plugins with the WordPress repository.
We've even created three different tiers based on which level of support makes sense for your business. Not sure which does? We can walk you through it.
| | | | |
| --- | --- | --- | --- |
| | Standard (Hosted) | Professional (Hosted) | Elite (Hosted) |
| Annual Fee | $1,200 | $2,400 | $3,600 |
| Website Hosting Plan | Kinsta Google Cloud Platform | Kinsta Google Cloud Platform | Kinsta Google Cloud Platform |
| Cloudflare DDoS protection | included free | included free | included free |
| Cloudflare CDN (content delivery network) | included free | included free | included free |
| Server-based Page Caching | included | included | included |
| Wildcard SSL Certificates | included | included | included |
| PHP Version Switching | included | included | included |
| One-click Staging Environment | included | included | included |
| Offsite Uptime Monitoring | every 5 Minutes | every 5 Minutes | every 5 Minutes |
| Malware Scanning | monthly | monthly | monthly |
| Malware Removal | included | included | included |
| Offsite Backup Retention | 14 days | 90 days | 90 days |
| Software Updates | quarterly | monthly | monthly |
| Website Updates | 1hr/quarter | 1hr/month | unlimited |
| Technical SEO Updates | none | none | SEO (report + remediation) |
Think of your digital marketing as the party, your leads and customers as your guests, and your website as the house where it's all going down. With Hivehouse Care as your host, we'll make sure everything's taken care of.