How to Create a B2B Thought Leadership Strategy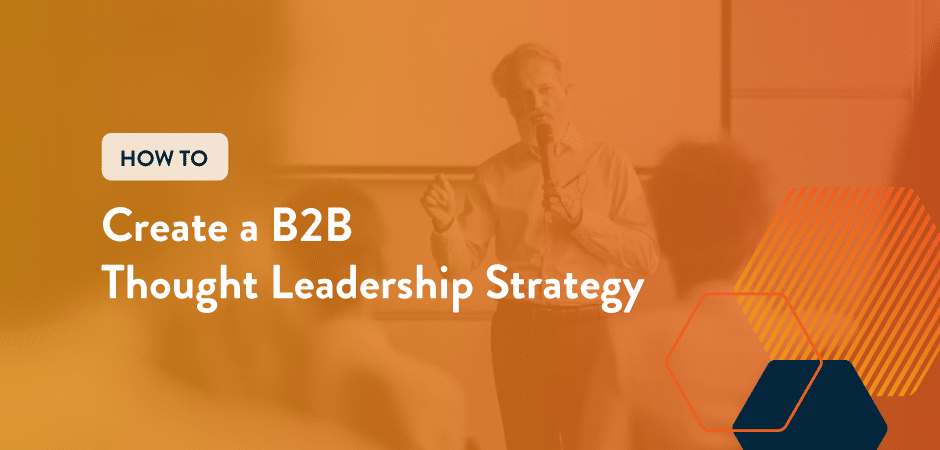 March 29, 2023
Thought leadership isn't as simple as sharing a couple of blog posts on LinkedIn.
When done strategically, thought leadership establishes you as an expert authority, improves your search engine optimization, and ultimately creates demand for your products or services.
In this week's blog post, we dive into what thought leadership is, why it's beneficial, and how to get started.
What is Thought Leadership?

According to HubSpot, thought leadership is "a tactic content marketers use to build credibility for themselves or leaders in their company. The main goal of thought leadership is to become recognized as an expert and used as a go-to resource in your field."
Thought leaders are typically someone in your company's C-Suite or senior leadership. Positioning themselves as industry experts, they share educational content related to their niche.
Why You Should Embrace B2B Thought Leadership

Thought leadership is one of the best ways you can establish authority in your industry. Thought leadership is not supposed to be about selling. Instead, it should be focused on giving education, advice, and commentating on industry trends. As you establish yourself as an expert in your field, people will seek out your product or service, knowing your expertise.
Creating quality content can help you rise up through the search engine ranks and positively affect your SEO. If you're guest blogging or are featured on sites with high domain authority, the links back to your website help establish authority with the Google algorithm.
While your thought leadership content shouldn't be focused on selling your products or services, it plays an important role in the buying process. In one survey, Edelman and LinkedIn found that 54% of buyers purchased a product or service after engaging with thought leadership content.
How to Create an Effective Thought Leadership Strategy
1. Identify Your Goals & Choose Your Thought Leader
The first step to strategic thought leadership is to define goals. Are you more focused on raising brand awareness? Or are you playing the long game and want to increase leads? Maybe both are part of your goal.
Either way, it's important to start your strategy off with a clear goal in mind. Without a goal, your tactics may not be cohesive, and you want thought leadership to be more, well, thoughtful.
If you aren't already starting the goal-setting with a thought leader in mind, now is the time to choose. Your choice may be based on who wants to do it, has the capacity, and is already seen as an expert in the industry. It also helps if the thought leader has an existing following already.
2. Research & Brainstorm
Next step: Research and gather ideas. Who is already a thought leader in your industry? What are they sharing, where are they posting it, and how often?
According to a survey by Semrush, 91.4% of organizations create articles or blogs, 44.1% create videos, 36.2% speak at events or webinars, and 33.2% publish whitepapers for their thought leaders.
Other content that you can create includes podcasts, audiograms, ebooks, and answering questions on community forums. Some thought leaders establish themselves by sharing posts on LinkedIn.
Once you've identified other leaders, think about what you can do even better, and start brainstorming content ideas. You want your thought leader to put content out on a consistent basis, so having a backlog of ideas is helpful to publish regularly.
3. Create & Share Content
Once you've laid the foundation for your thought leadership strategy, it's time to start creating and sharing.
Your company's thought leader may create the content, but it's not uncommon for your marketing team to create it with the thought leader serving as the subject matter expert and final approval.
To share content, you have many options to choose from including:
Thought leader's social media
Company social media
Company blog
Pitch guest blogs to online publications
Publish to Medium
4. Measure Results

Finally, the most important step of any marketing campaign: measure your results. You want to make sure you are achieving your goal with thought leadership. Some metrics you'll want to keep track of include:
Organic traffic
Referral traffic
Social media engagement
Backlinks
Domain authority
Content downloads
Webinar attendees/engagement
Leads
Sales
In Semrush's thought leadership survey, 81.4% saw an increase in organic traffic, 64.9% saw social media engagement increase, and 47.6% can attribute leads and sales to their strategy.
Our Approach to Thought Leadership
At Hivehouse Digital, we are big believers in the power of thought leadership for B2B businesses. That's why we offer a simple, fixed-price package to help you create high-quality thought leadership content on a regular basis.
Our process begins with a meeting to get to you and your target audience. After the initial meeting, we follow up with a content brainstorm that helps us build out an editorial calendar for the next 12 months. By creating monthly themes, we create a content roadmap that guides the thought leadership content.
We know a big hurdle to creating a thought leadership strategy is the lack of time. To make the most out of limited time, our content writer meets with you once a month for 60-90 minutes. One interview can be repurposed into two blogs, up to four videos or audiograms, and social media posts.
If you need help building an effective thought leadership strategy, schedule a free discovery call with our team to learn more. From strategy to content creation to publishing, we help our clients grow brand authority. Contact our team today to learn more about how we can help.
Still Looking For Answers? We Can Help!