Sensible Social Media Checklist for Business v3.0 [INFOGRAPHIC]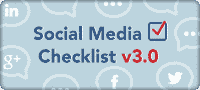 December 22, 2014
Our previous 

infographic

, The Sensible Social Media Marketing Checklist for Businesses v2.0

, was such a huge hit that we expanded and updated it to include more social media channels and a smarter strategy! Version 3.0 includes SlideShare and best practices for targeting the right audience.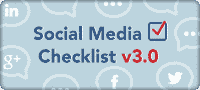 If you find yourself stumped at the prospect of using social media marketing to promote your business, our simple guide can help. Follow these easy suggestions to create a consistent social media internet marketing presence on multiple channels.
Download a printable version of this social media checklist

Next steps:
Download a Printable Version of this checklist to use as a reference.
Take your blogging to the next level with this Sensible Blogging Checklist.
Ready to start an inbound marketing campaign? Download the helpful Cooking with Inbound recipe cards.
Share this checklist with your friends & colleagues, or embed it on your own blog using the code below!