The Cost of Neglecting Your Website's Backend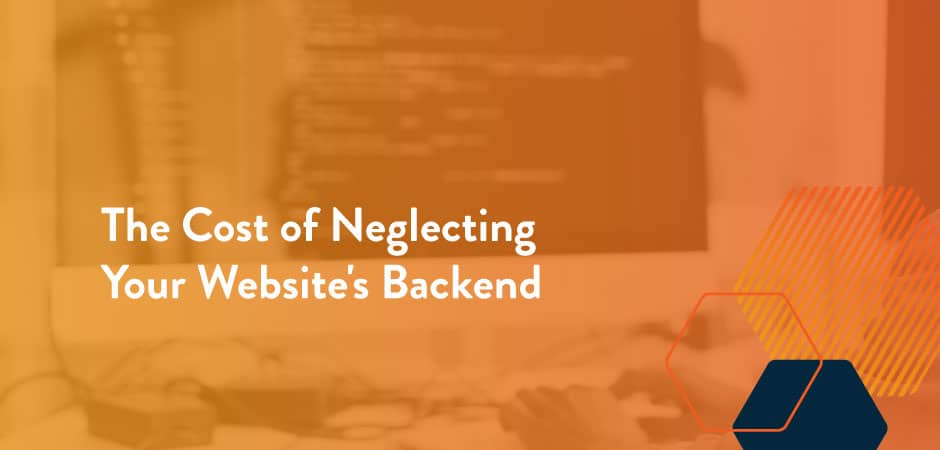 June 12, 2023
Like the backstage of a theatre, the backend of a website is where the behind-the-scenes magic happens. Similarly, it is also the last area you want your audience or potential ne'er-do-wells to interact with. This is why it's critically important to perform regular maintenance of your website's backend – it'll keep your website operating at peak performance and potential security threats stuck in the parking lot.
Before we dive into the spooky dangers of not securing your website's backend, let's quickly recap what it consists of.
Primary Elements of a Website Backend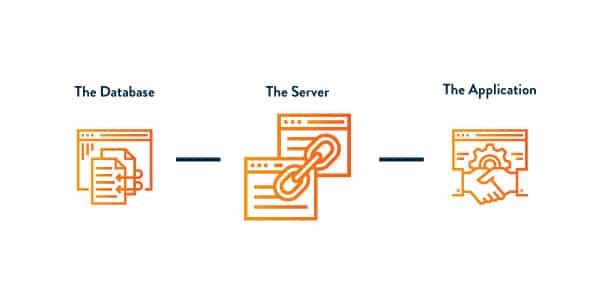 The Server
The server is the computer that connects your website to the internet and provides the computing power necessary to power your website.
The Database
All the files (and data, obviously) that make up your website are stored here.
The Application
The application is what communicates between the server and the other computers requesting data from your website.
The Negative Consequences of Neglecting Your Backend
When you avoid regular backend maintenance, your website becomes susceptible to security threats and poor performance, which can lead to potentially catastrophic consequences for your business.
Security Vulnerability
The internet is constantly shifting, and security threats evolve faster than anything else— besides maybe memes. This is why developers of backend software such as website plugins and content manager software are continuously updating and improving their security. It's an arms race, and your company's website is sitting in the middle of it.
Staying current on software security patches means safeguarding your website against the latest vulnerabilities that hackers could exploit to gain access to your website and data.
According to Statista, the average cost of a data breach in 2022 in the United States was $9.4 million, with breach costs including lost business resulting from diminished trust, detection of the breach, and breach response activities.
And according to The U.S. National Cyber Security Alliance, a non-profit organization "on a mission to create a more secure, interconnected world," 60% of small companies are unable to sustain their businesses six months after a cyber attack.
Data breaches and cyber-attacks don't just affect the company being hacked either; they can lead to issues like identity theft for customers, prospects, and employees.
These issues lead to a dramatic loss of customer trust, which can take years and years to rebuild.
Poor Search Engine Optimization
A large chunk of SEO best practices rely on content aimed at keywords, but the technical side of SEO can be equally influential. Search engines aren't just scanning for information; they're trying to find the best experience for their users. Web speed, security, and if a website is optimized for mobile devices all play a factor in how your website ranks for search engines, and all of these aspects can be impacted by how well your website's backend is maintained.
Bad User Experience
Poor SEO goes hand-in-hand with a bad user experience. Maintaining the backend of your website can help mend broken or unoptimized images, broken links, dead pages, or anything else that will cause a user to become frustrated or abandon your website.
If you rely on a website for business, having a poor user experience is the same as having a brick-and-mortar store with a dirty retail space, visitors will likely spend less time there and walk away with a poor impression of your company.
If your website doesn't suffer from an excess of broken images or pages, it'll still require continuous testing and tweaking of your backend to achieve optimum performance. Just like security threats are always evolving, so are the technology, requirements, and browsers that we use to explore the internet.
Regular maintenance is important for your mind, body, and website— especially when your website is the flagship of your business. At Hivehouse Digital, we offer a service that's sort of like the auto shop for your website: Hivehouse Care. We can manage the technical upkeep of your website so you can focus on running your business. Find out if your website is right for Hivehouse Care today.