Stop Making These 5 B2B Email Marketing Mistakes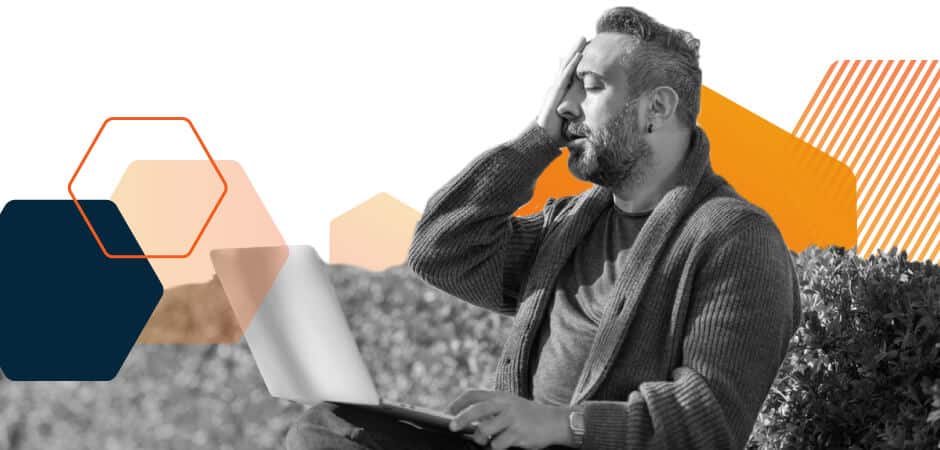 May 12, 2021
B2B email marketing campaigns are one of the best ways to nurture leads and expand your share of wallet with current customers. The problem is that not everyone is an email marketing expert. Effective email campaigns take strategy and time to execute correctly… and if you're making any or all of the mistakes below, you could be killing your B2B email campaign before you ever hit send.
1. Using Purchased Email Lists
Oh no, you DID NOT.
One of the first things we tell our clients is not to buy lists. And yet, inevitably, at some point during our engagement, they'll ask us to use a list that someone on their team purchased at a tradeshow or out of the back of some dude's van (ok, the latter never happened).
The first thing we say to the client is "No, thank you." Then we explain why.
Purchased lists are full of inaccurate and bogus email addresses and those people did not opt in to hear from you. You're a stranger in their inbox. (Incidentally, Stranger In My Inbox would make a great title for a Dateline episode.)
When people have not opted into your email communications, you're seen as SPAM by email monitoring systems. This puts you at high risk for unsubscribes and bounces, but worse than that, you could get blacklisted by your email marketing platform or in hot water under GDPR.
So why do marketers dance with the devil? They think that if even a handful of those 2,000 contacts engaged with their email that it was worth it.
We've never, ever seen this happen in real life. Engagement is always low on emails sent to purchased lists and not worth the time and effort it takes to develop an email campaign.
It takes time to build a clean, solid list of contacts who opted in to hear from you –but it's worth it in the long haul. Your campaigns will perform better, you'll stay out of trouble, and you'll have more qualified prospects in the end.
Pro Tip: Clean and segment your email marketing contact lists monthly or quarterly to ensure that your next send garners more engagement.
2. Sending Too Many Marketing Emails
This is a tricky one. Knowing how many emails to send depends on a few factors:
Who you're sending it to (your customer personas)
Their preferences/optimal send times/days
What you're sending
What they've already received from you and when
Daily sends to the same list of contacts every single day would be insane and we've never seen anyone do this because, well, it's insane.
Whereas sending daily emails to separate audiences, would be considered acceptable– and probably likely as your database grows.
To run an effective email campaign, you could require a weekly email or a bit less time in between. It really depends on the content and its relevance to the audience. For what it's worth, the best day, with the highest email open rates, is Tuesday with 17.6% for all industries.
The important thing to know here is that you send too many emails (HubSpot's limit is 11) without someone engaging (opening or clicking) then the HubSpot software will mark them as unengaged.
You don't want spray and pray email marketing. It should be strategic and answer customer pain points and be relevant to their industry/persona/department/job title.
Once you're sending emails regularly, you should track engagement and calibrate accordingly. If your engagement is good, then you should optimize based on data and stay the course. If your open and click rates are low, you may want to back off to a less frequent sending schedule.
One thing to keep in mind is that marketing emails are different from weekly subscription emails (blog feeds, newsletters, weekly tips). The frequency for subscription emails is often chosen by the recipient, so in this case, daily or weekly is ok.
Pro Tip: Sending too few emails is just as bad – List decay occurs at about 22.5% per year.  If you send emails consistently you can stay ahead of list decay. You should also find out if a key prospect on your list has changed their email address before you lose them.
3. Sending Poorly Designed or Poorly Written Emails
Now that you have a clean, responsibly-sourced (you'd think we were talking about salmon) contact list, you'll need to send an email that was designed and written to represent your brand properly and communicate your message clearly.
13 Things to Avoid in Email Marketing
Extremely vague subject lines
No personalization in the email greeting
Overwhelming or too many graphics
More than three typefaces
Email design exceeds 500-650 pixels wide
More than one call-to-action (CTA)
Not opening quickly with your main message
Email that exceeds more than two short paragraphs
Excessive use of exclamation points (calm down)
Content with typos (use the Grammarly app!)
Using a No-Reply sender's email address
Not considering mobile-friendly design
Just to clarify #9 up there – there are cases where longer emails (company newsletters for example) make sense. Marketing emails within a campaign should be kept to 2 paragraphs.
Pro Tip: Don't write SPAMMY emails – Does your subject line or the content of your email scream SPAM? Is your email copy tackier than a Vegas wedding? Do you frequently abuse the word "free"? Use a tool like https://www.mail–tester.com/ to see how SPAMMY you are.
4. Not Having Dedicated Landing Pages
You're not sending emails for emails' sake – your email is supposed to ask your receiver to watch something/do something/go somewhere/read something.
So it's very important to have dedicated landing pages that are contextually relevant to the content in your email.
For example, if you'd like a recipient to register for a conference, you will need a dedicated conference page set up with all of the relevant information, including a registration form.
Or, if you're asking someone to watch a video, send them to your optimized YouTube page or a landing page with clear next steps.
Pro Tip: Video is highly engaging content with statistically high conversion rates. Now is the time to start using video in your digital marketing. Check this out to see how you can do video marketing on a budget.
The beauty of having landing pages or social media pages is that we can track your recipients' behavior and see if they converted.
This brings us to the next mistake…
5. Not Measuring or Optimizing Your Email Campaign Performance
The key to improving your campaign performance is looking at the following metrics and making data-driven decisions based on what the numbers are telling you.
Open rates (OR) will help you refine:

Send date and time
Sender email address and name (sending from an individual is ideal)
Subject Line
Preview Text

Click-through-rates (CTR) will help you refine:

Voice and tone
Content relevance
Personalization tokens
CTA language, color, and placement
Imagery vs plain text email formatting
List segmentation

Click-to-open (COTR), which is a combination of the two above and a better indicator of the overall performance of the email, will help you refine:

All of the above components above
Among the many variables including those mentioned that will impact the KPIs are the send date and send time. Consider your recipients' time zones and use smart send (a feature available with HubSpot) to schedule accordingly. Or bookmark this helpful article to identify what days and times are best based on your target audience's location.
A/B Test Your Marketing Emails
You can improve all of these KPIs with testing and optimization. For example, get familiar with open rates for your industry – what's the benchmark?
Next, do some A/B testing to figure out your winning subject lines and try to replicate those in length, voice/tone, and clarity. Maybe try using a fun emoji (although stay appropriate) or personalization tokens and see if that catches people's attention and increases open rates.
For click-through rates, it's the same. Check your engagement, then run tests with your CTA in different locations or try a different color for the button. You can also test plain text emails vs. graphically- focused, or simply just adjust the flow of the email for better engagement.
The good news for many of our clients is that people in their industries are engaging with marketing emails.
According to a recent study by Campaign Monitor:
"Last year (2019), Construction, Contracting, and Manufacturing was an industry that didn't even make it to top three for best click-through rates. This year, it holds the top place."
Pro Tip: When you A/B test your emails, it is important to focus on one or two main things. Too many variations between the emails you are comparing mean you won't have a clear picture of what worked. You'll also want to be sure that you have a decent sample size. HubSpot recommends a send list of at least 1,000 contacts.
Pulling A Successful B2B Marketing Campaign Together
Becoming an email marketing pro takes time and quite honestly – a village. On our team, we have a visual designer, copywriter, and multiple inbound specialists who collaborate together to conceptualize, design, write, optimize and report on our B2B email campaigns. All of this wizardry synthesizes inside the HubSpot platform, which allows us to move faster and measure our performance along the way. In other words, if you're struggling alone at your desk using Constant Contact, and need to build a legit list of contacts, we're here for you.
We can coach you on best practices and get you set up for success. Schedule a free 30-minute consultation about working with our team.
Still Looking For Answers? We Can Help!
We believe in the power of email and we believe in you!*
Just remember this one last Pro Tip: Inbound marketing is a customer-focused, two-way communication. It is permission-based, with the goal of providing personalized, helpful content that matches your customers' needs. It is empathetic, and your email should be too.
*Only one exclamation point was used in the making of this blog post.