4 B2B Newsletter Examples That Are Killing It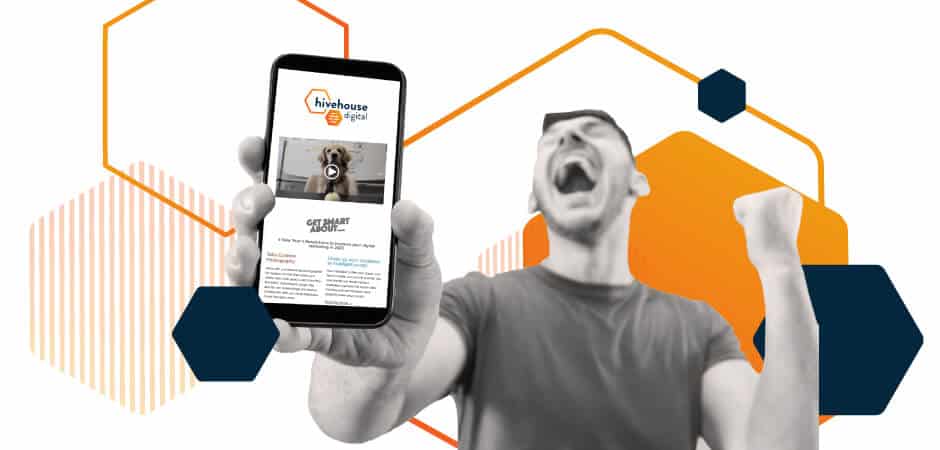 May 27, 2020
Remember that old newsletter you grabbed when leaving a church or a PTA meeting? Everyone had a paper newsletter back in the day. They were great for sharing everything from upcoming events to beef stroganoff recipes.
Mmmmmm…stroganoff.
That old-fashioned-beef-stroganoff newsletter is long gone and in its place is a digital upgrade that still delivers quite a punch, minus the paper cuts. Here are a few examples of high-performing B2B newsletters that have been directly linked to influencing sales and delighting customers and employees alike.
Company Newsletter #1:
HOH – "Where Water Works"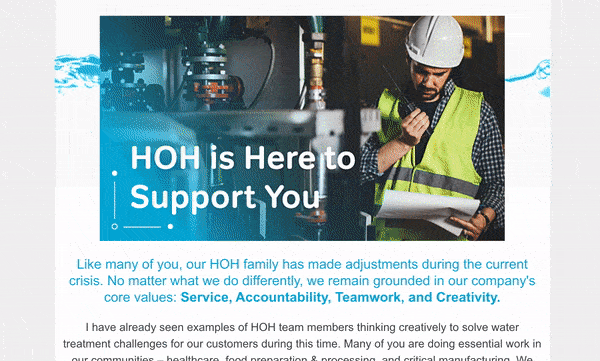 This was their first B2B newsletter! Congrats! Right now, it's going out to their entire database including employees. The goal is to drive traffic to their website and promote their upcoming events.
What it's doing right
Great opening letter from their President/CEO
Using animation & custom photography to help drive interest
That is a sexy design for a newsletter if we do say so
Things we learned
This is a new newsletter, so we're still learning what this audience likes
We'll likely optimize for better engagement based on performance data
We may think about using less content and instead tease the reader to click to learn more
Company Newsletter #2:
Optimas – "Efficiency Up"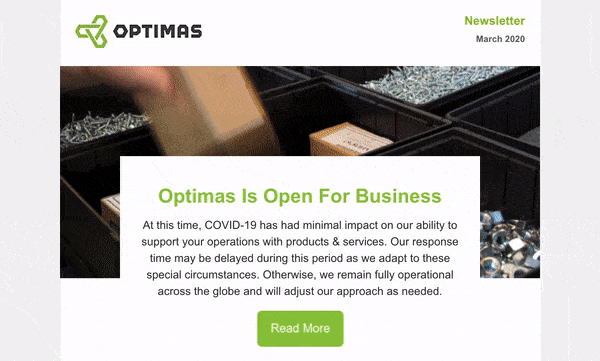 The quarterly newsletter is meant to share company headlines and news. The goal here was to stay in front of customers, newsletter subscribers, and employees and to keep in touch.
What it's doing right
It's always on-brand – meaning, it has the same familiar voice and tone each time.
Sharing original content like blog articles helps with thought leadership
Showing company culture by recognizing and celebrating their employees.
Things we learned
Providing industry insights shows that they're listening and paying attention to their clients' pain points
Employees are delighted when they are recognized
Company Newsletter #3:
Total Security Solutions -"The Bullet Point"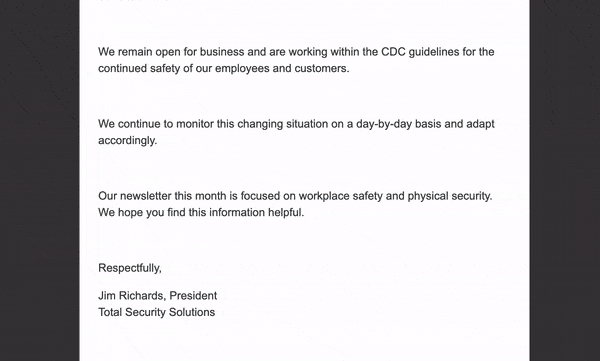 This newsletter was developed as a way for Total Security Solutions to stay in front of the contacts in their database –especially those that had not identified themselves as any specific persona. It was sent out every other month and contained a brief introduction from their CEO, Jim Richards, followed by several of the latest articles from their blog.
The idea was to provide timely, relevant content that would appeal to anyone interested in physical security in order to generate leads.
What it's doing right:
Using video to help drive engagement
A personal message from CEO that positions them as thought leaders
Being sensitive to things happening in the world right now
Things we learned
Performance data showed that the videos were the most clicked on items and that we should move them to the top.
The importance of a good subject line. Many of our subject lines got upwards of 24% open rates, which is great.
Company Newsletter #4:
The Whole Brain Group – "Brain Candy"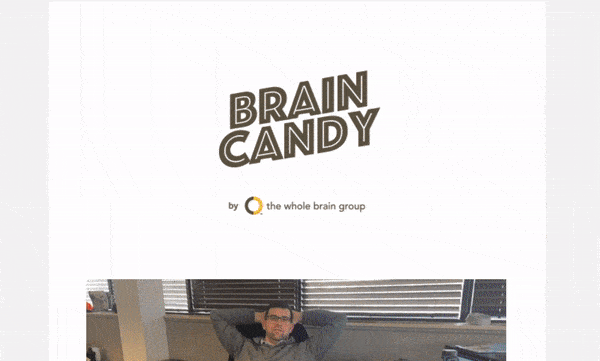 Well, we might be a bit biased on this one. But our newsletter has helped us stand out, delight our customers, land a little extra work. That's a pretty hard-working newsletter, don't you think?
It comes from our team, once a quarter, and is a bit of 'kitchen sink' – meaning, we share marketing tips, we showcase our work and promote special offers for our services to customers and prospects.
What it's doing right
Design is engaging
The content is fun & on-brand
Highlights our company culture
Provides insights and helpful tips
Things we learned
Our clients appreciate seeing the work we are doing for other clients – They see more of what we can do for them. Sometimes they see it and ask "hey, can we also do that?".
Our blogs are just as much for customer delight as they are for SEO and lead generation.
How To Make An Effective B2B Newsletter
Here are a few quick tips to help you launch your company newsletter. Remember, if you're stuck on what kind of content to provide, the easiest thing to do is to source your blog articles or any content you've already created and treat your newsletter as a 'round-up' for those things.
Tips For Newsletter Subject Line & Copywriting
You can put together an amazing newsletter, but if nobody opens it, you've wasted your time. Write an engaging subject line that is both brief and leaves a little mystery. Try for 3-5 words, use verbs! Also try using emojis if that's on-brand for you.
It's best to keep your copy short and sweet. Instead of delivering a CVS receipt of text, ask your readers to click off to read more about a particular subject or topic. Just tease to the external content and send them to your landing pages, website, social media platforms, etc. Provide clear call-to-action buttons for them to click-through.
Tips For B2B Newsletter Design
First, start with a clean and organized layout. A one-column layout will render well on mobile, which nowadays is how most of your visitors will see your newsletter. If you're using two columns, make sure your imagery and copy stack appropriately on the mobile view.
Next, your newsletter should be easy to scan, so make sure you create a visual hierarchy by using headings and subheadings.
Most importantly, a B2B newsletter showcases engaging imagery (but not too much) to get the reader's attention. Your images should be compartmentalized with your text to achieve that clean layout we mentioned earlier. And whenever possible, try to use videos/gifs to create greater interest and engagement!
Tips For Sending Your Newsletter
Before you hit send, remember your audience. They're likely inundated with other emails and newsletters from various places.
We recommend starting out with a quarterly newsletter and measuring your engagement as you go.
If you're just getting started with your newsletter, you won't have any benchmark data. So we recommend following HubSpot's advice to do a Tuesday send between 8 am -9:30 am for best open rates or a Thursday send between 8 am – 9:30 am for best click-through rates for the 9-5 B2B crowd.
Once you have some data for open rates and click-through rates, you can adjust your frequency and send times.
Get Started With A B2B Newsletter Template
Thousands of companies are using newsletters as a low-effort, high-reward way to stay in front of customers and prospects. Are you one of them? If not, contact us for help. We can design a newsletter template and so you can get off the sidelines and into those inboxes to engage with your customers and employees.