5 Steps to Building a Supremely Successful B2B Webinar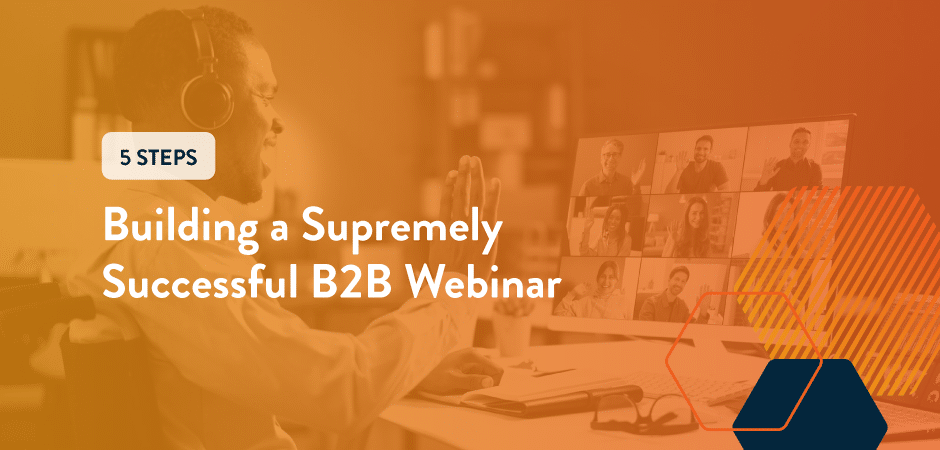 January 10, 2023
Online webinars have been having a moment. Ever since a certain pandemic ignited the adoption of remote work, you're more likely to encounter a webinar than an actual, in-person seminar. Sure, seminars were great for an abundance of free donuts, coffee, and uncomfortable seating arrangements (they always had that one kind of chair), but a B2B webinar can accomplish the same primary purpose as a seminar which is educating an audience on a topic.
If you're reading this, you either have an idea for a B2B webinar topic or think it might be a good way to interact with customers or leads. Sometimes webinars happen organically – someone at your business comes up with a brilliant idea that's best communicated via a live session with a live audience. Other times, a webinar might be the best way to reach an audience that isn't responding to blogs, videos on demand, or other content.
Determining why you want to build a webinar is the first step. Are you positioning your company as a thought leader in the industry? Are you trying to create hype around a product or event? Maybe you're hoping to better educate your customers about one of your products.
A big reason why webinars are so successful is that they are inherently scarce. A blog like this, you can read whenever, a YouTube video – well, you'll watch that at some point. But a webinar is happening RIGHT NOW. Capitalizing on scarcity is a pretty effective type of marketing; it's why everyone in my high school paid so much for Air Jordan Spizikes.
Another benefit of webinars is that they give your audience a glimpse into the personal side of your business. They get to see the people behind the company and interact with them. This humanizes your brand, making customers more likely to stick around. Plus, most webinars end with a Q&A session, which can't be executed as effectively in other mediums.
Brainstorm Webinar Topics
Alright, you get it; webinars are great. So, where to start when building one?
If you already have an idea for your webinar – awesome! Go ahead and skip this step, which is to sit down and brainstorm topics. Need some inspiration? Here are a few ways to start finding topics that will resonate with your audience:
Review past content – look at what sort of content your company has created before. Does it look like it might spark a discussion or work better in a webinar format?
Look at what's trending in your industry – a live webinar is a great way to talk about what's going on in your industry at the moment. If you're a professional services company, such as an accounting firm, you could provide guidance on tax changes or upcoming legislation that may impact your customers.
Talk to your sales team – your sales team will likely have the best handle on what problems your customers need the most help solving or what topics come up the most frequently.
Outline Your Webinar
Okay, you have a general idea of what your webinar will be about. Now it's time to expand by creating an outline. Start with the 3 – 5 main points you want to address. You'll want to structure your points in a way that creates a natural narrative and doesn't trail too far off your initial topic. Good webinars are focused and tight; you don't want too much fat on a steak. The meat of your content depends on the webinar you are building, though.
Gathering supporting information is critical if you are creating a webinar with the goal of thought leadership. It can either reinforce your initial topic or theory or provide data that inspires an entirely new subject.
If your webinar is something internal-based, like a product demonstration, it's important to talk to your sales or product team to find out if they can assist you in developing your webinar outline.
Regardless of the type of content, in almost all cases, you'll want to include a call to action at the end of your webinar.
A call to action is what you want your webinar audience to do after the webinar has concluded. If your webinar is helping the audience solve a problem, your call to action should be the next logical step toward solving said problem.
Let's say, for example, you work for a video software company, and you're building a webinar about how to build a webinar. Webinar-ception. One possibility for your call to action could be a link connecting the audience to your product team to provide further assistance. Or it could be a downloadable guide about the 7 Mistakes to Avoid When Building a Webinar.
Whatever you decide to make your call to action, it's important to think about it early in the webinar-building process, as your webinar content should be building towards a call to action that makes sense based on the subject matter. You'll need time to build said content if you plan on offering additional content as a call to action. Or if you're funneling attendees toward the sales team, you'll need to go through the proper channels to get the all-clear. Your call to action can be delivered in a wide variety of mediums, but its primary goal should be to move prospects further down the marketing or sales funnel.
As you craft your outline, you should consider whether you'll be flying solo or enlisting the help of others. At Hivehouse, we typically conduct webinars with 2 – 3 people. This includes a pair of hosts and someone behind the scenes to moderate Q&A discussions and keep an eye on the technical side of things.
If you need additional help, include where your co-host or moderator should hop in within your outline.
Webinar Presentation Design
Now it's time to transpose your outline into a presentation deck. Most of your content should be placed in the speaker notes section, and the visible slides should be kept succinct to keep the audience engaged and focused.
You also don't want to be that guy. You know, the presenter who is droning on, reading directly line by line from the slides. Effective webinars should feel organic, and the presenter should be familiar with the content.
Once your content is placed into the webinar deck, practice a few trial runs of the presentation to ensure the content flows well and is in a logical order. This will also allow you to identify areas where graphics can help tell your story.
Once you're confident in the structure of your webinar and have some ideas for the graphic design, you can begin fleshing out the visual design elements. Most presentation software has pre-built designs, but if you have an in-house graphic designer, be sure to utilize them (or if you need one, we do that!). Custom design can boost professionalism, keep your webinar engaging, and take some of the burdens off of the main presenter.
Webinar Promotion
Now that you've built a presentation to be proud of, it's time to get the word out. If you haven't already, identify the date you're going live. Research to make sure there aren't any conflicting events or to find some complementary events. Make sure you're giving yourself and your team enough time to finish building your webinar.
At Hivehouse, one of the first steps we recommend to promote your webinar successfully is to build a landing page to give interested parties a place to register. A landing page will provide a URL that can be inserted into your webinar's digital promotion tactics, such as emails and social media posts. It may even help your webinar turn up in organic searches.
Some webinar tools, like ON24, come pre-loaded with customizable landing pages. If you're using a webinar app that doesn't come with built-in landing pages, you can use a third-party landing page builder such as Unbounce.com.
As a HubSpot Partner, we build our webinar landing pages directly in HubSpot. HubSpot makes designing landing pages simple and tracks valuable marketing data in the backend.
Designing landing pages is another marketing animal we could nerd out about, but for webinars, it's best to keep it simple. Be sure to include the following:
Company branding
The who/what/when/why of your webinar
A registration form
Think of your landing page as your digital marketing webinar home base. It's where you'll want to direct all of your traffic when you begin building your webinar marketing plan.
There are quite a few avenues for you to take when promoting your webinar, so identify which makes the most sense for your webinar, company, and industry. Here are some of our favorite tactics when building hype for our webinars at Hivehouse:
Social media campaigns
Pop-up registration on the company website
Creating social media events
Create a spreadsheet to organize and schedule your marketing plans, be sure to create a schedule that ramps up as the webinar date draws closer and provides reminder emails for registrants. Creating a cohesive marketing plan alongside your webinar is integral to making your audience feel like they're getting a comprehensive and compelling experience.
Whatever tactics you choose will determine what type of graphics you need to create. As you design your landing page, take some time to build accompanying graphics. This will help make sure your marketing materials have a consistent look and feel.
Outside of traditional digital marketing channels, there are quite a few websites where you can post info about your webinar.
Add the Finishing Touches
Your presentation is built, and your marketing plan is humming along. Now it's time to prepare for your live webinar. Start by grabbing your co-host, testing your webinar app, and practicing a few trial runs. Ask your most inquisitive co-workers to join in so they can test the question and comments functionality while you practice. Don't forget to make sure your webinar tool is set to record, so you can share and review to find areas of improvement.
After your webinar is complete (we know it just went swimmingly because you're using this guide), we recommend following up with attendees via email to thank them for attending. Also, include a link or download of the recorded webinar. But be sure to clean up the video with light editing, if necessary, and company branding.
Another Tool in the Marketing Toolbelt
Creating your first webinar can be daunting, but all of your tireless work will seem worth it when you finally see a few registrations float into your inbox. Remember, like all digital marketing endeavors, your primary goal should be creating the best content possible. Awesome content is more likely to keep your audience engaged and thus make them more likely to do business with you.
While it's impossible to capture every tiny detail of building a webinar in a single blog post, we hope that you're one (or a few) steps closer to building a webinar that'll keep your target audience happy and make your brand feel a little bit more alive.
Still Looking For Answers? We Can Help!