10 Golden Rules for Building Organic Links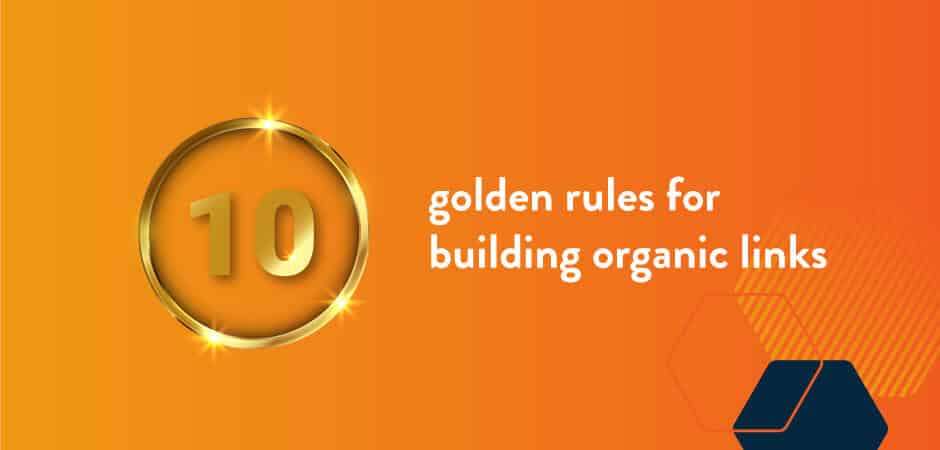 October 27, 2020
Our friend, Daniel Martin, is guest blogging this week. He is the Head of Customer Success at LinkDoctor.io, where he applies his international team-building experience to assist in solving his client's challenges. Daniel also enjoys photography and playing the carrom board.
Organic links are the golden eggs that every website should aim for. To put it simply, these are links that you don't ask a website to give you. They'll link back to you naturally because of the quality of your site and your content. Building organic links have the same principles of inbound marketing. You need to attract sites and visitors to your site using different techniques. You can do this without the need to approach them and say, "Hey! I got good stuff and you should check it out!"
Organic link building will help a website's search engine visibility. And when this happens, you'll have more visitors to your site who can become potential clients. This is a good investment of your time and effort in the long run.
For outbound marketing, you can go for companies that offer blogger outreach services to know what they can do for your business. You can also hire a team of your own.
If you're more focused on inbound marketing, here are the 10 golden rules for building organic links that you should know.
Rule #1: Create Evergreen Content Focusing on E-A-T
No, this rule will not force you to become a vegetarian. Evergreen content is a blog post, media file, or anything that you publish that will never get out of fashion. It's like The Beatles of web content.
Posting up-to-date and relevant content depending on the trends is one thing you can do. But, evergreen content will always be relevant. The chances of building organic links over time are high.
You should also focus on creating E-A-T content. These are content that exhibits expertise, authoritativeness, and trustworthiness. If you're not an expert in your field, readers and other sites will have a difficult time trusting you.
Also, it's not only about written content. You should also give importance to infographics, videos, and other media files.
Creating evergreen content is also a great content marketing strategy to attract sites to link back to you.
Rule #2: Make Sure Media Files are Flawless and Catchy
People love eye-catching videos and images. These will solidify your content making it more appealing. They're easier to understand and quicker to view compared to reading written content.
Make sure that you publish high-quality images and videos, especially when featuring products. Allotting time and resources for this will make your content look professionally-made.
When you have these on your site, you can repurpose them for social media marketing, video marketing, or podcast content.
Rule #3: Identify Your Target Market by Doing In-Depth Research
"What does my target market want and need?"
Know your target readers and clients to know what they want and need. Understand how they are thinking and create content around it.
For companies in the manufacturing industries, you'll have to understand your ideal clients to develop the right content on your site.
You need to know what they want to know. Usually, topics that can solve problems will be the most read content. You only need to know what your reader's problems are to know what kind of content to provide.
You can use different keyword tools such as Google AdWord and Ahrefs Keyword Explorer. There are also tools like Answer the Public and Quora which you can use to get information on what people want to know.
Rule #4: Offer Free Tools or Discounted Services
Another thing that people love is free things! Don't deny that you haven't gone through the food samples in Costco at least twice in one visit.
Offering free tools or at least discounted services will build your image as a helpful site. It's also a great way to give your potential clients a sneak peek of the products and services you offer.
Other sites also want what's best for their audience. That's why you would end up with some sweet organic links from these websites.
Rule #5: Create an Amazing UI/UX Design for Your Site
If you want your visitors to have a wonderful time, you have to make your home accommodating. Your website's UI (user interface) and UX (user experience) design will make this possible.
A site that's difficult to navigate through and looks sketchy will be difficult to trust. The probability of getting organic links is also lower.
You'll also drive away a potential client. It doesn't matter if you provide the best service and products. A negative first impression will shoo them away.
You can hire services to improve your web design or build an in-house team for this. The important thing is to have one goal in mind—give the best experience for your target market.
Rule #6: Use the Power of Social Media
The number of people on social media continues to increase every year. You would want to take advantage of this.
Did you know that the United Nations IFAD has a TikTok account with over 14 thousand followers? With the right tools and social media marketing knowledge, you can go viral on TikTok or any other social media platform.
You'll get the right exposure for your brand and increase your trustworthiness. The more people who know who you are, the bigger chances of getting organic links.
Pro Tip: Learn how to work with a marketing agency to build your social media presence.
Rule #7: Lay Out Facts, Studies, and Research Results
You should include factual evidence to every claim you have in your content. If you have the means to create case studies, you should publish this on your site as well.
For example, if you claim that rainbow-colored grapes exist. You need evidence about it.  Present images and other information to prove your statement.
Publishing content with no evidence will put a label on your head as not reliable. This also lowers the chances of you getting organic links.
Rule #8: Have a Press Kit Ready
Say that you've come up with an amazing and innovative product that can change the world. High-authority sites will most likely want to cover your new product and story.
When this happens, you'll want a press kit ready. This is one of the press coverage strategies you'll want to pursue. You won't need to reach out to journalists and news sites.
Your content marketing method plus a press kit will be a great way to get organic links. Of course, you'll have to consider other factors. When nothing is newsworthy about you and your company, this will only be a waste of resources.
Rule #9: Be Consistent with your Content
Consistency is another key to get organic links. Don't say one thing and then express an opposite opinion in one of your blogs after a few weeks or months. You may get some organic links for both parties that have opposite opinions.
But this will end up with your site being an unreliable source in the future. You may lose the links you've earned before. There are so many things that can happen. That's why you must stay true to your missions and visions to create consistent content.
Rule #10: Publish Roundup Posts
There are many kinds of roundup posts: link, content, expert, and others. You'll have to choose the kind of roundup post that will benefit your site and business the most.
For example, you're a business that provides press release services. You may want to create an expert roundup post. You can include high-authority names to answer questions and publish them.
Since they are featured in your post, most, if not all, will link back to you. You'll also get some great backup opinions that will promote your service or products.
Key Takeaways to Building Organic Links
Organic links are hard to get especially for startup companies and websites. But starting right will have fruitful results in the long run.
You have to earn these by providing amazing content that's helpful and valuable to your audience. You can pursue other link building strategies. Still, the best links are the ones that you get naturally.
Still Looking For Answers? We Can Help!