Get Your Sales Team To Embrace Digital Marketing: 3 Easy Steps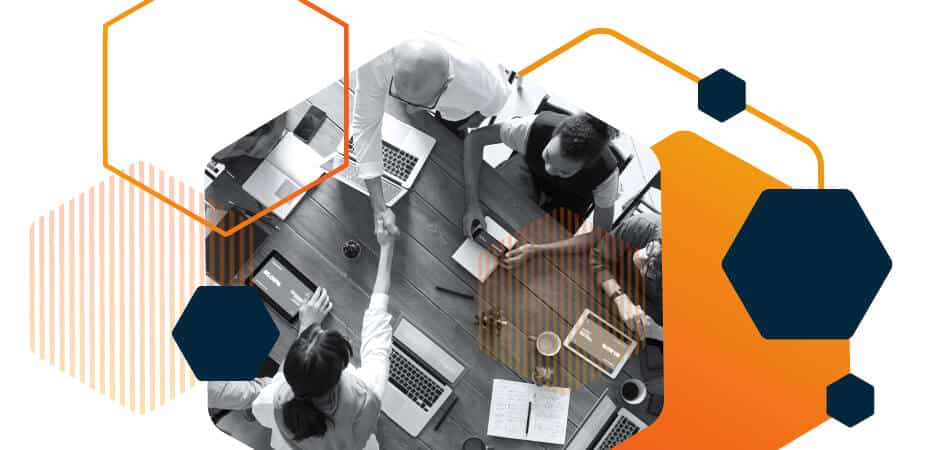 December 8, 2020
When sales and marketing teams work together it's a beautiful thing. There's collaboration, accountability, and hopefully – more revenue generated. It's not always a lovefest though. Sometimes sales and marketing are at odds about what it's going to take to generate the visitors and leads needed to grow that revenue. Enter: digital marketing. Strong digital marketing programs increase your lead intelligence, improve lead quality, and accelerate sales velocity to help you close more business – especially during a time when in-person sales meetings are less frequent.
The problem? Your busy sales team doesn't want to slow down long enough to learn about – let alone invest in – your digital marketing efforts.
Marketers, you need to learn the art of seduction. We're gonna show you how to make sweet, sweet l -er – how to get your sales team bought into your digital marketing program and work with you so you can make magic happen.
3 Ways To Get Your Sales Team Aligned With Your Marketing Team
There are plenty of ways to kumbaya with your sales team but we're here to recommend some things that we've actually seen work and are less likely to end with a restraining order.
1 Listen & Build Trust
Meet with your sales team (briefly, they would rather be out selling) and ask them what they're struggling with on a day-to-day basis. Learn their quarterly/monthly goals. Figure out what is getting in the way of meeting those goals.
Really listen to them because they understand your customers much better than anyone in the organization. They're the ones hearing the frequently asked questions, getting the suggestions for new products, and generally understanding what makes your customers tick.
As a matter of fact, you may want to work with them to develop an Ideal Customer Profile (ICP) and corresponding customer personas in an effort to create more personalized digital content. Your sales team is more likely to get excited about being involved if they see an end-game. Make sure that you show them how the ICP and personas can inform a great eBook or Case Study that would be used to nurture your incoming leads.
2 Work The Numbers & Offer Solutions
The quickest way to get the attention of your sales team is to show them the numbers needed to reach their goals. For example, if they need to close 20 new customers this month, you'll need X new leads, which means generating X amount of website visits/forms submissions.
Once you have that math in place, let them know that you'll be coming up with strategies to make those numbers happen. Whether it's a lead generation strategy that involves PPC or social media re-marketing ads, or a link-building program that involves SEO research and on-page optimization to rank higher in search results – show them that you are solutions-focused, just like them.
3 Hold Everyone Accountable
Once you've built trust by asking for their pain points, proposing some solutions, and showing them what kind of numbers you need to generate – close them by asking for their help.
Consider drafting a Service Level Agreement (SLA) that holds both sides accountable to an agreed-upon set of goals and metrics. This will keep everyone clear on what's expected and provide greater transparency into where things are going right and wrong.
If Loving Sales Is Wrong, We Don't Want To Be Right
We happen to love working with sales teams. We love their energy, their drive, and their opinions! We just want to help, and if we can get them to open up to us, we can learn better ways to do that.
For example, we were asked by a client to think about ways to raise their visibility in places where their customers might be hanging out online.
We determined that LinkedIn was very important for this customer and that if we could get their sales team trained to use LinkedIn properly that they could not only raise their profile but engage in thought leadership and promote their marketing content at the same time.
We gathered their 60+ person sales team on Zoom and walked them through how to update their LinkedIn profiles (with branded artwork no less) and share digital marketing content to help educate their connections on the services they offered.
LinkedIn is an exceptionally important tool for any B2B sales team and this team recognized that after meeting with us. What were the results of our little workshop and their efforts to engage regularly with corporate content? Their company LinkedIn page blew up:
353% increase in Interactions
66% increase in Clicks
424% increase in Shares
138% increase in Impressions
66% increase in Sessions
300% increase in New Contacts
How does this translate to sales? Well, the increased engagement on their LinkedIn helped increase website traffic and increased blog views by 73% – and that in turn helped drive leads generated from form submissions on key blogs.
Make Their Lives Easier With Digital Marketing
Remember to respect their time and remember that your job is to look for ways to make their lives easier. This includes serving up piping hot, thoroughly-nurtured leads that are well-educated about your products and services because they engaged with your digital marketing efforts (including PPC ads, blogs, social media, landing pages, and email marketing) long before your salesperson picked up the phone to close the deal.
Use HubSpot To Automate Everything
While there are many digital marketing software platforms to choose from, we recommend using HubSpot to automate your marketing efforts. With HubSpot, you can create, schedule, and track everything from one place. You can also use the HubSpot CRM tools like lead scoring to understand lead quality and behavior including who is work your time and who isn't. There are also lifecycle stages to help your team understand where a specific database contact is in your sales funnel as well as learn more about the handoff between marketing and sales. If you need help getting started read this blog.
Need help putting together a marketing strategy to increase sales? Get on our calendar!