Earned, Paid & Owned Media For B2B Marketing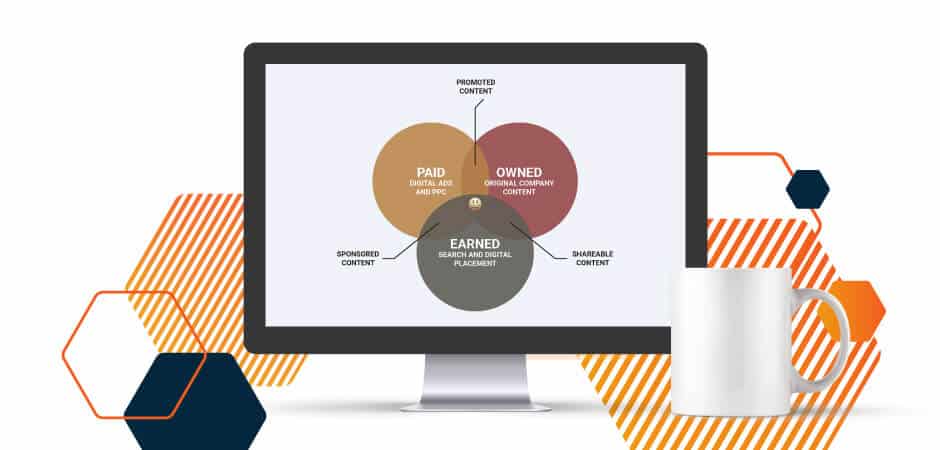 October 7, 2020
If you're a marketer for a growing B2B company and are using digital content as part of your marketing efforts, first all, kudos to you! Digital content is crucial for SEO, lead gen, and client education. Creating your content takes considerable time and resources, so it's important to be organized. In this blog, we'll look at a simple framework –earned, paid, and owned media –that will help you to build a digital marketing strategy that reaches your ideal customers.
First…a Venn diagram…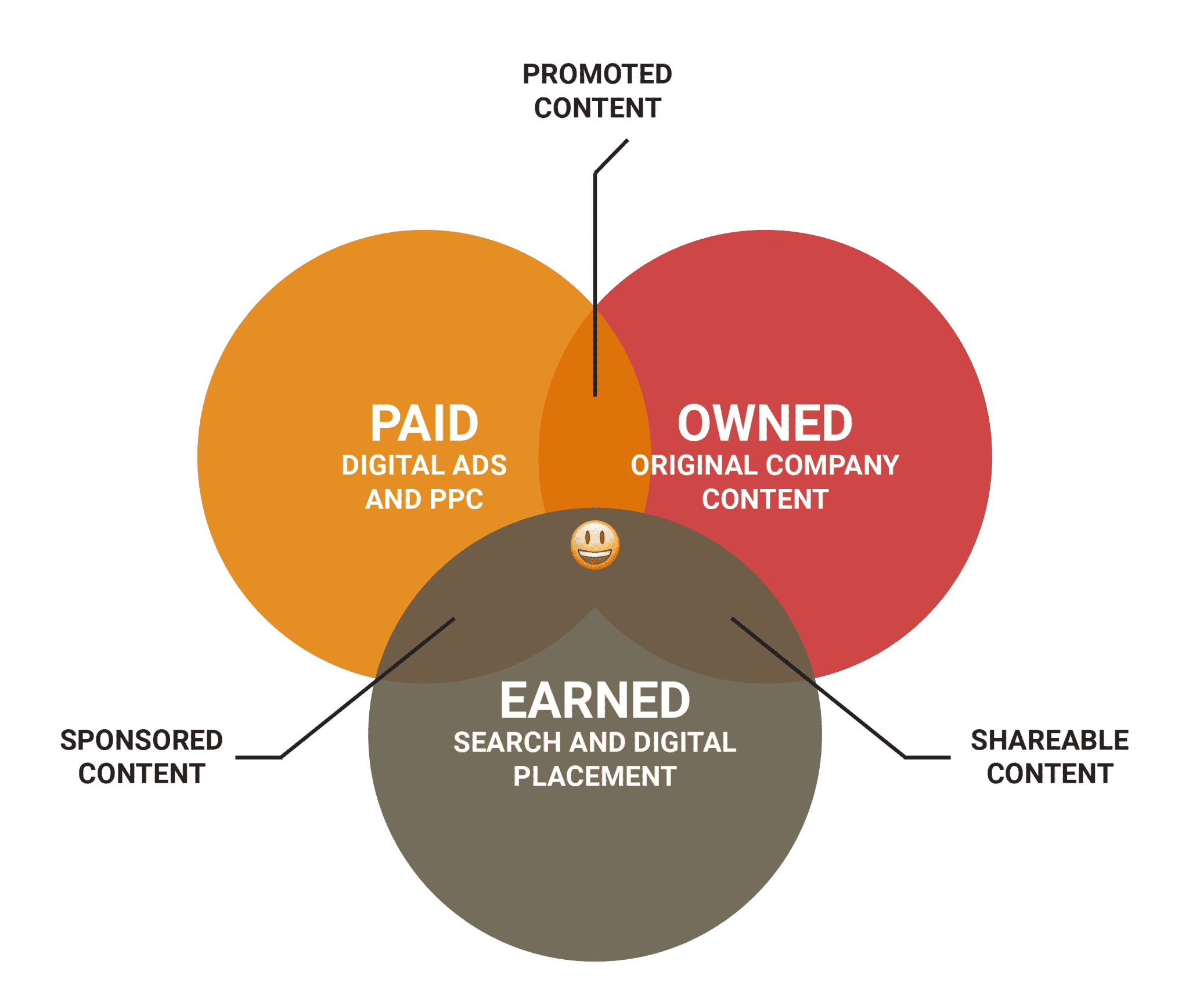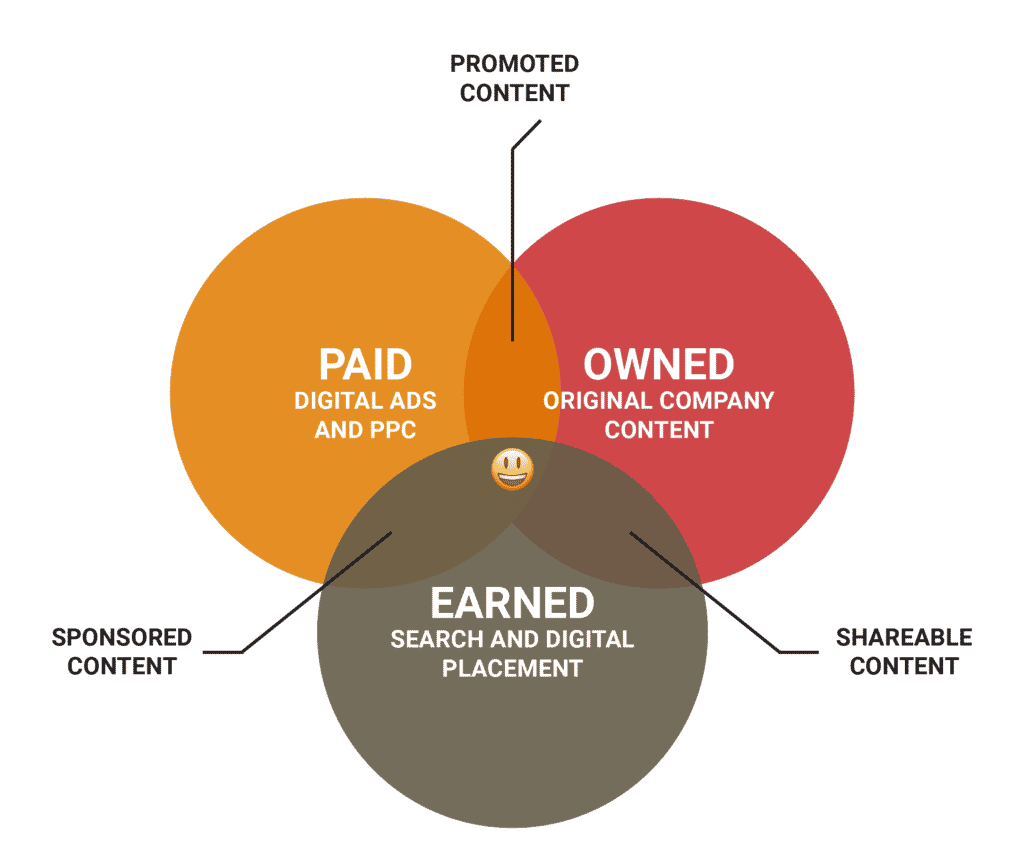 What Are Earned, Paid, And Owned Media?
As we enter 2021, having an understanding of each type of media is critical to developing a well-rounded marketing strategy. Here's a simple definition of each type of media with advice on how to use them within your strategy.
1. Earned Media
Earned media is essentially free publicity. It's when someone voluntarily shares news or information about your brand.
Examples of earned media:
SEO rankings
Press coverage
awards earned
backlinks
How To Use Earned Media
Earned media is necessary to boost your brand credibility online.
Do some research on industry websites that have a high viewership by your ideal customers/prospects and reach out to the owners of those websites to ask for guest blogging opportunities or to link back to your own site/blog. You can also work on your SEO rankings by doing keyword research and then writing some keyword-rich blog posts.
Pro Tip: We encourage our clients to seek out Google reviews from their existing customers.
2. Paid Media
Paid media is what people typically think of as traditional advertising. It involves a monetary transaction where you pay a third party to promote your content to reach your desired audience.
Examples include:
Print ads
TV & radio spots
Digital banner ads
PPC
Boosted social posts
How To Use Paid Media
Paid media is absolutely necessary if your goal is to drive more traffic to your website. This could mean taking one of your product videos and running a paid YouTube campaign.
You can track paid media's effectiveness by looking at metrics like views, clicks, and conversions.
Pro Tip: We recommend running your paid campaigns (such as PPC) for at least 4 months to see results. Remember, if you stop paying for it, its effectiveness decreases.
3. Owned Media
Owned media is original content that you create yourself (or that a freelancer or agency creates on your behalf). It can include things like downloads (eBooks, case studies, white papers, web content) blogs, podcasts, press releases, print, and digital collateral, newsletters, and photographic or designed images. In the past, marketers had put social media in this category, but see Shared Media below –it's now it's own thing.
How To Use Owned Media
Owned media is the foundation for your content marketing strategy as it serves to help educate your prospects by answering their pain points and questions. This is the media over which you have the most control.
Use owned media to create everything you need to move prospects down the funnel and to communicate with customers about special offers or sneak previews.
Pro Tip: Organize your owned media into an online resource library that puts everything right at visitors' fingertips.
BONUS: Shared Media
It's a bit fluid by definition right now, but the current understanding of shared media is that it's shared between multiple owners across multiple social platforms. This is the media over which you have the least control.
Shared media could include all of your social media platforms such as Facebook, Twitter, LinkedIn, YouTube, Pinterest, and Instagram.
What does this look like in real life? It could be you sharing content on your social channels and then a fan of your page shares it with their own comment/introduction to it. This can go well, as in the case of someone sharing a fun video of a recent company event that they attended.
But it can go badly too. Think of someone sharing an unflattering meme of your brand or your product.
How To Use Shared Media
The more active and responsive you are on social media the better. This will allow you to keep a close eye out for fans and for troll trouble.
Social media is also a great place to promote your owned media content to prospect and customers as well as an appropriate place to showcase your company culture to attract ideal job candidates by giving them a glimpse of what it's like inside your company.
Pro Tip: We recommend that you develop a social media strategy first, and then utilize a marketing automation tool to schedule, track, and manage your social media posts.
Planning Your Digital Marketing Strategy
A well-rounded digital marketing strategy uses tactics from Earned, Paid, and Owned (and Shared!) media. Just like in the Venn diagram, all four media types should easily intersect. For example:
Your blog post (owned media) can be backlinked to an outside website (earned media) and advertised on banner ads (paid media).
You could Co-host a webinar with content owned by a partner company which then becomes earned media for you.
You can write a press release (owned media) that is then promoted through paid media which ultimately gets picked up by someone else and shared as part of their blog post –now you've got some earned media as well.
The key is to leverage all of them and interconnect them smartly for maximum exposure. As we move into 2021, you'll likely see more companies continuing to prioritize their owned and shared media and then combining all four forms of media in their strategies.
As we head into planning season for next year, now is a good time to ask:
What are our marketing goals for 2021?
What does our 2021 marketing budget look like?
What percentage of our current content marketing is Earned, Paid, and Owned?
What needs more attention /what have we been ignoring?
Which media type gives us our highest conversion rates?
The answers to those questions will help you clarify where to put your marketing resources. For example, if you're struggling to bring in more leads, and you haven't done any PPC ads, you may need to adopt a paid or earned strategy. If you're bringing in marketing-qualified leads but you're not converting those leads on your website, then focus on expanding your owned media to include content to convert them.
Overwhelmed? It's okay.
If you're new to this, we'd recommend identifying your highest-performing blog post and turning it into a piece of content to pitch as an earned media partnership opportunity.
Get Help With Your Digital Strategy
Need help with implementing any of the tactics we mentioned in this post into your B2B Digital Marketing Strategy?
We can help.
Still Looking For Answers? We Can Help!